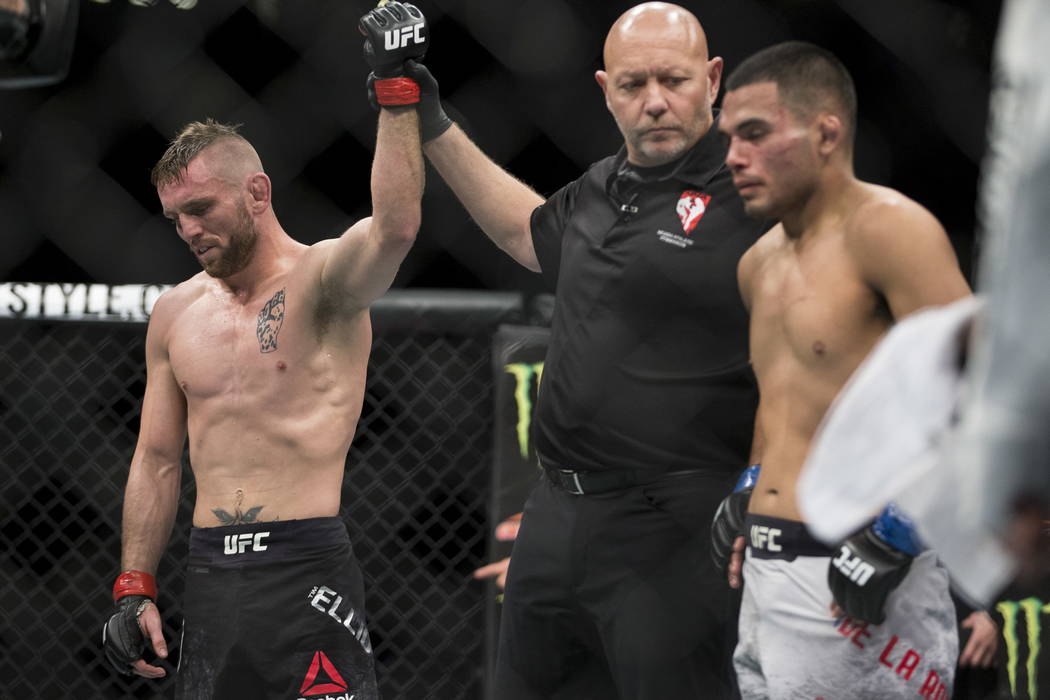 UFC veteran Tim Elliott was concerned about his emotions getting the best of him Saturday night when he walked to the cage for the first time since the suicide of his coach Robert Follis just two weeks ago.
So his coaches, including UFC fighter James Krause, had him practice it.
They went through the whole routine the morning of UFC 219 at T-Mobile Arena from playing his walkout music to removing his shirt and hugging his coaches just as he would hours later before fighting Mark de la Rosa.
It worked.
"I feel like that really helped me prepare to get out there without getting too emotional," he said after scoring a second-round win. "I didn't want to have a doubt before I got in the cage. I still had a bit of an adrenaline dump when I got in there, but I have good guys in my corner. I'm very lucky I have the coaches I do."
He also still had the words of Follis helping him through the fight.
"Even though Robert Follis isn't here yelling at me, everything that he ever said to me is still in my head," Elliott said. "It's still very fresh in my mind. I'm not the smartest guy. I'm good at taking orders.
"I just wish that I would've listened a little more, and I wish I had a little more time. The time that I did have with him was very special. I never questioned anything that he ever said to me, and I wouldn't question anything after what he's done."
Elliott was in the process of moving to Las Vegas to work with Follis on a new gym.
McGregor not impressed
One of the most striking things about the dominant performance of Khabib Nurmagomedov during Saturday night's UFC 219 card at T-Mobile Arena was how many professional fighters posted rave reviews on social media about his destruction of Edson Barboza.
The champion in Nurmagomedov's division was not as impressed.
"That Dagestani was dog (expletive) the other night, you's are all nuts," UFC lightweight champ Conor McGregor wrote on Twitter. "Game full of sloppy bums asking to be slept."
The post would appear to be in reaction to so much analysis coming out of the event positing McGregor would never agree to put his belt on the line against Nurmagomedov because the stylistic matchup would put him at a distinct disadvantage.
In fact, an offshore sports book has posted Nurmagomedov as a minus-260 favorite over McGregor.
The champion doesn't seem bothered. He doesn't care who he fights or even if he fights.
"Pay me my worth and Kings back," he wrote. "Truly truly truly get on your (expletive) knees and beg me. Otherwise I don't give a bollox. My whiskey is out this year and that's Diddy bread."
Nurmagomedov wasn't the only target of McGregor's ire on New Year's Day.
McGregor posted a photoshopped picture of him throwing a kick at Floyd Mayweather Jr. during their lucrative boxing match in August.
"Shin bone to the cheek bone," he wrote in the caption. "The rule set kept you out the funeral home."
About that Mayweather meeting
Eyebrows were raised last week when UFC president Dana White said he was meeting with Floyd Mayweather Jr.'s people days after he hinted Mayweather may want to fight in the UFC.
White clarified the two comments were unrelated.
"Let's be clear here: Floyd gets killed in MMA and I think even Floyd knows that," White told TMZ. "I've been very honest about getting into boxing. I want to get into boxing and in 2018 the next couple of months, I'm meeting with everybody from the boxing world and I'm meeting with Team Mayweather too.
"I'm going to talk to a lot of people, I'm going to listen, and then I'm going to figure it out. I'm going to see if I want to do this or not. But I have a Plan A and a Plan B and we'll see how it goes."
White, who worked in association with Mayweather and his promotional company on last year's biggest fight between Mayweather and McGregor, reiterated there would be plenty of financial incentive for Mayweather to fight in the UFC. It just hasn't been discussed formally.
"He's not talking about it," White said of the boxer. "I mean, Floyd would be crazy. Obviously it would be a big deal, Floyd would make a lot of money. But no, I don't think Floyd wants to fight in the octagon."
Contact Adam Hill at ahill@reviewjournal.com or 702-277-8028. Follow @AdamHillLVRJ on Twitter.