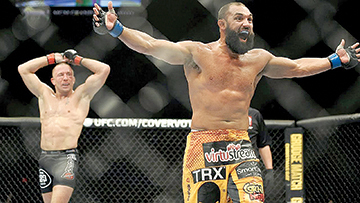 Johny Hendricks has worked toward winning the Ultimate Fighting Championship welterweight title since he made the transition from amateur wrestling to professional mixed martial arts seven years ago.
Now that he has the belt around his waist, Hendricks says his work is still far from done.
"If I just wanted to be the UFC champion, I'd have retired," Hendricks said Monday as he prepares to defend the belt for the first time against Robbie Lawler in the main event of UFC 181 at Mandalay Bay. "I want more than that."
Hendricks wants to keep improving and beat all the top fighters in the division. One of the ways he does that is by making sure he has people around him who won't treat him any differently than in the past.
"I think sometimes when you're the champ, too many people just say 'yes' to you and you don't push yourself the way you used to," he said.
Hendricks, who won two NCAA wrestling national titles and was a four-time all-American at Oklahoma State, still returns to train with the program.
He said the first practice of the season two weeks ago was moved up a half hour, causing Hendricks to walk into the gym just two minutes before the session was scheduled to begin.
"You think Coach (John) Smith cares who I am? That's what I enjoy. That's what I love," Hendricks said. "He was chewing me out like, 'Get your butt in there and freaking get ready to work out.' I still enjoy that."
Hendricks won the vacant belt with a decision victory over Lawler in March. Even though he will wear the belt to the cage, Hendricks will enter with a similar mindset to what he had last time.
"This whole process I haven't looked at myself as the champ. As soon as I sign that bout agreement, the belt is up for grabs," he said. "I don't get to take my last fight into this one.That keeps me motivated. As soon as you start believing your own hype, it's time to retire."
One advantage Hendricks believes he has this time is being healthy. He has been out since that fight because he had surgery to repair a torn biceps muscle. Hendricks says he suffered the injury about 10 days before the fight, but battled through it.
He feels that's the major reason he wasn't able to take Lawler down in the first fight and had to squeak out a narrow decision in one of the most entertaining fights of the year.
Though Hendricks says the injury affected him very much in the first fight, he didn't factor in the belief that he was able to win at a diminished level to his preparation for the rematch.
"I don't think about the arm. I looked at what I did good and what did Robbie do good? I'm not even looking at how the arm affected it," he said. "If you ask him, he's probably thinking the same thing. He said before the arm is just an excuse. I'm looking at it as if it was fine even though I was badly injured. Who's to say it won't happen again in this fight so I'll have to be prepared for anything."
The fight is part of a pay-per-view event that airs at 7 p.m. Saturday. The card also includes a lightweight title bout between Gilbert Melendez and Anthony Pettis.
ROUSEY RESPONDS — UFC women's bantamweight champion Ronda Rousey reached a significant unofficial milestone in pop culture when rapper Eminem mentioned her in his latest song.
Rousey confirmed during an appearance on "Jimmy Kimmel Live" that she had heard the sexually charged verse, which refers to her "flat little badonkadonk" and calls her a "slaughterhouse in a blouse."
Rousey said she wasn't bothered by the lyrics.
"I feel like getting rapped about by Eminem is like getting armbarred by me," she told Kimmel. "It might not be so pleasant if you're on the other side of it, but it's so skillfully done, you have to be honored."
She will return to the cage on Feb. 28, 2015, against Cat Zingano on the UFC 184 card in Los Angeles.
EDWARDS RETIRES — UFC veteran Yves Edwards announced his retirement from the sport on his Facebook page this week after nearly 70 professional fights.
Edwards, 38, has competed in just about every major mixed martial arts organization at some point during his 17-year career.
"I've thought about how to say this for a week now, but there's no better way than to just do it. So here goes: (First), I'd like to say thank you to all the people that I've met through and because of fighting, friends, training partners, coaches, fight fans, doctors and even some promoters/matchmakers. A lot of you guys have always shown me nothing but love and I really appreciate that," he said. "Fighting has been a part of my life ever since I was 17 and that makes this a hard pill to swallow but it's time for me to end this chapter and move on to the next part of my life. So thank you again to all the people that have supported me through this, whether it was through cheers, training, coaching or anything else at all."
Edwards won just twice in his last nine fights to fall to 42-22-1 with one no-contest.
Contact reporter Adam Hill at ahill@reviewjournal.com or 702-224-5509. Follow him on Twitter: @adamhilllvrj.