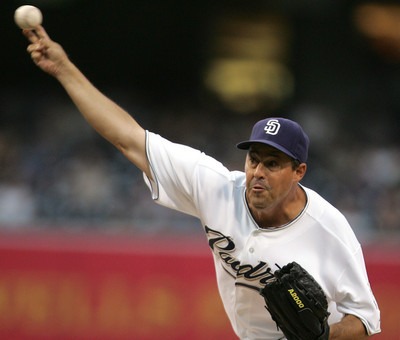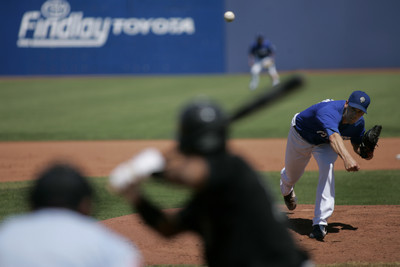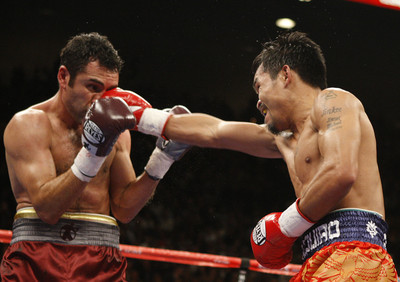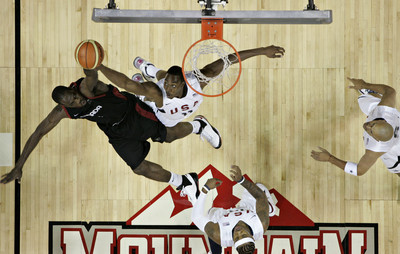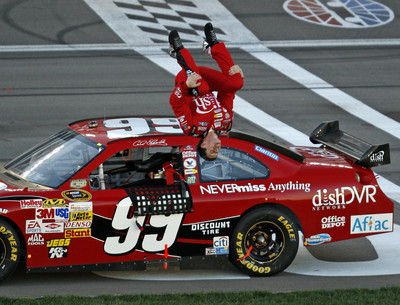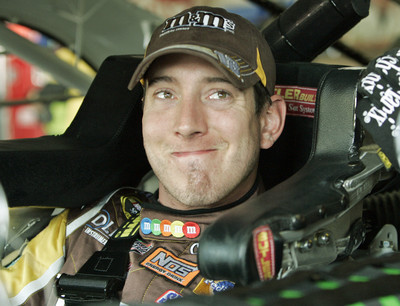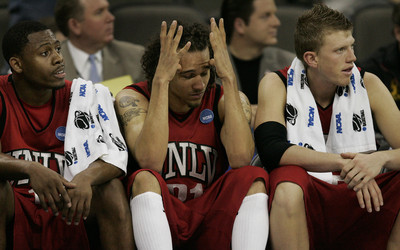 Under the steady guidance of low-key coach Lon Kruger, the UNLV men's basketball team has enjoyed a return to prominence in recent years, earning two straight trips to the NCAA Tournament.
The Rebels' postseason run was voted the top local sports story of 2008 by the Las Vegas Review-Journal sports staff.
UNLV's march to the second round of the NCAA Tournament eclipsed the retirement of Las Vegas baseball great Greg Maddux and the departure of the Los Angeles Dodgers as the 51s' parent club on the top-10 list.
While UNLV was unable to match what it accomplished during the 2006-07 basketball season, when it reached the Sweet 16 and finished 30-7 behind five seniors, the Rebels came close in 2007-08, and they did it with only two seniors — Curtis Terry and Corey Bailey — and a depleted roster.
Despite those setbacks, UNLV went 27-8, won the Mountain West Conference Tournament and beat Kent State in the first round of the NCAA Tournament before losing to eventual national champion Kansas.
The eighth-seeded Rebels, who beat the Golden Flashes 71-58, fell 75-56 to the top-seeded Jayhawks in the Midwest Regional's second round March 22 at Qwest Center in Omaha, Neb.
It was a long way from UNLV's 20-point home loss to Louisville in mid-November, when a 20-win season seemed a lofty goal for an inexperienced Rebels squad.
"We went through a couple things early in the season," Terry said. "Coach Kruger sat us down and said we can either just go along and have a mediocre season or we can really do some things here and have some fun playing basketball.
"Everybody bought into it and didn't want to quit on the season. Nobody else thought we were going to be able to do the things we did this year."
Terry scored a career-high 26 points in a season-opening win over Montana State. After the game, 6-foot-10-inch junior Emmanuel Adeife was dismissed from the team after arguing with Kruger over his perceived lack of playing time.
UNLV was left short-handed and without a center, because the NCAA declared 7-foot freshman Beas Hamga academically ineligible in October. Joe Darger, a 6-7 junior who was known strictly as a 3-point shooter, sacrificed and filled a role in the middle.
In early December, Kruger made a key move by inserting 6-6 junior Rene Rougeau into the starting lineup. Rougeau, a walk-on, started the final 27 games and developed into a valuable, versatile contributor.
But more bumps in the road followed. Sophomore forward Lamar Roberson transferred in early January, and sophomore guard Marcus Lawrence, a Bishop Gorman product, was dismissed in mid-February after a traffic accident that resulted in Lawrence being charged with driving under the influence.
UNLV still finished second in the Mountain West and then followed the leads of Terry and junior guard Wink Adams to defeat Texas Christian, Utah and Brigham Young in the MWC tournament.
"Everybody said we were overachieving," said Adams, UNLV's top scorer last season at 16.9 points per game. "We just wanted to go out and play hard. We knew we would win games."
2. Greg Maddux finishes his 23rd season in the majors with the Los Angeles Dodgers and then retires with 355 career wins.
Twenty-five years ago, Greg Maddux was a senior at Valley High School, and the sun was rising on a baseball career that would be marked by greatness.
All he wanted then was to reach the major leagues, he said, and once he got there in 1986, all he wanted was to stay there about 10 years.
Maddux wound up lasting 23 seasons and accomplishing more than he ever imagined. The right-hander, who was the first pitcher ever to win four straight Cy Young Awards (1992-95), will be remembered as one of the game's all-time greats.
The sunset of Maddux's career arrived Dec. 8, when the 42-year-old officially announced his retirement at a low-key news conference at the Bellagio on the first day of baseball's winter meetings.
"It's going to be hard to walk away, obviously, but it's time," he said. "It's time to say goodbye."
Maddux walks away with 355 career regular-season victories, good for eighth on the all-time list, and a certain spot in the Hall of Fame.
He pitched for four teams — the Chicago Cubs, Atlanta Braves, Los Angeles Dodgers and San Diego Padres — and won a World Series with the Braves in 1995, when he went 19-2 with a 1.63 ERA.
Maddux, who led the majors in ERA four times and relied on location and movement more than velocity, won at least 15 games in a record 17 straight seasons and has a record 18 Gold Glove awards.
"I'm very proud of what I did on the baseball field," said Maddux, who pitched his final game for the Dodgers in October and retires with a 355-227 record and a 3.16 ERA.
3. The Los Angeles Dodgers leave Las Vegas after eight years as the 51s' parent club.
The Dodgers ended their eight-year Triple-A affiliation with the 51s on Sept. 18 when they agreed to a two-year player-development contract with the Albuquerque (N.M.) Isotopes.
The Dodgers were unhappy with the facilities at aging Cashman Field, which was constructed in 1983.
"(The Dodgers) made it clear they weren't going to extend (the PDC) unless a definite stadium plan was in place," 51s president Don Logan said. "They've been waiting a long time, and they didn't want to wait any longer."
Las Vegas, which agreed to a two-year PDC with the Toronto Blue Jays on Sept. 22, only had three winning seasons in eight years as the 51s, but they produced several key players for the Dodgers, including starters Russell Martin, James Loney and Chad Billingsley.
4. The UNLV football team goes 5-7 but blows a chance at a bowl bid when it loses its season finale at lowly San Diego State.
A season that began with so much hope ended in dismal fashion when UNLV lost 42-21 to San Diego State, one of the nation's worst football teams.
Despite the disheartening defeat, the Rebels finished 5-7 (2-6 Mountain West) for their best record since 2003, when they went 6-6.
"Even though I'm very disappointed tonight, the program has shown vast improvement," UNLV athletic director Mike Hamrick said after the loss to the Aztecs, who were 1-10 overall and 0-7 in the MWC before beating the Rebels, who were 10-point favorites.
UNLV's season might have ended on a sour note, but it started impressively with a 3-1 mark, including a 23-20 overtime upset of then-No. 15 Arizona State on Sept. 13.
The Rebels, who had won only two games in each of their previous three seasons, erased a 10-point, fourth-quarter deficit en route to the win that was sealed when Malo Taumua blocked Thomas Weber's 35-yard field-goal attempt.
"This is the biggest win of my life," Rebels coach Mike Sanford said afterward, his voice cracking.
Kyle Watson had given UNLV the lead in overtime with a 20-yard field goal.
Freshman wide receiver Phillip Payne made a spectacular one-handed catch in the end zone with 18 seconds left to send the game to overtime.
5. Manny Pacquiao defeats Oscar De La Hoya in a marquee matchup of boxing greats.
Manny Pacquiao, the man considered boxing's best pound-for-pound fighter, dominated former world champion Oscar De La Hoya on Dec. 6 at the MGM Grand Garden, winning by an eighth-round technical knockout.
De La Hoya, who fell to 39-6, looked every bit of his 35 years. He never was in the fight with the stronger Pacquiao, a 29-year-old who improved to 48-3-2.
And with his fighter absorbing too many blows, trainer Ignacio "Nacho" Beristain told referee Tony Weeks that De La Hoya had had enough just before the start of the ninth round.
"I stopped the fight because I didn't want him to leave his greatness in the ring," Beristain said.
Unfortunately for the Golden Boy, it was too late for that.
When the carnage was over, De La Hoya told Freddie Roach — his former trainer and Pacquiao's current one — "Freddie, you're right. I don't have it anymore."
6. The U.S. men's basketball team trains in Las Vegas before its gold medal Olympics run.
The latest U.S. Olympic "Dream Team" used Las Vegas as a launching pad to its dominant gold medal run at the 2008 Summer Olympics in Beijing.
Team USA, led by LeBron James, Kobe Bryant and Dwyane Wade, took part in a minicamp at Cox Pavilion in late June and worked out at Valley High School from July 21 to 24.
Their time in Las Vegas culminated with a 120-65 rout of Canada on July 25 at the Thomas & Mack Center in front of a sellout crowd of 18,498 that included billionaires Warren Buffett, Bill Gates and Steve Wynn.
7. Carl Edwards wins the UAW-Dodge 400 at Las Vegas Motor Speedway, but his car fails post-race inspection.
Carl Edwards gave Roush Fenway Racing its second consecutive NASCAR Sprint Cup win in a week when he held off Dale Earnhardt Jr. in a two-lap shootout to win the UAW-Dodge 400 before an estimated crowd of 150,000 at Las Vegas Motor Speedway.
"It's really cool to come off Turn 4 and see all those fans standing up and know you've got the best drivers in the world behind you," said Edwards, who led a race-best 86 laps, including the last 30. "When it's on the line with two laps to go, I like it."
But he must not have liked having his No. 99 Ford pushed into a NASCAR transporter after post-race inspection.
Officials determined the cover for the oil tank located behind his seat wasn't attached and docked Edwards 100 points.
But NASCAR never takes a win away from a team, so the March 2 victory was the second straight for Edwards, who won a rain-delayed event in Fontana, Calif., the previous Monday.
8. The Wranglers advance to the ECHL Kelly Cup Finals but lose to Cincinnati in six games.
For the third straight season and fourth time in their five years in Las Vegas, the Wranglers were eliminated from the playoffs by the ECHL champion.
But this time it happened in the Kelly Cup Finals, which Las Vegas reached for the first time.
The Cincinnati Cyclones scored two third-period goals and never trailed in a 3-1 win over the Wranglers in Game 6 of the Finals on June 5 at U.S. Bank Arena.
"They're the best team we've faced this year. They gave us headaches," Las Vegas defenseman Jason Jozsa said. "It's pretty disappointing right now, but we had a great run here and had a lot of fun along the way."
Las Vegas, which finished 61-19-13, including the postseason, compiled 106 points in the regular season for its third straight 100-point season.
The Ferraro brothers, twins Peter and Chris — who each have NHL experience — helped lead the team, with Peter pacing the Wranglers in points with 73, including a franchise-record 36 goals.
Rookie goalie Kevin Lalande also played exceptionally for Las Vegas, which beat Stockton, Alaska and Utah to reach its first league finals.
9. Las Vegas native Kyle Busch dominates the start of NASCAR Sprint Cup season, winning eight of its first 26 races.
Kyle Busch won seven times in the first 19 NASCAR Sprint Cup races — becoming only the 17th driver in Cup history to accomplish the feat. Eleven of those drivers went on to win series titles, including Jeff Gordon, Dale Earnhardt and Richard Petty. But Busch was unable to do so.
A Durango High graduate, Busch won eight of the first 26 Cup races and finished 2008 with 20 overall victories — eight in the Sprint Cup series, nine in the Nationwide Series and three in the Craftsman Truck Series — but he faltered before the Chase for the Cup championship.
10. Former professional wrestling star Brock Lesnar beats Randy Couture for the UFC heavyweight title.
Randy Couture didn't show his age on Nov. 15 in what was considered the biggest fight in Ultimate Fighting Championship history. Rather, he showed his size in a futile attempt to conquer Brock Lesnar, a 6-foot-31/2 inch, 265-pound giant.
Couture, 45, was overmatched in the cage at the MGM Grand Garden as the 31-year-old Lesnar claimed his UFC heavyweight title belt with a second-round TKO.
Lesnar, 45 pounds heavier than Couture, tagged the champ with a big right hand and pounced on him midway through the second round. With Couture getting pummeled with both hands, referee Mario Yamasaki stopped the fight at the 3:07 mark.
For Lesnar (3-1), it was the sort of Hollywood script he might have expected to act out when he worked in the choreographed world of WWE. This was a great performance, but it was no act. Lesnar was too much for Couture, who had been inactive for a year.
"I can't believe it," Lesnar said of becoming UFC's heavyweight champion.
Contact reporter Todd Dewey at tdewey@reviewjournal.com or 702-383-0354.