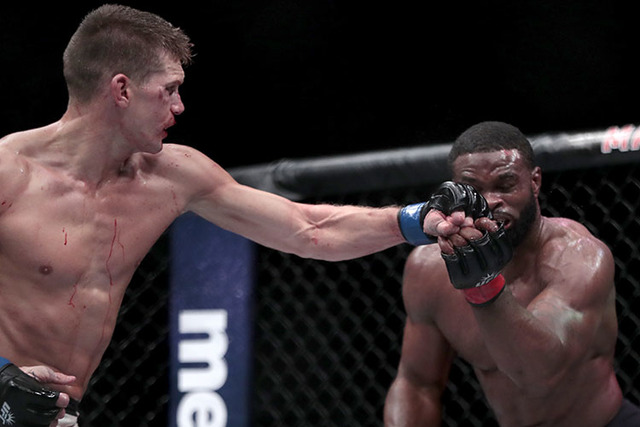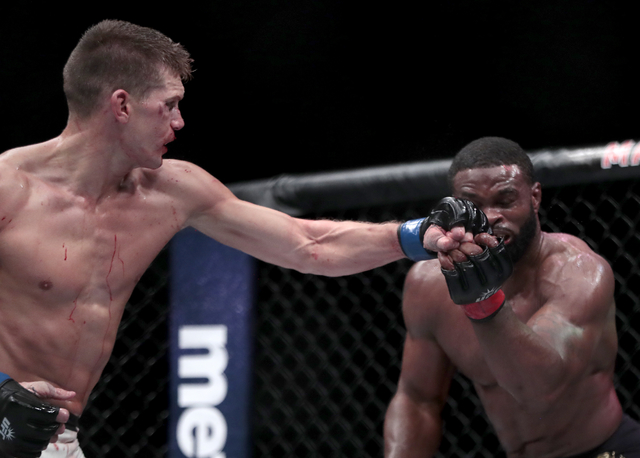 UFC welterweight champion Tyron Woodley was ready to move on from Stephen "Wonderboy" Thompson after retaining his belt as the result of a draw when they fought in November.
He has changed his mind after some social media prodding from Thompson.
Woodley posted a special episode of his podcast Monday to announce he had agreed to defend the belt against Thompson again in the main event of UFC 209 at T-Mobile Arena on March 4.
UFC officials confirmed the bout to the Review-Journal on Monday evening.
Thompson and Woodley fought to a draw on the UFC 205 card at Madison Square Garden in New York on Nov. 12. Woodley had been weighing his options between several contenders and even flirted with a superfight against middleweight champion Michael Bisping, but said Thompson's constant callouts in the media and on Twitter finally got to him.
"He got under my skin that bad that I'm just going to go ahead and fight this dude," Woodley said. "You need to be careful what you ask for. You want it? Come get it."
Thompson posted a signed bout agreement for the fight on Twitter over the weekend and said he was just waiting on Woodley to follow suit.
It started a back-and-forth exchange between them on the social media platform.
On his podcast, Woodley said he still believes he won the first fight and questioned the merits of Thompson's request for an immediate rematch.
"You had your opportunity to prove you're the best in the world," Woodley said. "You had five full rounds to show everybody what you had. You had no moment where you hurt me. No moment where people thought you were completely dominating, taking the will of the fight. You never had that moment."
UFC 209 also includes a heavyweight contender bout between Alistair Overeem and Mark Hunt.
Contact Adam Hill at ahill@reviewjournal.com or 702-277-8028. Follow @adamhilllvrj on Twitter.