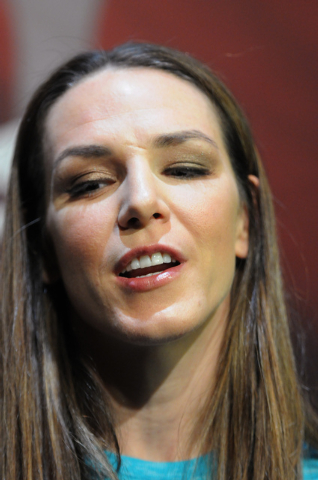 UFC 175 MATCHUPS
A breakdown of the fights on the main card of UFC 175 today at Mandalay Bay Events Center:
Chris Weidman (11-0) vs. Lyoto Machida (21-4)
■ CLASS: For middleweight title
■ LINE: Weidman minus-190
■ STORYLINE: There was a time in which Machida seemed almost invincible. He mixed elusive movement with potent, quick attacks to dominate his way to the light heavyweight title. Then, opponents started to figure him out. A 16-0 beginning to his career was halted by a 3-4 stretch that prompted a drop to middleweight. Machida is 2-0 since dropping to 185 pounds and has his sights set on becoming the third fighter in UFC history to win a belt in two weight classes. That's easier said than done. Not only has Weidman yet to lose, he also has yet to be in much danger. While Machida isn't exactly like his friend and training partner Anderson Silva, Weidman's two fights against Silva helped him prepare for this fight. He also had a capable sparring partner in Stephen "Wonderboy" Thompson emulating Machida. Weidman probably would prefer not to worry about dealing with whatever stand-up he learned in those sessions. The two-time All-America wrestler will want to get the fight to the ground, and he should be able to do so and finish from there.
■ PICK: Weidman by third-round submission
Ronda Rousey (9-0) vs. Alexis Davis (16-5)
■ CLASS: For women's bantamweight title
■ LINE: Rousey minus-1,200
■ STORYLINE: Rousey's past two fights have provided a little diversity to her record. After three amateur fights and seven as a pro, she had finished every opponent by armbar in the first round. It took her until the third round to finally lock in an armbar against Miesha Tate in December, and Rousey then knocked out Sara McMann about a minute into their February bout. She just keeps getting better. Next up is Davis, a winner of five straight fights overall and three since joining the Ultimate Fighting Championship. She does everything pretty well. That's not enough. Rousey resides on a different planet athletically, and there's probably not much Davis can do against her. Davis thinks Rousey's previous opponents have approached the champion wrong, trying to keep distance and avoid getting too close for her immense judo talents to take over. Davis says she will jump right on Rousey and try to pressure the champion. That sounds great on paper. Good luck.
■ PICK: Rousey by first-round submission
Matt Mitrione (7-3) vs. Stefan Struve (29-6)
■ CLASS: Heavyweight
■ LINE: Struve minus-160
■ STORYLINE: Struve, the UFC's tallest fighter at 7 feet, returns to the cage for the first time since March 2013 after the discovery of a heart ailment that threatened his career. Not only is he rejuvenated by getting a second chance, but he also says the medication has allowed his heart to finally work at close to full capacity and increased his endurance. That can only help him as as fighter. He was already quite good. Struve has knockout power and makes good use of his long limbs in a shockingly effective ground game. He does have a questionable chin at times, which could get tested by a powerful striker such as Mitrione. Struve has been stewing over a loss to Mark Hunt for nearly 16 months, though, and will find a way to win.
■ PICK: Struve by second-round submission
Uriah Hall (9-4) vs. Thiago Santos (9-2)
■ CLASS: Middleweight
■ LINE: Hall minus-450
■ STORYLINE: Is Hall finally ready to live up to the immense hype that has been thrust upon him by UFC president Dana White and just about anyone else who watched him obliterate every opponent on "The Ultimate Fighter"? Maybe. But probably not. Hall dropped his first two fights in the UFC, finally getting his first victory by pulverizing Chris Leben in December. That gave his supporters hope that he was ready to break out. Leben was a shell of his former self, however, and was essentially set up to enable Hall to save his job with a victory. Santos will be a tougher challenge. He's a patient striker who places his kicks well and is definitely improving. He is absolutely a live underdog bet here. Hall has the power to finish the fight at any time, so he is the pick. He is far too big of a favorite to bet on, though. If you like to take a shot on betting an underdog, this is the one.
■ PICK: Hall by third-round knockout
Marcus Brimage (6-2) vs. Russell Doane (13-3)
■ CLASS: Bantamweight
■ LINE: Doane minus-120
■ STORYLINE: This is a big step up in competition for Doane, who submitted Leandro Issa in his UFC debut in January. He's a well-rounded Hawaiian with six knockouts and five submissions among his 13 career victories. Brimage is coming off a loss to Irish sensation Conor McGregor more than a year ago. The loss prompted a move down to 135 pounds for this fight. He should be strong in this division. Brimage had a four-fight winning streak before losing to McGregor and was doing some good things in the cage. He has decent power and an average ground game, but has been able to find ways to win. He's definitely worth taking as a slight underdog.
■ PICK: Brimage by decision
ADAM HILL/LAS VEGAS REVIEW-JOURNAL