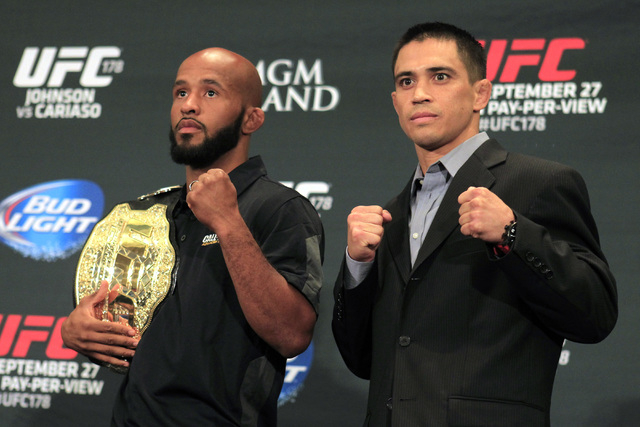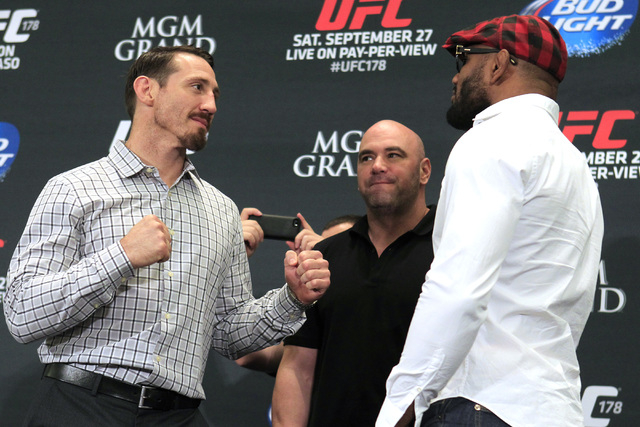 UFC 178 MATCHUPS
A breakdown of the fights on the main card of UFC 178 today at MGM Grand Garden:
Demetrious Johnson (20-2-1) vs. Chris Cariaso (17-5)
■ CLASS: For flyweight title
■ LINE: Johnson -1400
■ STORYLINE: It's probably fair to say Cariaso is being vastly underestimated in this fight. It might be just as accurate to point out he is very overmatched. Johnson is among the fastest fighters in the sport, and he has continuously evolved his game to exploit that advantage to its fullest. Johnson confounds opponents with his movement in the striking game and mixes in takedowns to keep them off balance and make his stand-up even more effective. Cariaso is a tough veteran who has put together a solid resume. He has struggled against top competition, however, and Johnson is the gold standard at 125 pounds. The champion should have little trouble retaining the belt, though Cariaso may prove tough to finish. Expect this to go the distance with Johnson winning all five rounds.
■ PICK: Johnson by decision
Donald Cerrone (24-6-0, 1 No Contest) vs. Eddie Alvarez (25-3)
■ CLASS: Lightweight
■ LINE: Pick 'em
■ STORYLINE: After a storied career that has included a long reign as Bellator champion, Alvarez finally gets his shot at the big time. It's a chance he has wanted for some time, but contract squabbles and legal battles with his former employer prevented it until now. He finally gets a chance to prove he can compete with the best lightweights in the world, and Cerrone certainly fits in that category. The line reflects the fact this is an evenly matched fight. There may be mitigating circumstances that make Cerrone a good bet, though. First, Cerrone has been taking on UFC competition while Alvarez has really only had one legit foil in Bellator. The more important factor may be the infamous UFC jitters. No matter how much experience fighters have or how much they say nerves never affect them, there always seems to be an adjustment process to fighting in the world's biggest organization for the first time. Alvarez conceded he was a bit stunned by all the cameras at media day Thursday. That may be a key factor.
■ PICK: Cerrone by second-round knockout
Conor McGregor (15-2) vs. Dustin Poirier (16-3)
■ CLASS: Featherweight
■ LINE: McGregor -280
■ STORYLINE: One of the most hyped fighters in the history of the UFC makes his pay-per-view debut against his biggest challenge to date as McGregor gets his first true test in Poirier. This may be where the world truly learns just how good McGregor really is at this point in his career. There is no doubt this fight has drawn the most interest on the card. Even the official UFC 178 commercial featured these two fighters instead of the main event combatants. Poirier is incredibly talented. He is a dynamic striker with a solid ground game. He won't want to strike with McGregor though. He throws punches and kicks from all angles and can knock out opponents with any of them. Poirier's best bet would be to get the fight to the ground early and often. The problem is he tends to get emotional and can be drawn into a brawl. He probably can't win in that case.
■ PICK: McGregor by second-round knockout
Tim Kennedy (18-4) vs. Yoel Romero (8-1)
■ CLASS: Middleweight
■ LINE: Romero -145
■ STORYLINE: Romero is an incredibly gifted athlete who entered mixed martial arts with an Olympic silver medal in wrestling and picked up kickboxing very quickly. His speed and technique combine to make him a powerful and feared striker. He is solid in all areas of MMA. Kennedy is just really good at winning fights. He is relentless in the cage, particularly when he is in top position on the mat. While his striking is awkward at times, the fear of the takedown serves him well and enables him to land more punches and kicks than he probably should. If there is one part of Romero's game that has been questioned, it's his cardio. Kennedy is as good as it gets at wearing down opponents. Look for him to control at least half the fight on the ground and grind out the decision.
■ PICK: Kennedy by decision
Cat Zingano (8-0) vs. Amanda Nunes (9-3)
■ CLASS: Women's bantamweight
■ LINE: Zingano -270
■ STORYLINE: Zingano has had a very difficult year. She lost out on a potential title fight against Ronda Rousey when she suffered a torn ACL. Then tragedy struck as her husband and trainer took his own life in January. She is finally ready to return to action and put the difficult times in the past. She has the skills to get right back on track and, in fact, would likely get a title shot with a victory. The undefeated top contender is well-rounded, and her toughness is one of her biggest strengths. Nunes is a very aggressive fighter, and Zingano will likely try to use that to her advantage. As long as Zingano can weather the early storm, she should be on track to stay unbeaten and finally fight Rousey.
■ PICK: Zingano by third-round submission
ADAM HILL/LAS VEGAS REVIEW-JOURNAL