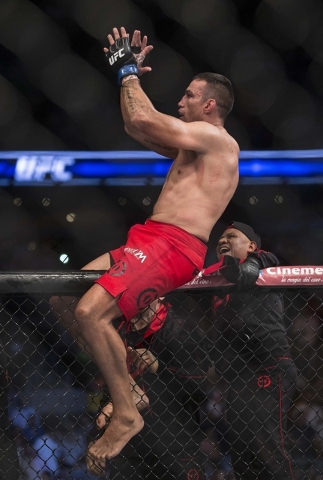 A breakdown of the fights on the main card of UFC 198 on Saturday at Curitiba, Brazil:
Fabricio Werdum (20-5-1) vs. Stipe Miocic (14-2)
CLASS: For Werdum's heavyweight title
LINE: Werdum minus-165
STORYLINE: A matchup of two of the division's most athletic fighters. Werdum is a remarkable story. He speaks five languages and is one of the true good guys of the sport, yet he has struggled to get past the label of one-dimensional jiu-jitsu ace that he was saddled with early in his career. Werdum has completely transformed his striking game during his improbable run to the UFC title and defeated some of the best heavyweights in mixed martial arts history. Miocic also has been on a solid run. He has won five of his past six fights and is coming off back-to-back knockouts of Mark Hunt and Andrei Arlovski. Miocic has a great shot to take the title as long as he keeps the fight standing. Werdum's advantage on the ground is the biggest edge in the fight, however, and he should be able to take charge once the action hits the mat. Miocic also will have to deal with a hostile crowd of 45,000 outside at a soccer stadium. The circumstances are not ideal for the belt to change hands.
PICK: Werdum by third-round submission
Ronaldo "Jacare" Souza (22-4-0, 1 No Contest) vs. Vitor Belfort (25-11)
CLASS: Middleweight
LINE: Souza minus-320
STORYLINE: Two Brazilians will square off with a middleweight title shot possibly on the line for the winner. Souza had the same opportunity in December, but lost a split decision to Yoel Romero. Though it snapped Souza's eight-fight winning streak, the result was later changed to a no-contest because of Romero's positive drug test. Souza has a dominant ground game and is a rightful favorite over an aging Belfort. The number is way too high, though. While Belfort isn't quite the fighter he was two years ago, he's still one of the sport's fastest starters. Souza most likely will have to endure an early onslaught of kicks and punches. Should he make it through the first several minutes, Souza should take control. It's probably worth a bet on Belfort at this price, though.
PICK: Souza by second-round submission
Cris "Cyborg" Justino (15-1-0, 1 No Contest) vs. Leslie Smith (8-6-1)
CLASS: Women's catchweight (140 pounds)
LINE: Justino minus-1,700
STORYLINE: This could get ugly fast. Justino is probably the most feared striker in women's MMA history. She will make her UFC debut after several years of posturing about whether she could make it down to 135 pounds, which is the top weight class in the organization. An exception was made to bring her in for a fight as the UFC visits her hometown. There weren't many takers when Justino was in need of an opponent. Smith pursued the opportunity, but she doesn't have much of a chance. Her striking defense is suspect, and that deficiency should get exposed early. The biggest question was answered Friday when Justino made weight, coming in at 139 pounds.
PICK: Justino by first-round knockout
Mauricio "Shogun" Rua (23-10) vs. Corey Anderson (9-1)
CLASS: Light heavyweight
LINE: Anderson minus-240
STORYLINE: Rua was once a wild brawler, but has become more technical with age. It's a good thing, because his chin isn't what it was early in his career. Anderson is a rising star with a huge edge in wrestling and cardio, but this could be more of a challenge than expected. Rua has enough experience to keep the fight standing. If this is a striking battle, Rua has a legitimate shot, especially with the crowd completely on his side. Rua, 34, has lost four of his past six fights. The former light heavyweight champion may not have another title run in him, but he's still dangerous in spots. This very well could be one of those spots.
PICK: Rua by second-round knockout
Warlley Alves (11-0) vs. Bryan Barberena (11-3)
CLASS: Welterweight
LINE: Alves minus-600
STORYLINE: Barberena is a massive underdog against an undefeated prospect for the second straight time. In January, he derailed one of the most hyped young fighters in recent memory when he submitted Sage Northcutt. He gets another chance against the Season 3 champion from "The Ultimate Fighter: Brazil." Alves has a strong all-around game, but will have his biggest edge on the mat. Barberena, who is probably better suited for the lightweight division, most likely wants to turn this into a brawl. But Alves isn't Northcutt. He has four UFC wins, three by submission.
PICK: Alves by first-round submission
RELATED
Stipe Miocic sees lots of adversity as he fights at UFC 198