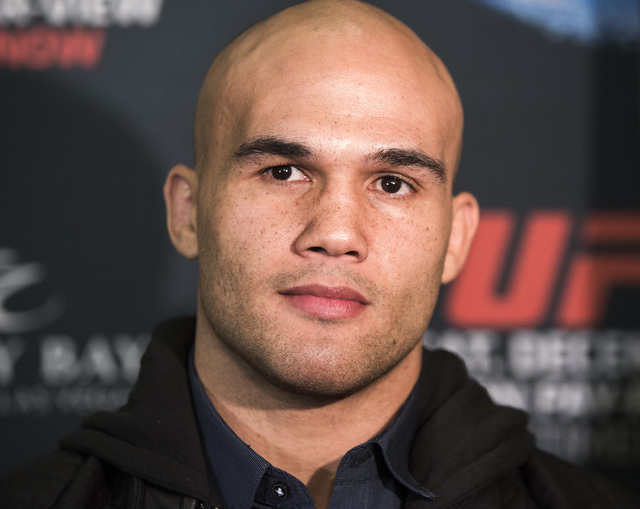 A breakdown of the fights on the main card of UFC 201 on Saturday at Philips Arena in Atlanta:
Robbie Lawler (26-10, 1 No Contest) vs. Tyron Woodley (15-3)
CLASS: For Lawler's welterweight title
LINE: Lawler minus-150
STORYLINE: Lawler has been on an incredible run since getting a second chance in the UFC in 2013. Not only has he been winning fights, but he's also been involved in one outstanding brawl after the next. At some point, they have to catch up with him. It's possible that happens against Woodley, an outstanding wrestler with speed and power. There are two big questions clouding the case for Woodley to pull the upset. First, he hasn't competed in more than 18 months. He was scheduled to fight Johny Hendricks in October, but the former champion was forced to withdraw because of complications during the weight cut. Woodley waited for an opportunity to fight for the belt instead of risking his top contender spot. The second question is always Woodley's conditioning. It has been an issue in three-round fights, so five rounds could be more of a challenge. Despite those lingering questions, the betting market has certainly favored Woodley, as there has been a lot of action on the underdog in the past few days.
PICK: Woodley by second-round knockout
Rose Namajunas (6-2) vs. Karolina Kowalkiewicz (9-0)
CLASS: Women's strawweight
LINE: Namajunas minus-230
STORYLINE: The next shot at Joanna Jedrzejczyk's belt probably is on the line in this matchup of top contenders. While Namajunas would almost certainly get a title shot with a win, Kowalkiewicz might need an impressive performance to get that opportunity. It certainly won't be easy. Namajunas has been improving tremendously every time she steps into the cage. The explosive 24-year-old followed a sensational performance in a win over Paige Van Zant with a unanimous decision over Tecia Torres in April. Kowalkiewicz has looked good in winning her two UFC bouts, but this will represent a major step up in competition. Kowalkiewicz also hasn't shown a propensity for finishing fights. That could present a challenge against Namajunas, who is creative and relentless. Kowalkiewicz hasn't faced much adversity, but that should change.
PICK: Namajunas by second-round submission
Matt Brown (22-14) vs. Jake Ellenberger (30-11)
CLASS: Welterweight
LINE: Brown minus-290
STORYLINE: An interesting matchup featuring two of the UFC's most exciting welterweights who are in desperate search of a victory. Brown followed a seven-fight winning streak by dropping three of his past four. Ellenberger has fallen on even harder times. After winning eight of nine to surge into title contention, he is 1-5 in his past six fights. Ellenberger often has talked about his struggles with the mental side of the sport despite his talent. While he thinks he has the right people around him to finally put it all together, he needs to start proving that in the cage. He finds himself in a tough spot against Brown, however. In 34 career fights, Brown never has been knocked out. While Ellenberger has six submission wins, he prefers to pursue victory by throwing wild punches. That's clearly not the best plan of attack against Brown.
PICK: Brown by third-round submission
Francisco Rivera (11-6, 1 No Contest) vs. Erik Perez (15-6)
CLASS: Bantamweight
LINE: Perez minus-115
STORYLINE: This has the potential to be the most entertaining fight on the main card, though Rivera probably would prefer that doesn't happen. Perez is at his best when the action gets fast and furious. Rivera has some of that in his game as well, though he has found a way to harness that as he has matured. His power tends to be more effective when he's under control. Perez was once one of the division's top prospects, but inactivity has taken off some of the luster. He missed more than 17 months before a unanimous decision over Taylor Lapilus in November and will look for a second straight win. Perez should have a wrestling edge and would be well-advised to use it.
PICK: Perez by decision
Ryan Benoit (8-4) vs. Fredy Serrano (3-0)
CLASS: Flyweight
LINE: Serrano minus-120
STORYLINE: These two flyweights got a huge break when a bout between Ian McCall and Justin Scoggins was removed from the card because Scoggins was having difficulty cutting weight. Instead of their fight being streamed online, Benoit and Serrano get a chance to make an impression on the pay-per-view card. Serrano came off "The Ultimate Fighter: Latin America" to win his first two fights in the UFC. One of them was a bit fluky when Yao Zhikui suffered an injury in the first minute of their bout in November. Benoit is far more experienced, and while he is 1-2 in the UFC, the victory came against Sergio Pettis. Benoit hasn't been pushed to the distance often, with just two fights going to the scorecards. He has seven knockout wins and one submission among his eight victories.
PICK: Benoit by second-round knockout