UFC 212 main card matchups — VIDEO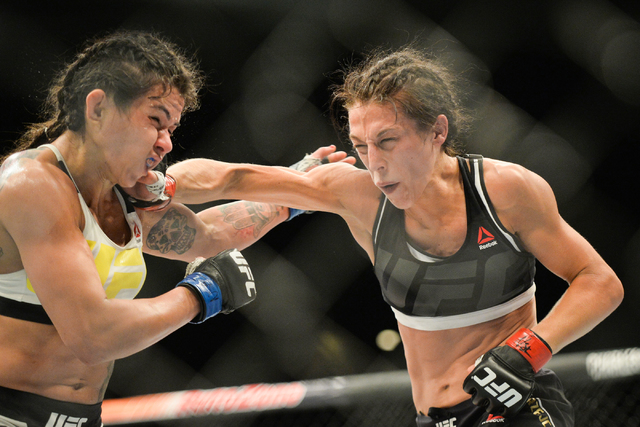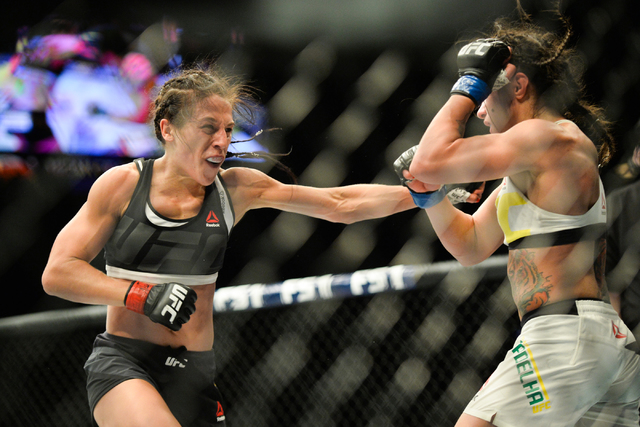 A breakdown of the fights on the main card of UFC 212 on Saturday at Jeunesse Arena in Rio de Janeiro, with picks from the Review-Journal's Adam Hill and Heidi Fang:
Jose Aldo (26-2) vs. Max Holloway (17-3)
Class: Featherweight title unification bout
Line: Aldo minus-150
Storyline: It has been a long, strange journey for the UFC featherweight belt. Aldo was the only champion in UFC history until being knocked out by Conor McGregor in December 2015. McGregor never defended the belt, as he moved up to lightweight and won that title. Aldo captured the interim belt with a win over Frankie Edgar in July and was promoted to outright champ when it became clear McGregor wouldn't return to 145 pounds. Holloway then won an interim belt that was created in December by beating Anthony Pettis. The title picture finally clears up Saturday. Aldo might see himself in Holloway, a similar fighter with great striking and explosive athletic ability who can finish bouts with his submission skills if they go to the ground. Holloway has won 10 straight and appears poised for stardom. Any questions about Aldo's ability to bounce back from the McGregor loss were answered with a spectacular effort against Edgar. This could be a classic.
Hill's pick: Holloway by decision
Fang's pick: Holloway by decision
Claudia Gadelha (13-2) vs. Karolina Kowalkiewicz (10-1)
Class: Women's strawweight
Line: Gadelha minus-350
Storyline: These are unquestionably the best women's strawweight fighters in the world not named Joanna Jedrzejczyk. Both gave Jedrzejczyk tough challenges in title bouts, and one will be in prime position to challenge her again soon with a win. Gadelha is strong and will look to bully Kowalkiewicz. Gadelha has been training at Greg Jackson's famed camp in Albuquerque, New Mexico, to expand her game and will be looking to show that off against Kowalkiewicz, who will want to create space to showcase her striking skills. Gadelha has more ways to win and will have the crowd behind her in her native Brazil. While she is the pick, beware of this fight at the sports book window. This line is insanely high and borderline disrespectful to the abilities of Kowalkiewicz. The underdog is worth a look for value bettors.
Hill's pick: Gadelha by decision
Fang's pick: Gadelha by decision
Vitor Belfort (25-13) vs. Nate Marquardt (38-16-3)
Class: Middleweight
Line: Belfort minus-160
Storyline: Belfort, 40, has started to waver on whether he will retire after this fight. It's expected to be, though, and Marquardt, 38, was an ideal selection for Belfort to leave on his terms before a crowd that will be completely in his corner. Marquardt has been knocked out five times in his lengthy career, four of them during his current 3-7 stretch.
Hill's pick: Belfort by first-round knockout
Fang's pick: Belfort by third-round knockout
Paulo Borrachinha (9-0) vs. Oluwale Bamgbose (6-2-0)
Class: Middleweight
Line: Borrachinha minus-275
Storyline: There's a good chance this fight doesn't last long, as all 15 of their victories have come in the first round. Bamgbose is a great athlete with tremendous power and should have a technical edge. Borrachinha is an overwhelming presence who will look to swarm early. It's risky to lay a big number with Borrachinha in a fight that could be decided by one big shot, but Bamgbose showed vulnerability against athletic strikers when he was finished by Uriah Hall in 2015.
Hill's pick: Borrachinha by first-round knockout
Fang's pick: Bamgbose by second-round knockout
Erick Silva (19-7, 1 No Contest) vs. Yancy Medeiros (13-4, 1 No Contest)
Class: Welterweight
Line: Medeiros minus-150
Storyline: This is a sneaky contender for fight of the night. Both fighters have shown a willingness to brawl, and it won't be surprising if the action gets chaotic from the opening bell. Silva needs a victory to show he is still relevant in the division, and Medeiros wants to prove he's a legitimate contender at 170 pounds in his second bout at welterweight. Silva is one of the UFC's more inconsistent fighters. Medeiros is a kickboxer who has no problem taking a shot to give two or three.
Hill's pick: Silva by second-round submission
Fang's pick: Medeiros by second-round knockout