UFC 219 headliner Holly Holm ready for second chance at history
December 4, 2017 - 4:01 pm
Updated December 4, 2017 - 11:07 pm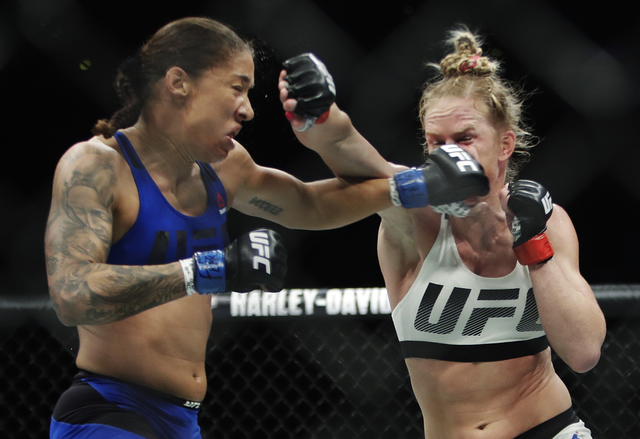 Former UFC women's bantamweight champion Holly Holm believes most of Cris "Cyborg" Justino's opponents are beaten before they ever step in the cage.
That won't be the case for Holm when she challenges Justino for the women's featherweight belt in the main event of UFC 219 at T-Mobile Arena on Dec. 30.
"I feel like I'm a style she hasn't faced and I also feel I'm a different person altogether than what she's faced," Holm said of her opponent, who has won 18 straight fights since losing her pro debut — with only one going the distance. "A lot of these girls just get in there and they're already wondering when she's going to stop them by overwhelming them with punches. That is not my mindset. I want to finish her.
"I'm not going for a participation ribbon."
She's looking to take the belt that would make her the first two-division female champion in UFC history.
"I'd love it because it hasn't been done and I'm always trying to do things that haven't been done," said Holm, who was more than a 12-to-1 underdog when she handed Ronda Rousey the first loss of her career to win the bantamweight title in 2015. "But even if there was no belt, I still want to beat her so badly."
Holm had a chance to win the featherweight belt when it was created earlier this year. She fought Germaine de Randamie to determine the first champion because Justino was dealing with a potential doping violation, which did not not result in a suspension.
Holm believed she had done enough to win the belt, but she hasn't spent much time dwelling on what could have been.
"A lot of people thought I won and I thought I won, but in my mind I still know I could have done more," Holm said. "I felt like I did more than she did, but there's things I know I did wrong. Rather than sulk about not winning, it's more constructive to learn from what I did wrong and use it to get better."
Tickets are now on sale for the fight, which will headline a UFC 219 card that includes a lightweight contender bout between Khabib Nurmagomedov and Edson Barboza.
Ngannou speaks out
Francis Ngannou's crushing right uppercut knocked out Alistair Overeem on the UFC 218 card in Detroit and sent a message to heavyweight champion Stipe Miocic.
Ngannou, however, saved his most powerful sentiment for the postfight news conference where he spoke out about recent reports and undercover videos of Nigerian men being sold on the streets of Libya.
"I want to dedicate this victory to all my brothers in Libya who are treated as slaves on this day," he said. "This is not very fair. I feel really bad for that. That is criminal. Excuse me for my words, but I just want to say (expletive) slavery, (expletive) racists, (expletive) racism. Claim the freedom, claim the liberty."
Ngannou is a native of Cameroon who spent time as a young adult homeless in Paris. The 31-year-old rising star now lives and trains in Las Vegas.
St. Pierre confirms illness
UFC middleweight champion Georges St. Pierre confirmed he is suffering from ulcerative colitis.
He confirmed the diagnosis on his Facebook page Saturday morning, hours after UFC president Dana White had revealed the news to reporters following "The Ultimate Fighter" 26 Finale card at Park Theater at the Monte Carlo.
"I now understand the health issues that I had during my last training camp," St. Pierre wrote. "I hoped my condition would improve after the fight but unfortunately it got worse and I had to go straight to the hospital for a colonoscopy when I came back from vacation last Wednesday."
St. Pierre returned from four years out of action to win the belt with a victory over Michael Bisping last month. The illness casts even more doubt on St. Pierre taking on interim champ Robert Whittaker in a unification bout.
"I am now taking medication that will hopefully appease the symptoms," St. Pierre wrote. "My health is my #1 priority right now. I'm still a very happy man, thanks for your support!!!"
Contact Adam Hill at ahill@reviewjournal.com or 702-277-8028. Follow @AdamHillLVRJ on Twitter.
Schedule
■ Friday: Invicta FC 26 (Fight Pass), Kansas City, Missouri
■ Saturday: Bellator 190 (Spike TV), Florence, Italy
■ Saturday: UFC Fight Night 123 (FS1), Fresno, California
■ Dec. 15: Bellator 191 (Spike TV), Newcastle, England
■ Dec. 16: UFC on Fox 26 (FS1/Fox), Winnipeg, Canada
■ Dec. 30: UFC 219 (FS1/PPV), T-Mobile Arena