UFC challenges NFL to fight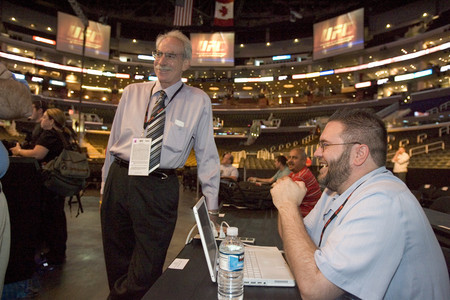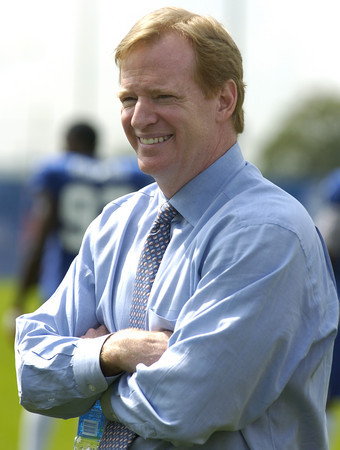 One wears a coat and tie, and the other swears he'll never be a suit. At first glance, there might appear to be few similarities between Roger Goodell and Dana White.
Goodell, the commissioner of the NFL, oversees the most popular sport in America. He's in a position of unrivaled strength.
But look at the big picture, and a challenger is emerging. White, the president of the Ultimate Fighting Championship, has realistic plans to conquer the sports world.
"When you look at the world of sports right now, nothing in this country is bigger than the NFL," White said. "There was always that big argument whether baseball was bigger than football or whatever. There's no argument. The NFL is huge. I don't (care) if you didn't watch one football game all season, everybody watches the Super Bowl.
"But I know for a fact — I don't think — that we're going to be the biggest sport in the world."
Tough talk, for sure. Yet there's an important distinction to make — White is not predicting the UFC will eclipse the NFL in the United States; he's saying it will be bigger in every country but this one.
"When it comes to rivaling the NFL, we're a completely different business," he said.
The NFL has inherent advantages such as gambling, fantasy leagues and fans' lifelong loyalties to teams and their identification with star players who are glorified in the mainstream media.
The next mixed martial arts fantasy league will be the first, betting on the sport is in its infancy, and Brock Lesnar or Georges St. Pierre are not about to become as popular as Tom Brady or Peyton Manning.
However, the NFL's worldwide reach seems to be limited. Golf is propped up by Tiger Woods. The NBA makes it living by marketing stars Kobe Bryant and LeBron James. The UFC has, in White's estimation, a product with unlimited global appeal.
"When I say it's going to be the biggest sport in the world," White said, "people either think I'm being a promoter … and trying to pump up my product or I'm a lunatic. When I break it down for you, it does make sense.
"The NFL has been spending billions of dollars trying to break into other countries, and it's not happening. You know why? Because nobody (cares) about football in other countries. They didn't grow up playing it, they don't understand the rules, and they're not invested in the teams.
"The people in London or Canada or Mexico are never going to care about the New York Giants. It's like saying cricket is going to be big here someday. Soccer never really even made it big here, but it's huge around the rest of the world."
In the past nine years, the UFC has gone from freak-show outcast status to the world's largest pay-per-view content provider. It is available in more than 500 million homes worldwide on some form of television, in 17 languages.
White has staged nine events in Europe (England, Ireland and Germany), is making inroads in Canada and has his future sights set on Australia, Brazil, France, Japan, Macau and Mexico, among other countries.
"This sport is going to keep growing. I do believe it hasn't scratched the surface yet," said Marc Ratner, UFC vice president for regulatory affairs and the former executive director of the Nevada Athletic Commission. "The growth in just the last five years is staggering to me."
White's business strategy started with television exposure, which was nonexistent in January 2001, when he convinced Station Casinos owners Frank and Lorenzo Fertitta to purchase the UFC for $2 million.
"When I first got into this thing, my goal was to get this back on television. First of all, we had to be on pay per view. But I knew what we really needed was to get this thing on free TV," White said. "Think about what a lofty goal that is. At the time that we bought this thing, it wasn't allowed on pay per view. Porn is on pay per view, but UFC was not allowed on pay per view. That's the uphill battle."
In 2006, the UFC experienced a breakthrough by doing an estimated $222 million in pay-per-view sales, and ratings are soaring for its reality show on Spike TV.
The company, which has expanded from two employees to 114, is worth an estimated $1 billion, and the UFC 100 card Saturday at Mandalay Bay is expected to be the largest-grossing mixed martial arts event in history.
All the success has attracted the attention of the national media, slowly but surely, with ESPN, Sports Illustrated and major newspapers covering the UFC as a legitimate sport.
"It's like night and day. For so long, nobody would even cover us. The mainstream media had the blinders on," White said. "It was baseball, basketball, football and hockey, and they did not look at anything else, except boxing. We built this business without them. But it feels good to finally be recognized."
The growing pains — the struggle for respectability — are mostly in the past.
"I can take two guys and put them in an octagon, and they can use any martial art they want, it transcends all cultural barriers, all language barriers," White said. "We're all human beings, and fighting is in our DNA. We get it and we like it. It doesn't have to be explained to us.
"Our global plan is moving faster than I thought it would. Our first nine years were the hardest. We have a successful track record now.
Contact reporter Matt Youmans at myoumans@reviewjournal.com or 702-387-2907.
COUNTDOWN TO UFC 100