UFC champ Khabib Nurmagomedov walks out on Conor McGregor
Updated October 4, 2018 - 8:48 pm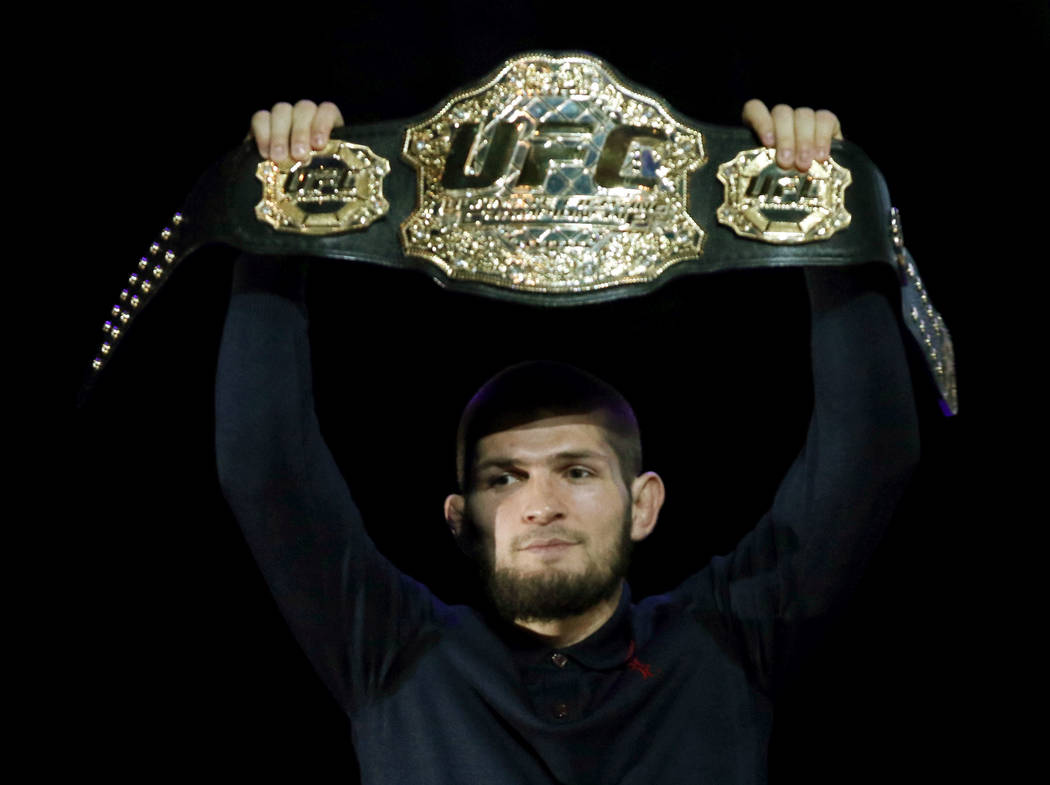 UFC lightweight champion Khabib Nurmagomedov had no time to sit around waiting for the typically tardy Conor McGregor.
So he walked out of Thursday's news conference to promote their UFC 229 title bout Saturday at T-Mobile Arena.
Nurmagomedov expected McGregor to be late, as he almost always is for such events. The champion walked on stage and took his seat on the dais at the precise moment it was scheduled, before even UFC president Dana White was ready.
"It's 3 p.m.," Nurmagomedov said. "This conference is beginning. I wait for no one."
Nurmagomedov asked if there were any questions as White came running out to take his place on stage, but the request was barely audible above raucous boos and jeers from several thousand McGregor fans.
Nurmagomedov attempted to answer questions through the rowdiness for 15 minutes before leaving.
"I don't worry about him," he said of McGregor. "I have a schedule. I have to make weight. Fifteen minutes I was here, and this guy didn't come. This is a big disrespect. All your questions will be answered in two days. Just wait."
He wasn't interested in what McGregor had to say anyway.
"When some drunk guy talks, we just leave him in the corner and ignore him," Nurmagomedov said.
About 10 minutes later, McGregor entered to thunderous applause, then jokingly blamed the traffic for being late.
The former two-division champion, who brought two belts with him despite being stripped by the UFC during his two-year absence, didn't miss a beat.
He seamlessly bounced from braggadocious bluster to biting criticisms and plugs for his new whiskey. McGregor even worked in some humility when he expressed his gratitude for the fans sticking with him, and when he was asked about White saying he's better at the mental aspect of combat sports than Muhammad Ali.
"I respect that and appreciate that, but he is a special individual," McGregor said of Ali, his idol. "To even have my name mentioned next to that man is truly an honor, so thanks. I can't compare myself to that great man, though."
It was quite a change from how McGregor spoke about the man he will be locked in a cage with on Saturday.
McGregor said he hopes Nurmagomedov, who has had weight-cutting issues, uses his extra time wisely.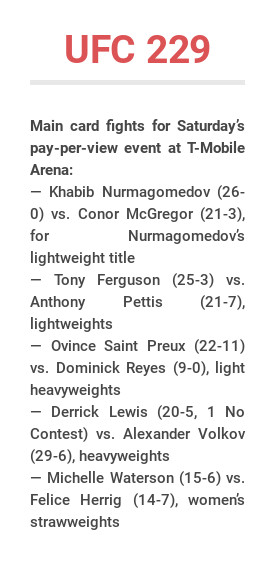 "Just cook yourself in that sauna, you smelly Dagestani rat," McGregor said. "Make the weight tomorrow, then show up on Saturday.
"I plan on knocking that man's nose right into the nosebleeds. That's what's going to happen on Saturday night. I am going to eat him alive, and I don't stop."
Nurmagomedov's early departure deprived fans of a staredown between the bitter rivals, which makes Friday's weigh-in even more anticipated.
They did have an intense faceoff at a news conference in New York a few weeks ago, and McGregor said he got a good read on the undefeated champion.
"I saw a man that didn't want to be there, and you saw that again today with him leaving," McGregor said. "But the fight is close now, and on Saturday, there's nowhere left to run."
McGregor then posed briefly for photos with his two belts, and then it was his turn to leave.
More MMA: Follow all of our MMA and UFC coverage online at CoveringTheCage.com and @RJ_Sports on Twitter.
Contact Adam Hill at ahill@reviewjournal.com or 702-277-8028. Follow @AdamHillLVRJ on Twitter.