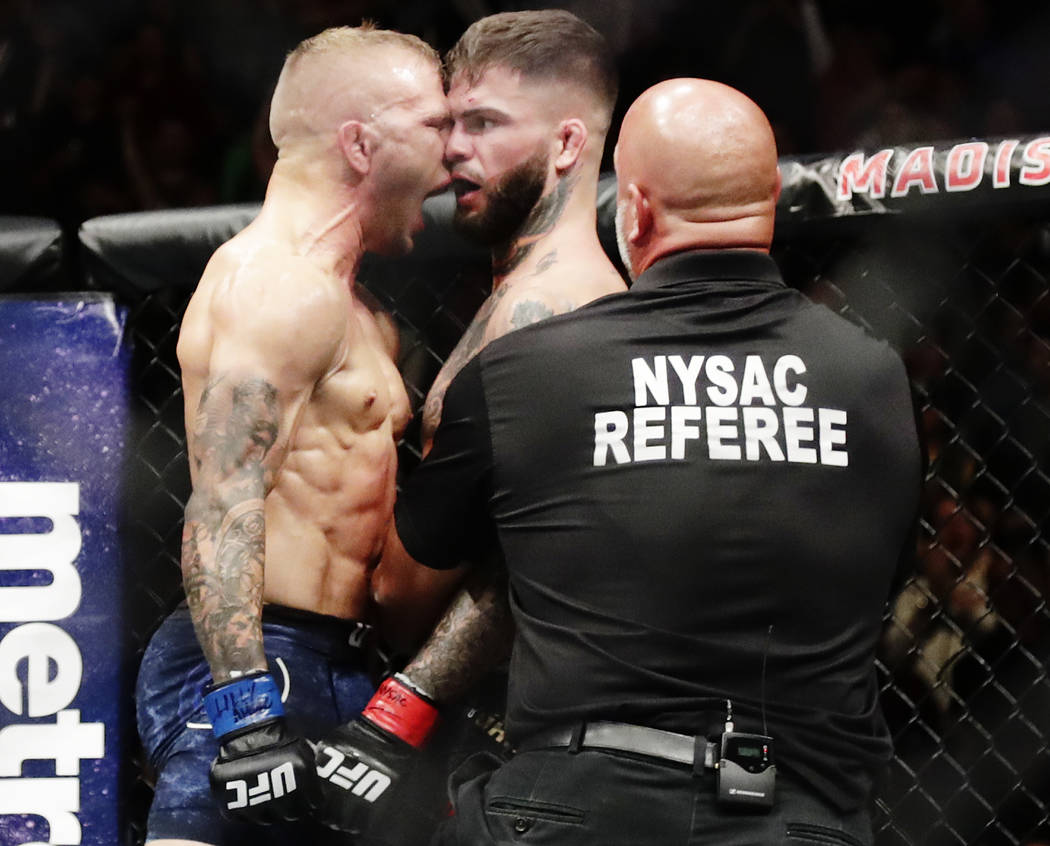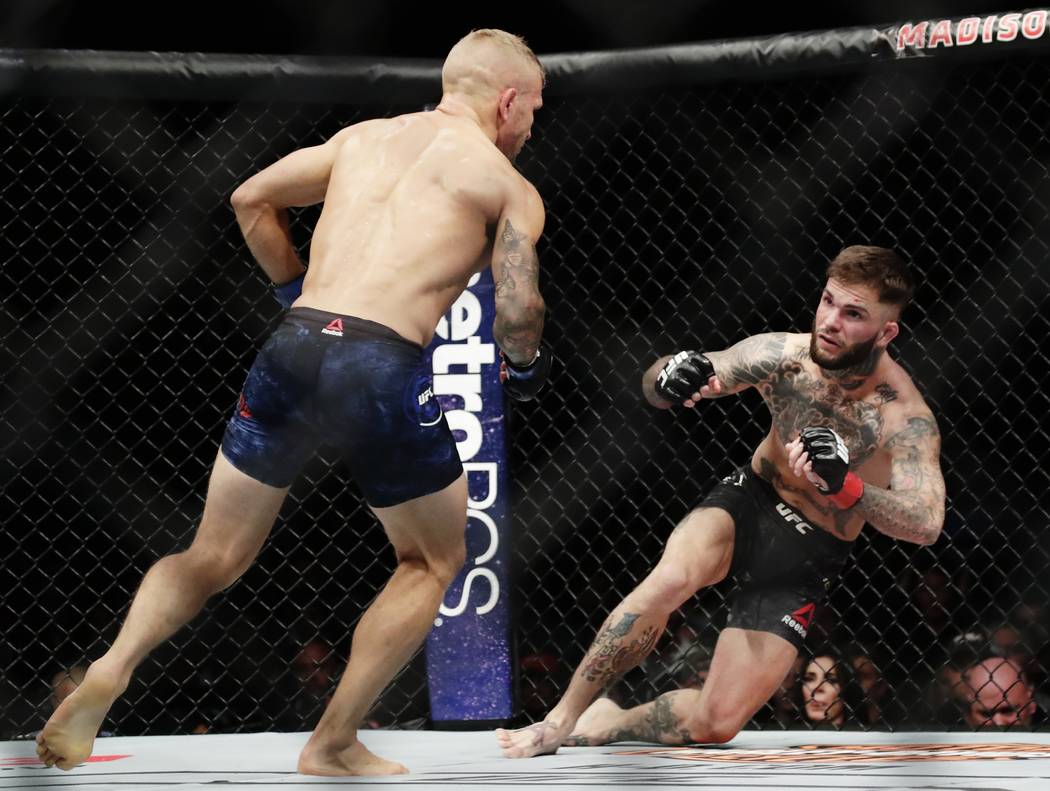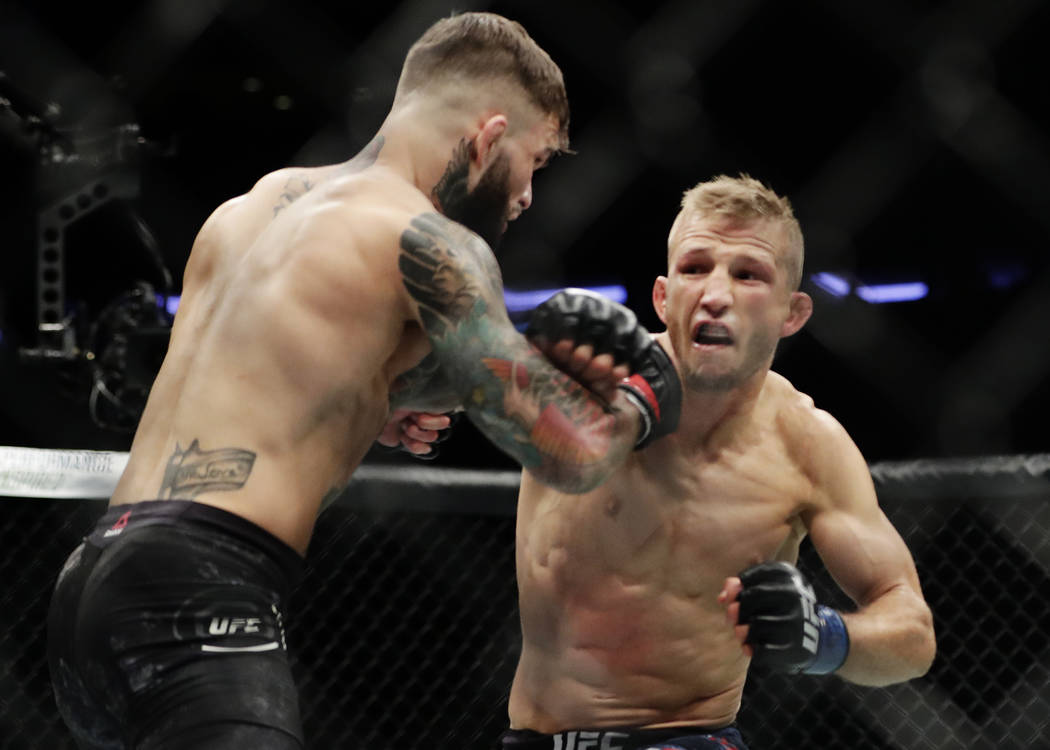 LOS ANGELES — A defeated Cody Garbrandt thought he was taking the first step toward mending fences in his bitter rivalry with former training partner T.J. Dillashaw when he extended his hand and offered congratulations backstage after their fight in November.
Dillashaw grabbed the olive branch and ripped it in half.
"He did try to be a little bit more cordial after the press conference that night and started with some small talk, and I just wasn't interested," said Dillashaw, who won the bantamweight title with his knockout of Garbrandt at New York's Madison Square Garden. "I was like, 'I just dealt with your (expletive) for a year and a half. You've been a complete (expletive) (expletive).' Excuse my language. He tried to grab me by the throat at the staredown. He just pushed it overboard. What changed now? Just because I slapped him upside his face and knocked him out? Why is he trying to be fake?"
As difficult as it might be to believe, the statement qualifies as a toning down of the rhetoric ahead of their rematch in the main event of UFC 227 on Saturday at Staples Center.
As compared to the oral assaults leading into their first bout, things have been downright civil.
"There's a lot less trash talk from his side," Dillashaw said. "It's not that easy to talk when you just got knocked out.
"Cody doesn't deserve this rematch, but he does deserve to get his … kicked. That's why I agreed to it. I will have him behind me after Saturday."
The animosity stems from Dillashaw's acrimonious exit from the Team Alpha Male gym in Sacramento, California. While both sides point fingers at the other, the breakup turned ugly fast.
Dillashaw, 32, expressed a bit of empathy for Garbrandt, whom he said is fighting the battles for some of the TAM veterans such as Urijah Faber who no longer are active fighters.
"Me and Cody were never even that close outside the gym," Dillashaw said of his opponent five years his junior. "He was a really good training partner. (I think we could be civil) as soon as he lets go of all this drama that's not even his. It's been pushed on him by his teammates. I have no problem with the guy. It wasn't like I was enemies with him. He's just trying to push all this drama that those other guys have with me.
"Of course it bothers me that (I lost those relationships). That's where all that emotion came from after I knocked him out. I stood over him and yelled and then screamed over at their corner. Those guys all used to be my close friends. It sucks."
Garbrandt insists he's treating it more as a business task than a personal vendetta.
"He really doesn't bother me at all anymore," the Ohio native said. "I just look at him as a competitor now. He took everything I was working for. He stole so many opportunities from me, but here I am now blessed with this chance to regain it all. I'll shut him up, knock him out, take my title back and just finally move on from him."
There might be one other factor in the slight cooling of the fire between Garbrandt and Dillashaw. Both fighters experienced the birth of their first child in the months since their first fight and acknowledge their infant boys have had a profound impact on their mindset.
"It's hard to put into words just how much my son motivates me and inspires me to keep climbing this mountain," Garbrandt said. "I'm prepared mentally, physically and emotionally to just go out and do this damn thing and get my title back.
"One thing I learned from that loss is I don't need to get too emotionally involved. I've just got to focus on what I need to focus on, and that's training every day, pushing my body to the limit, getting better and raising my family. So I had no extra time for his banter or his trash talk. We've been back and forth with this guy for forever now, and I'm tired of it. I'm excited to end this chapter with T.J."
The pay-per-view main card begins at 7 p.m. The four-fight preliminary card airs on FX at 5.
More MMA: Follow all of our MMA and UFC coverage online at CoveringTheCage.com and @CoveringTheCage on Twitter.
Contact Adam Hill at ahill@reviewjournal.com or 702-277-8028. Follow @AdamHillLVRJ on Twitter.
UFC 227
Saturday's main card bouts for the 7 p.m. pay-per-view event at Staples Center in Los Angeles:
— T.J. Dillashaw vs. Cody Garbrandt, for Dillashaw's bantamweight title
— Demetrious Johnson vs. Henry Cejudo, for Johnson's flyweight title
— Thiago Santos vs. Kevin Holland, middleweights
— Polyana Viana vs. J.J. Aldrich, women's strawweights
— Cub Swanson vs. Renato Moicano, featherweights