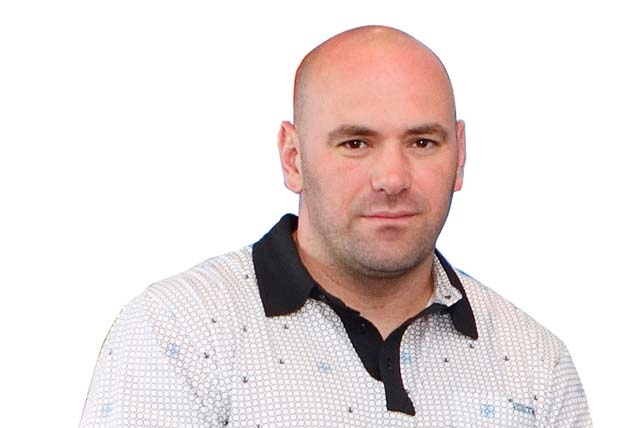 Presidents of multimillion-dollar sports leagues usually don't wear jeans with holes, hang out on game day in a Spartan man cave deep inside the bowels of the arena and fire off tweets to fire up fans before the main event.
But then again, as president of the Ultimate Fighting Championship, Dana White is not your conventional sports organization executive. During the early hours on fight days, the brash, in-your-face, blunt-talking White likes to hang out in what's officially described as a "green room." But the decor in what he calls "the lab" consists of simply a couch and a young woman typing on a laptop who goes by the nickname "Twitter Baby."
She's a social media consultant and has a name, Kristin Adams, but White affectionately calls her "Twitter Baby." White and Adams will be a duo again at Saturday's UFC 162 fight show.
With nearly 2.6 million Twitter followers, White has embraced social media like few other major sports executives, posting more than 21,000 tweets on everything from hyping big UFC fights to cross-promoting his friends, such as Mike Tyson, who was hanging out with his entourage at the UFC 160 event in May.
White's unfiltered noncorporate persona comes through in his tweets. He slings barbs with the best of them — and his targets can be an entire state (New York for not legalizing MMA fights) or a smack-talking fan.
"He's very raw. That's what people love about him," said Shanda Maloney, UFC social media manager.
"Dana's the same person you see in person in the office as you see on Twitter. He's very real," Maloney said. "He's not going to sugarcoat anything for anyone."
White said Twitter allows him to take his message straight to the fans without having the media do that.
"Dana uses his Twitter to speak directly to the fans, and nobody cares more about the fans of UFC than Dana White. He listens to them, values their opinions, considers them and often acts on them," said Jen Wenk, a former UFC public relations director who now runs her own mixed-martial arts public relations agency. "Dana has created his own news wire in his Twitter account."
No wonder that UFC's business strategy has a strong focus on social media.
About a dozen UFC staffers in the U.S. and in international offices work on posting messages on Facebook and Twitter and videos on YouTube.
The numbers are staggering.
On Facebook, the UFC page has more than 10.6 million likes. On Twitter, there are more than 1 million followers. The UFC YouTube channel has nearly 1.1 million subscribers and more than 415 million views.
By comparison, ESPN's YouTube channel has slightly more subscribers but fewer views with 276 million.
On Facebook, one UFC strategy is to pinpoint geographic-oriented posts to fighters' hometowns, which has proven to drive UFC pay-per-view sales in that market, Maloney said.
"We just don't post information globally. We're more mindful of geographic posting," she said. "People do have an interest in a hometown fighter, and that gives them a reason to purchase the pay-per-view or to tune in to a live event."
Social media staffers also try to have fun with the content, Maloney said.
"We try to have personality and character and humor behind the posts to get people to laugh and chuckle," she said.
Another strategy is to engage fans by encouraging them to share photos of their favorite fighters. For example, UFC posted Facebook photos of combatants Rashad Evans and Dan Henderson, who fought June 15.
"Fans like to share opinions about fighters," Maloney said. "People love to share their opinions about who they think will win."
Contact reporter Alan Snel at asnel@reviewjournal.com or 702-387-5273.