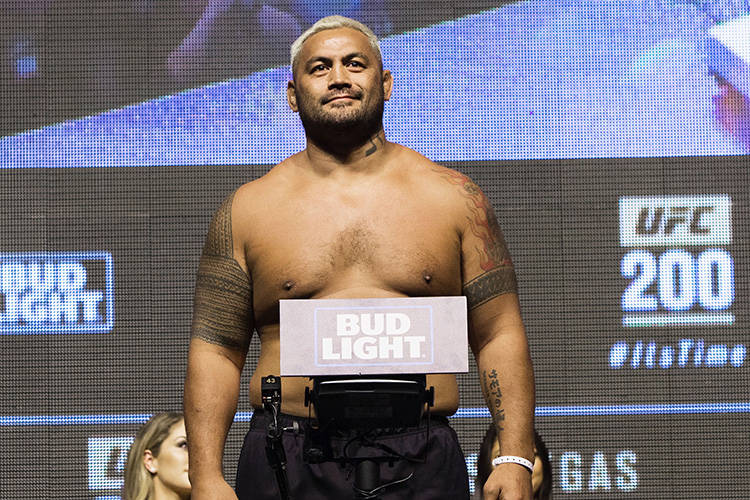 A breakdown of the fights on the main card of UFC Fight Night 110 on Saturday at Spark Arena in Auckland, New Zealand, with picks from the Review-Journal's Adam Hill and Heidi Fang:
Derrick Lewis (18-4, 1 No Contest) vs. Mark Hunt (12-11-1, 1 No Contest)
Class: Heavyweight
Line: Lewis minus-130
Storyline: This is the kind of matchup most fans are looking for when they say they enjoy the heavyweight division. Don't expect much strategizing or defense. Hunt's best defensive maneuver has been his iron chin. Lewis will certainly test it. He is on a six-fight winning streak, with five of the victories ending in knockouts. The only fighter to go the distance with Lewis during that run was Roy Nelson, who found a way to neutralize him for long stretches by getting the fight to the ground. Hunt will have no interest in employing a similar strategy. He knows he is running out of chances to fight in the UFC at age 43 and will look to put on a show for the home fans.
Hill's Pick: Lewis by second-round knockout
Fang's Pick: Lewis by fourth-round knockout
Derek Brunson (16-5) vs. Dan Kelly (13-1)
Class: Middleweight
Line: Brunson minus-280
Storyline: Brunson is bigger, faster, stronger and younger. The same can be said of just about every opponent who fights Kelly. Yet somehow the four-time Olympian in judo for Australia keeps winning as an underdog. His four-fight winning streak is unexpected, to say the least. Brunson has been headed in the opposite direction, though his two-fight losing streak might deserve an asterisk. After a knockout loss to rising star Robert Whittaker ended his five-fight winning streak, Brunson was robbed of a decision against middleweight legend Anderson Silva in February.
Hill's Pick: Kelly by decision
Fang's Pick: Kelly by decision
Dan Hooker (14-7) vs. Ross Pearson (21-13, 1 No Contest)
Class: Lightweight
Line: Hooker minus-160
Storyline: Hooker, a lifelong Auckland resident, has alternated wins and losses since making his UFC debut in 2014. If form holds, he's due for a win. Pearson provides the ideal opportunity to please the home fans, as his aggressive style is conducive to fireworks in the cage. His brawling style might be catching up to him, however. Pearson once battled inconsistency, but now is striving for such mediocrity. He has lost three straight and finds himself in desperate need of a win. As long as Hooker can stay on the outside and avoid a close-range brawl with Pearson, he should find an opening for a finish.
Hill's Pick: Hooker by second-round knockout
Fang's Pick: Pearson by decision
Ion Cutelaba (12-3, 1 No Contest) vs. Henrique da Silva (12-2)
Class: Light heavyweight
Line: Cutelaba minus-280
Storyline: Cutelaba loves to brawl. That wouldn't be a good idea for him in this matchup. He's too reckless, and da Silva is better and more powerful when the action gets wild. Instead, Cutelaba should showcase the wrestling and judo techniques that he featured on his rise to the UFC. Da Silva has solid submissions but has struggled to defend takedowns. Cutelaba should be able to force him to the mat, where he can wear him out and test da Silva's questionable cardio. It's more likely he just lets the fist fly, which would mean underdog bettors would find value with da Silva.
Hill's Pick: Cutelaba by second-round knockout
Fang's Pick: Cutelaba by second-round knockout
Tim Elliott (15-7, 1 No Contest) vs. Ben Nguyen (16-6)
Class: Flyweight
Line: Elliott minus-225
Storyline: Elliott proved his spectacular performance in a narrow loss to dominant champion Demetrious Johnson in December was no fluke by backing it up with a win over Louis Smolka in April. He employs an awkward style that has proven to be effective. Elliott even seemed to confound Johnson, one of the sport's best technicians. Nguyen was knocked out by Smolka last year, but it was his only loss in four UFC bouts. The style matchup could prove difficult for Nguyen. While he can be a devastating counterstriker, that strategy isn't as effective against Elliott because the timing is so difficult to figure out. Nguyen also might be susceptible to Elliott's takedowns, especially as both fighters tend to tire out.
Hill's Pick: Elliott by decision
Fang's Pick: Elliott by third-round submission
Alexander Volkanovski (14-1) vs. Mizuto Hirota (19-7-2)
Class: Featherweight
Line: Volkanovski minus-490
Storyline: Volkanovski showed a ton of promise with a dominant victory in his UFC debut in November. The former professional rugby player will be looking to replicate the effort against Hirota, who hopes to take advantage of his second chance in the UFC. Hirota went 0-2 in the organization in 2013, but was signed again after winning three straight on the regional circuit. He settled for a draw in his UFC return and followed with a win over Cole Miller in December. Hirota certainly has talent, but Volkanovski's ground-and-pound is phenomenal. Look for him to employ the technique again. If he gets Hirota in a bad position on the mat, the end could come quickly.
Hill's Pick: Volkanovski by first-round knockout
Fang's Pick: Volkanovski by second-round knockout