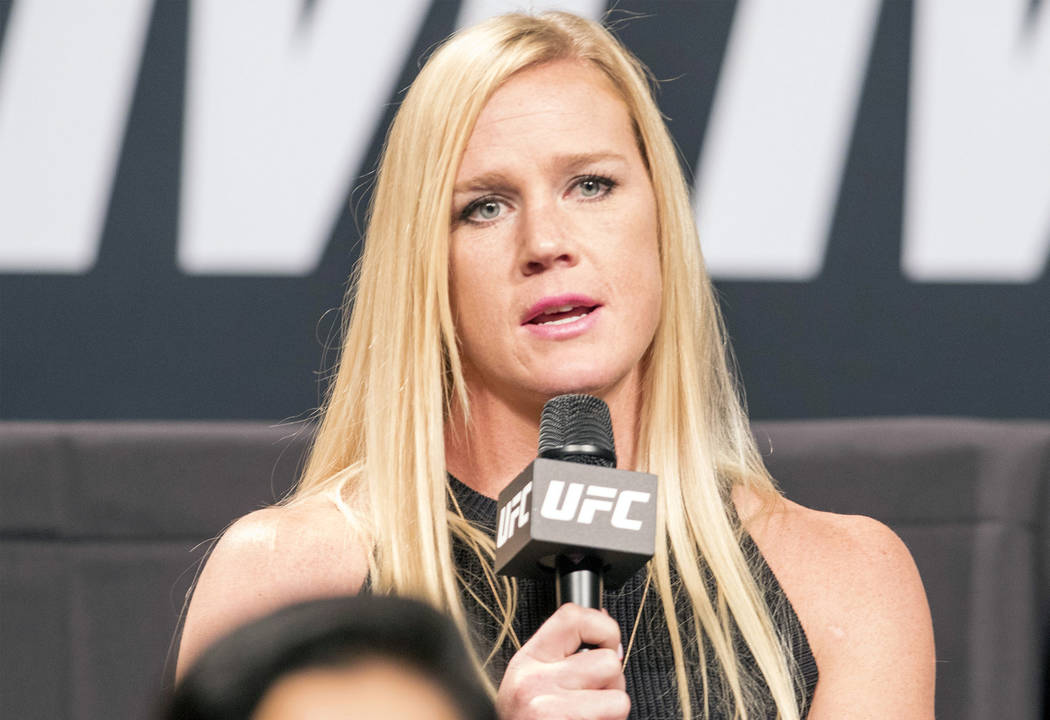 A breakdown of the fights on the main card of Saturday's UFC Fight Night 111 card at Singapore Indoor Stadium in Singapore, with picks from the Review-Journal's Adam Hill and Heidi Fang:
Holly Holm (10-3) vs. Bethe Correia (10-2-1)
Class: Women's bantamweight
Line: Holm -600
Storyline: Remember when Holly Holm shocked the MMA world by knocking out Ronda Rousey in Australia to win the belt? That was November 2015. It was also Holm's last victory. She has lost her last three fights and is desperately in need of a victory. Correia should be the right matchup to help make that happen. She will likely stand in front of Holm and try to strike with her. That's a recipe for disaster. Holm will create distance and just pick opponents apart when they don't mix up their attacks. This should be a confidence-boosting performance for the former champ.
Hill's Pick: Holm by second-round knockout
Fang's Pick: Holm by third-round knockout
Andrei Arlovski (25-14, 1 No Contest) vs. Marcin Tybura (15-2)
Class: Heavyweight
Line: Tybura -260
Storyline: Arlovski, who was the UFC heavyweight champion more than a decade ago, was experiencing a nice career resurgence that saw him briefly in title contention two years ago. Then came four straight losses, including three by knockout. Arlovski is on his last legs and it might be time for someone to kindly let him know his time as a fighter may be close. Tybura may be the one to tell him, though in not such a friendly manner. Tybura has knocked out his last two opponents and will look to make it three straight. Arlovski's name will be a nice feather in Tybura's cap as he looks to build his resume.
Hill's Pick: Tybura by first-round knockout
Fang's Pick: Arlovski by third-round knockout
Dong Hyun Kim (22-3-1, 1 No Contest) vs. Colby Covington (11-1)
Class: Welterweight
Line: Covington -325
Storyline: Covington is a submission specialist who has built up a 6-1 record during his time in the UFC. Kim will represent a nice step up in progression and should tell a great deal about Covington's readiness to jump into the upper echelon of the division. Kim is unbelievably strong and very well-rounded. He uses his judo base to his advantage and often frustrates opponents. Covington may be able to overwhelm him a bit with his athleticism. Underdog bettors may want to take a shot on Kim here as he does represent good value in what could be a close fight.
Hill's Pick: Covington by decision
Fang's Pick: Kim by second-round submission
Tarec Saffiedine (16-6) vs. Rafael dos Anjos (25-9)
Class: Welterweight
Line: Dos Anjos -220
Storyline: Dos Anjos is the third former champion on the main card. After losing the lightweight belt to Eddie Alvarez last year, he dropped a decision to Tony Ferguson and November and then made the decision to move up to welterweight. It could be a good move as he eliminates the brutal weight cuts that may have been affecting his performance at 155 pounds. Saffiedine will provide a good measuring stick for where dos Anjos stands in his new division. Saffiedine is durable and has very sound fundamentals as a kickboxer. If he can weather the early storm from a typically aggressive dos Anjos, Saffiedine should be able to find his range. Dos Anjos may be too big a favorite in his 170-pound debut.
Hill's Pick: Saffiedine by decision
Fang's Pick: Dos Anjos by decision