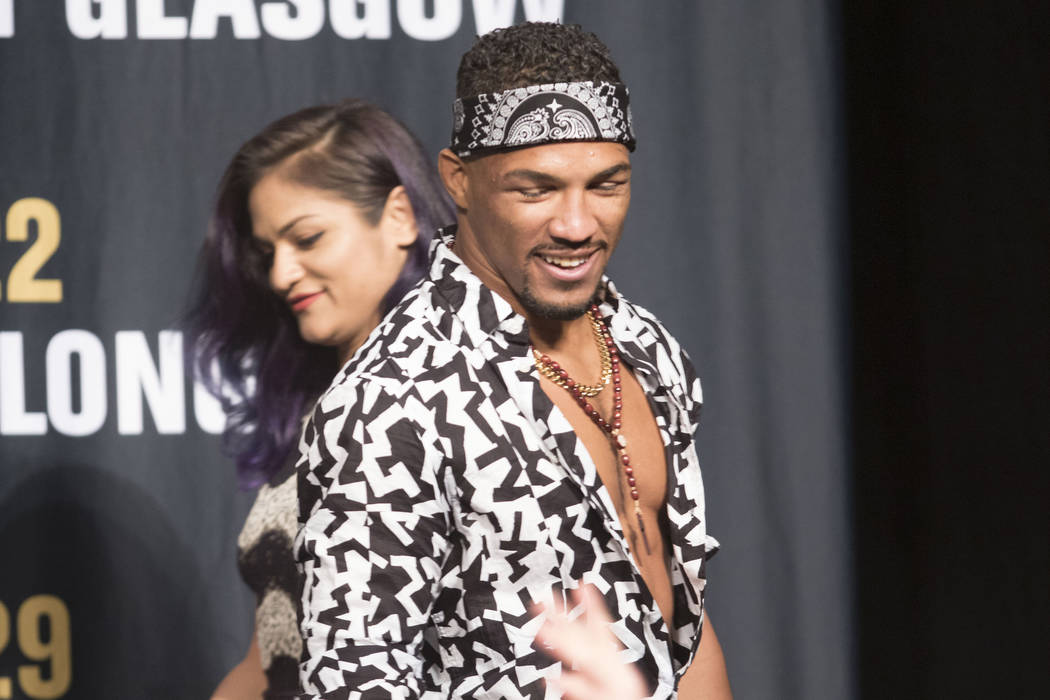 A breakdown of the fights on the main card of UFC Fight Night 112 on Sunday at Chesapeake Energy Arena in Oklahoma City, with picks from the Review-Journal's Adam Hill and Heidi Fang:
Michael Chiesa (14-2) vs. Kevin Lee (15-2)
Class: Lightweight
Line: Lee minus-135
Storyline: Lee moved to Las Vegas to train full time after losing his UFC debut as a college student three years ago. He has won eight of his past nine fights and finds himself in his first headlining bout. He has all the intangibles to be a superstar, but this is a huge test. Not much about Chiesa's game stands out. He just finds a way to consistently win. He's incredibly tough and is adept at locking in chokes from many positions. Should Lee find a way to end Chiesa's three-fight winning streak, he will find himself squarely in title contention. Lee and Chiesa were involved in an altercation at a promotional news conference in May, but both say they have moved on.
Hill's pick: Lee by third-round knockout
Fang's pick: Lee by decision
Tim Boetsch (20-11) vs. Johny Hendricks (18-6)
Class: Middleweight
Line: Hendricks minus-225
Storyline: Hendricks is a former welterweight champion who moved up to 185 pounds after suffering three straight defeats. The move appeared to suit him well. In his first fight at middleweight, Hendricks looked stronger and fresher after not having to endure a brutal weight cut. He defeated Hector Lombard and started to silence doubters who were questioning whether he could still perform at an elite level. He faces another stiff challenge in Boetsch, a durable veteran who had his two-fight winning streak snapped by top contender Ronaldo "Jacare" Souza in February. Hendricks was an elite amateur wrestler, though he has largely abandoned his roots in recent fights and become reliant on his knockout power. He should be able to take Boetsch down and control the fight on the mat.
Hill's pick: Hendricks by decision
Fang's pick: Hendricks by decision
Felice Herrig (12-6) vs. Justine Kish (6-0)
Class: Women's strawweight
Line: Herrig minus-125
Storyline: Both fighters have kickboxing backgrounds, and this could be a fun striking battle. Herrig is more technical, while Kish is aggressive and can keep up a frantic pace for the entire 15 minutes. The difference could be Herrig's ground skills. She is a solid wrestler and has proven to be capable on the mat with four submission wins. But Kish should be fine if she keeps the fight standing. Her pace could give Herrig trouble.
Hill's pick: Kish by decision
Fang's pick: Herrig by decision
Joachim Christensen (14-5) vs. Dominick Reyes (6-0)
Class: Light heavyweight
Line: Reyes minus-400
Storyline: Christensen can do a little bit of everything, but nothing about his game stands out. He had success on the European circuit, but has struggled to break through in the UFC, going 1-2. Reyes is making his debut in the organization, though he rose to prominence on the internet when his knockout of a showboating opponent on the regional circuit went viral. He will be the better athlete in this matchup. Christensen probably will need to slow the pace and try to wear down Reyes to take some of his explosiveness away.
Hill's pick: Reyes by first-round knockout
Fang's pick: Reyes by second-round knockout
Tim Means (26-8-1, 1 No Contest) vs. Alex Garcia (14-3)
Class: Welterweight
Line: Means minus-230
Storyline: Means had won six of seven fights and seemed a sure bet for title contention before he ran into Alex Oliveira. In the first meeting against Oliveira, Means landed several illegal strikes and the fight was declared a no-contest. He got a rematch and was choked out by Oliveira in March. Means has been through far worse in his life. He overcame drug addiction and served a four-year prison term early in his career. He has turned his life around and has good power in his hands. Garcia said he plans to stand and trade, never a good idea against Means.
Hill's pick: Means by first-round knockout
Fang's pick: Means by third-round knockout
BJ Penn (16-11-2) vs. Dennis Siver (22-11, 1 No Contest)
Class: Featherweight
Line: Siver minus-250
Storyline: There is no reason for Penn to still be fighting. He is one of the most accomplished fighters in UFC history and has nothing left to prove. While his legacy is secure, he's not leaving his fans with many positive memories as he continues his retirement tour. It has been almost seven years since he won a fight. Siver has been out of action for more than two years because of injury. Still, he's a capable kickboxer with decent power.
Hill's pick: Siver by second-round knockout
Fang's pick: Siver by third-round knockout