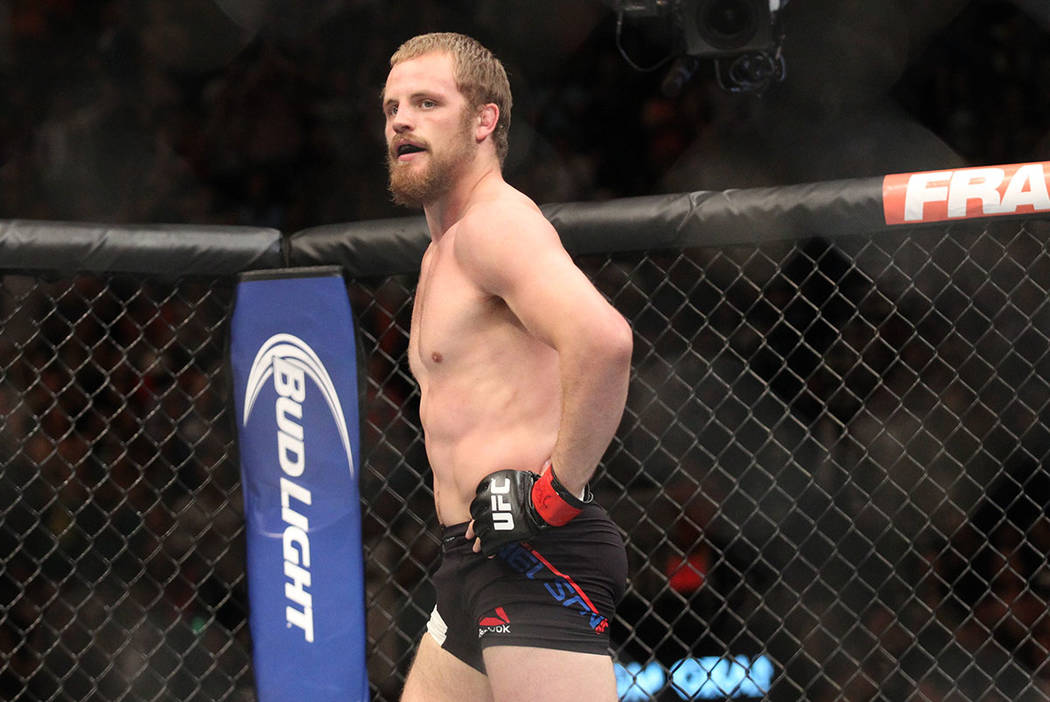 UFC FIGHT NIGHT 113 MATCHUPS
A breakdown of the fights on the main card of Sunday's UFC Fight Night 113 card at The SSE Hydro in Glasgow, Scotland, with picks from the Review-Journal's Adam Hill and Heidi Fang:
Gunnar Nelson (16-2-1) vs. Santiago Ponzinibbio (24-3)
Class: Welterweight
Line: Nelson -170
Storyline: Nelson, a close friend and training partner of Conor McGregor, is one of the best grapplers in the organization. He'd be the unquestioned king of the mat in the welterweight division if not for top contender Demian Maia. Nelson is coming off back-to-back submission victories and has won three of his last four fights with the lone loss coming against Maia. He has earned fight-night bonuses for each of those last two wins. Ponzinibbio enters the bout with even more momentum. He has won four straight fights, including two by knockout. The Argentinian kickboxer possesses a black belt in jiu-jitsu, but is likely to do what he can to keep the fight standing for as long as possible. Nelson should take control if it hits the ground at any point.
Hill's Pick: Nelson by decision
Fang's Pick: Nelson by second-round submission
Joanne Calderwood (11-2) vs. Cynthia Calvillo (5-0)
Class: Women's strawweight
Line: Calvillo -190
Storyline: It has been a wild ride for Calvillo since her UFC debut in March. Her bout at UFC 209 was moved up from the preliminary card to the pay-per-view broadcast when a featured bout between Khabib Nurmagomedov and Tony Ferguson was canceled the day before the fight. Calvillo took full advantage of her time in the spotlight with a first-round submission of Amanda Cooper. Calvillo then got another showcase bout on the UFC 210 card in April and dispatched of another opponent, tapping out Pearl Gonzalez in the third round. That earned her this opportunity, which included a spot on the dias of a summer kickoff news conference in May. Calvillo has the chance to go from virtual unknown to legitimate contender in less than five months. Calderwood is likely fighting at strawweight for the final time. The 125-pound division is opening up and she had already stated her intention to move up when she missed weight for this bout. Calderwood is dangerous in the standup and in the clinch. Calvillo's strengths lie mostly in her aggression and ground game.
Hill's Pick: Calvillo by decision
Fang's Pick: Calvillo by second-round knockout
Stevie Ray (21-6) vs. Paul Felder (13-3)
Class: Lightweight
Line: Ray -180
Storyline: A huge opportunity for Ray to fight in front of his home crowd. He will certainly be the fan-favorite and Felder will engage him in the type of brawl that will please the masses. Both are very capable kickboxers. Felder has a wrestling background, though he has shown a clear preference to engage in exciting standup wars since entering the UFC. Ray has won five of six fights in the organization and is at is best when he isn't concerned with takedown attempts from his opponent. Felder may try to mix one in here and there, but Ray should be able to set his feet and fire away. This is a strong contender for fight-of-the-night as both are quite durable.
Hill's Pick: Ray by decision
Fang's Pick: Ray by decision
Jack Marshman (21-6) vs. Ryan Janes (9-2)
Class: Middleweight
Line: Marshman -530
Storyline: Both fighters enter in a similar spot. After building up successful records on the regional circuit, both fighters won their UFC debuts before dropping their second bout in the organization. In fact, they both lost on the same UFC Fight Night 105 card in February. One look at the odds reveals how much more potential Marshman is believed to possess than his opponent. Marshman has all kinds of power and a fairly legitimate ground game to go with it. Janes, who is already 35, is a submission specialist who will need to get the fight to the mat.
Hill's Pick: Marshman by first-round knockout
Fang's Pick: Marshman by third-round knockout
Khalil Rountree Jr. (6-2) vs. Paul Craig (9-1)
Class: Light heavyweight
Line: Rountree -185
Storyline: Rountree, a Las Vegan, did not get off to a great start in the UFC. He was dominated by Andrew Sanchez on the 'TUF' 23 Finale card last year and then got submitted by Tyson Pedro in November. That probably would have resulted in a pinkslip for most fighters coming off the show, but Rountree got another chance and took full advantage. He needed just 52 seconds to knock out Daniel Jolly in February and will now look to seize on the momentum. Craig also lost to Pedro, suffering the first loss of his career by knockout to Pedro in March. The line is a bit baffling as it should probably be much closer to a pick 'em. Both guys have the power to end it quickly, but there is just too much value on the underdog.
Hill's Pick: Craig by decision
Fang's Pick: Rountree by first-round knockout
James Mulheron (11-1) vs. Justin Willis (4-1)
Class: Heavyweight
Line: Willis -190
Storyline: Mulheron has competed exclusively in England and was signed by the UFC about five weeks ago to replace an injured Mark Godbeer in this bout. He has racked up seven knockout victories in his career. He makes his organizational debut against Willis, who also competes in the UFC for the first time after a brief stint in World Series of Fighting. Willis, who trains with Daniel Cormier at American Kickboxing Academy, has the better pedigree. It's just a difficult bet with the unknown of two newcomers in a slugfest that could end with one punch.
Hill's Pick: Willis by second-round knockout
Fang's Pick: Mulheron by decision
More MMA: Follow all of our MMA and UFC coverage online at CoveringTheCage.com and @CoveringTheCage on Twitter.
Contact Adam Hill at ahill@reviewjournal.com or 702-277-8028. Follow @adamhilllvrj on Twitter. Contact Heidi Fang at hfang@reviewjournal. Follow @HeidiFang on Twitter.