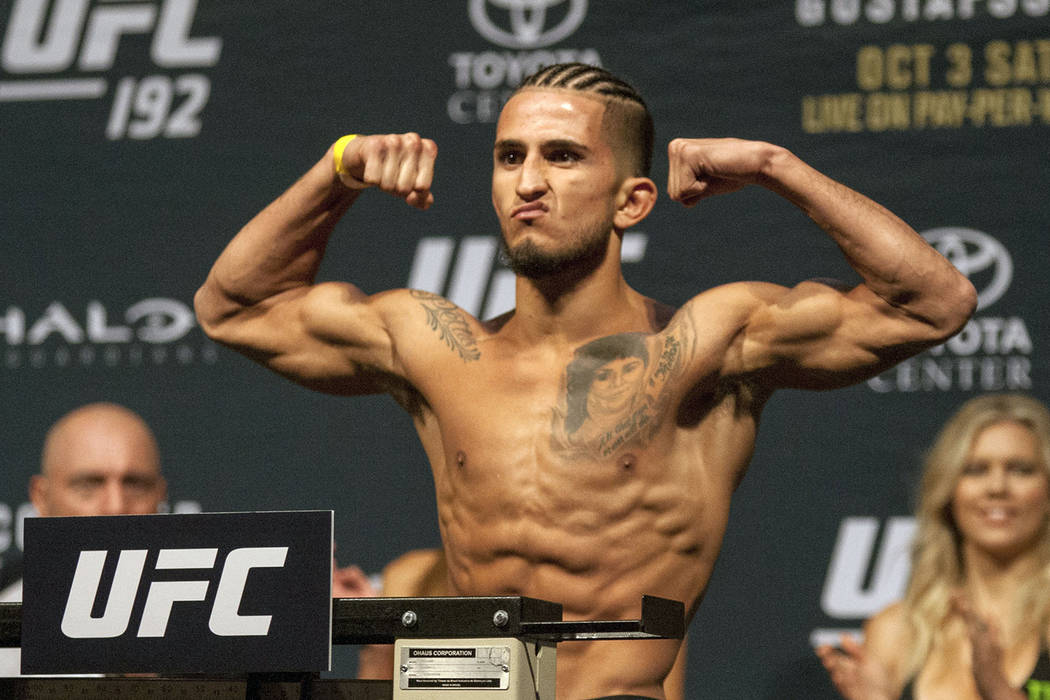 UFC FIGHT NIGHT 114 MATCHUPS
A breakdown of the fights on the main card of Saturday's UFC Fight Night 114 card at Arena Ciudad de Mexico in Mexico City, with picks from the Review-Journal's Adam Hill and Heidi Fang:
Sergio Pettis (15-2) vs. Brandon Moreno (14-3)
Class: Flyweight
Line: Moreno -175
Storyline: A great matchup of rising prospects at 125 pounds. Either fighter is capable of making a big leap into contender status with an impressive victory. The action should be very fast-paced, particularly on the feet. Pettis has grown stronger with each fight and has high-end power for the division. Moreno is also dangerous as a kickboxer, though neither has shown much interest in defense. That could make for some wild exchanges. The biggest edge in the fight should be with Moreno on the ground. While he's not the most decorated grappler, Moreno has racked up 10 submissions in his career. Pettis has been taken down before and may be particularly susceptible if the striking action gets too wild.
Hill's Pick: Moreno by second-round submission
Fang's Pick: Moreno by decision
Randa Markos (7-5) vs. Alexa Grasso (9-1)
Class: Women's strawweight
Line: Grasso -160
Storyline: A whole lot of hype followed Grasso into the UFC, though most of it evaporated after a loss to Felice Herrig in February. This is a huge opportunity for her to bounce back against a former winner of "The Ultimate Fighter," but the week didn't get off to a great start. Grasso missed weight by three pounds on Friday. If that's a sign her conditioning could be a problem, Markos isn't a great opponent. She can be relentless and will look to wear Grasso down. Grasso allowed herself to become too defensive against Herrig. This should be a good indicator of whether she learned from her mistake. Grasso will also have a huge advantage in crowd support, which could come into play if it's a close decision.
Hill's Pick: Grasso by decision
Fang's Pick: Markos by third-round submission
Alan Jouban (15-5) vs. Niko Price (9-0, 1 No Contest)
Class: Welterweight
Line: Jouban -185
Storyline: Price would be 2-0 in the UFC, but his February win was overturned due to a positive marijuana test. Still, he has a great deal of momentum heading into this matchup against Jouban, who had won five of six before falling victim to a guillotine choke from jiu-jitsu ace Gunnar Nelson. Jouban is developing more power as he is growing more confident in his fundamentals and sitting down on his punches. Price could give him trouble if he can get inside or take him down, so Jouban may look to end the fight quickly from a more comfortable range.
Hill's Pick: Jouban by second-round knockout
Fang's Pick: Jouban by second-round knockout
Martin Bravo (12-0) vs. Humberto Bandenay (13-4, 1 No Contest)
Class: Featherweight
Line: Bravo -300
Storyline: Bravo excited fans with his brawling style in his November UFC debut. His win was even more impressive considering it came at lightweight. Now, he will settle into his more natural weight class as he drops down to featherweight. Bandenay, who is making his UFC debut, may throw strikes with less volume though he possesses plenty of power. Bandenay should also be able to land leg and body kicks at will because Bravo seems to have no interest in defending those, choosing to use his entire attention on boxing. This has all the potential to be the best fight on the card. Bravo is the rightful favorite, but it might be a bit too high.
Hill's Pick: Bravo by decision
Fang's Pick: Bravo by decision
Sam Alvey (30-9, 1 No Contest) vs. Rashad Evans (24-6-1)
Class: Middleweight
Line: Alvey -135
Storyline: Evans is a former light heavyweight champion who is in desperate need of a victory after dropping three straight. He dropped down to middleweight for his last fight and looked improved even in a loss against Dan Kelly. Evans is a solid pure boxer, but will need to once again mix in his wrestling if he wants to find success again in the UFC. That is especially true against Alvey. He is a counter-puncher with very little interest in wrestling or even pressing the action in the striking. His most success has come from sitting back and waiting for his opponent to attack and then looking for a fight-ending power punch. Evans has a ton of motivation and should be able to stick to a gameplan that will limit the risk of falling into Alvey's strategy.
Hill's Pick: Evans by decision
Fang's Pick: Evans by decision
Alejandro Perez (18-6-1) vs. Andre Soukhamthath (11-4)
Class: Bantamweight
Line: Perez -125
Storyline: There shouldn't be much mystery to this one. Both guys would prefer to strike and aren't likely to find much resistance. There will also be plenty of motivation as they are both hungry for a victory after disappointing performances the last time out. Perez is more aggressive and that should serve him well in this matchup.
Hill's Pick: Perez by decision
Fang's Pick: Perez by first-round knockout