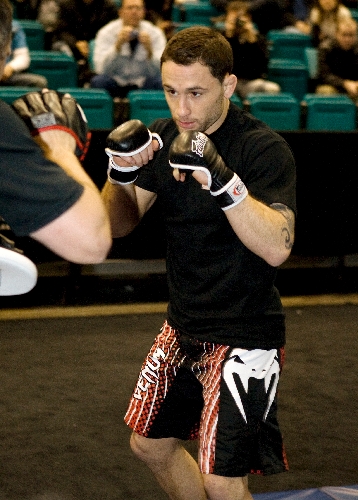 As if winning the Ultimate Fighting Championship lightweight title by beating every bigger and supposedly better fighter in his path wasn't enough, Frankie Edgar now also must concern himself with increasing his star power.
Not that he cares about fame. The easygoing 5-foot-6-inch New Jersey native understands that in a sport driven by sponsorships and pay-per-view buys, popularity translates into dollars.
Edgar, who will defend the lightweight title against Las Vegan Gray Maynard in the main event of UFC 125 tonight at the MGM Grand Garden, doesn't have far to look for a role model.
The 29-year-old shares management and several trainers with welterweight champion Georges St. Pierre, who has become one of the sport's biggest stars despite a reserved demeanor and a hesitancy to talk trash.
Edgar acknowledged he has work to do as far as his ability to hype fights but said St. Pierre has laid out a simple map for reaching the pinnacle of the sport.
"I think it's just time. I think it took awhile for people to really grab on to GSP," Edgar said. "He's kind of a reserved guy like myself, but if you keep winning and beating good guys, it's going to happen eventually."
Edgar said he has had conversations with St. Pierre about several aspects of being a champion.
"You can't get any better opinions than from someone like Georges," he said. "He's been in my situation many more times than I have, so why not try to learn from his experiences?"
Phil Nurse, who serves as a trainer to Edgar and St. Pierre, said while both fighters are somewhat quiet, they are similarly driven.
"They both want to be No. 1 very badly. They both like a challenge. They both want to fight the best," Nurse said. "To me, as a coach, the biggest thing is both of them listen very, very well. They are both like sponges."
Edgar can take a major step forward in his career and his marketability by avenging his only loss, a 2008 unanimous decision to the still-unbeaten Maynard, on a card that traditionally is one of the company's biggest of the year.
Though he insisted he is not caught up on the loss, it is clear the lone blemish on his slate irks Edgar.
He even has taken to referring to his record as 13-and-Maynard.
"When it's fresh in your mind, you think about it a lot, but as you go on, you deal with it," Edgar said. "The best thing to do after a loss is to win, and I won my next five fights, and that definitely lifted my spirits. It's definitely in the back of my mind. I have one loss, and it happens to be to this guy."
Despite carrying the belt into the cage, Edgar enters as about a plus-135 underdog, something he said doesn't bother him. Edgar said he still hears people say he should drop down in weight.
"Maybe I'm just destined to be an underdog every time I go out there," Edgar said. "But him being one of the biggest 155-pounders and me being one of the smallest, I think a win over him would maybe quiet some of those skeptics about me being too small for the weight class."
The fight is one of five evenly matched bouts on the main card, which airs live on pay per view at 7 p.m.
No favorite on the main card is more than a minus-150 betting choice.
Chris Leben and Brian Stann face off in what is expected to be a middleweight slugfest. Leben looks to win his fourth straight fight and firmly establish himself in the upper echelon of the division.
Brandon Vera and Thiago Silva each look to get back in the win column in a light heavyweight bout, and Nate Diaz meets unbeaten welterweight Dong Hyun Kim.
The main card begins with Clay Guida taking on Takanori Gomi in a lightweight fight. Guida has won three fight-night bonuses in his past five outings, and Gomi is coming off a "knockout of the night" victory over Tyson Griffin in August.
At least three preliminary fights will air live on Ion (Cable 51) beginning at 6 p.m. The first bout on the undercard is scheduled for 4:20.
Contact sports reporter Adam Hill at ahill@reviewjournal.com or at 702-224-5509.