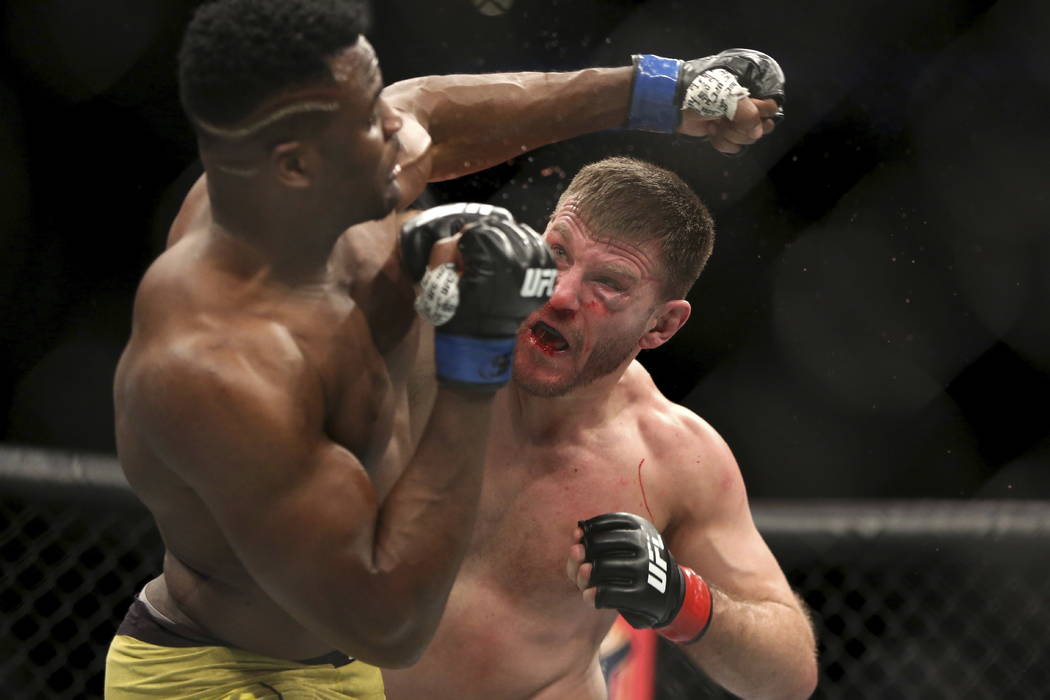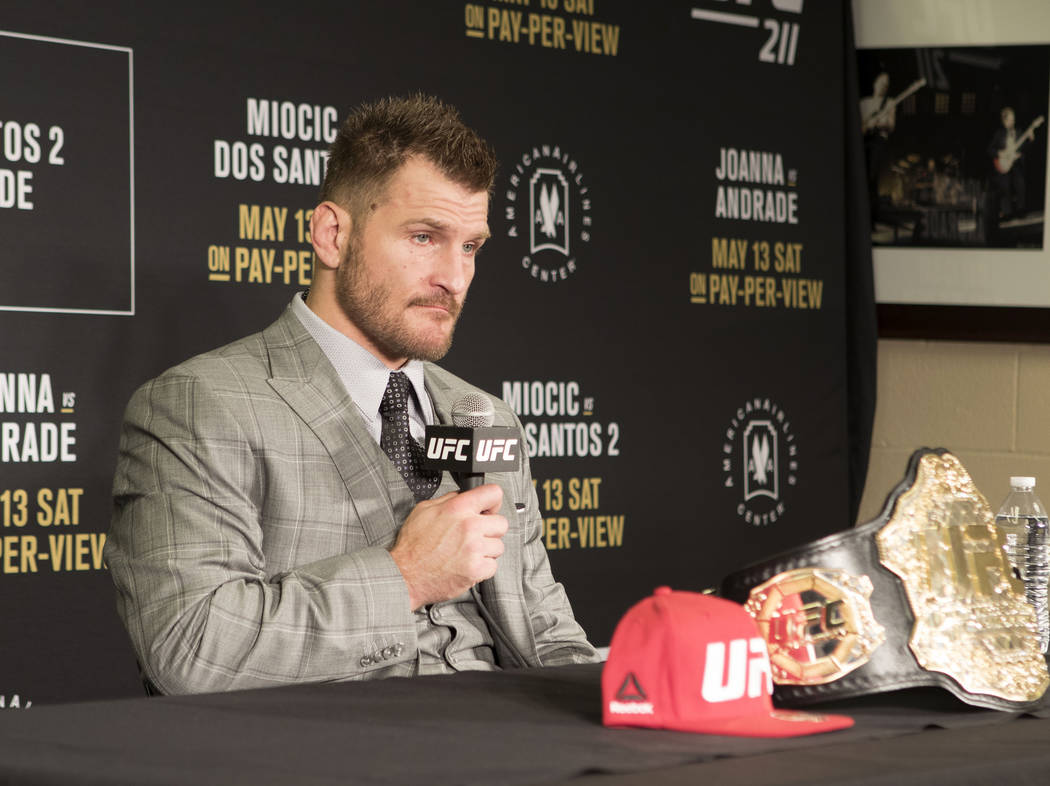 UFC heavyweight champion Stipe Miocic's stock could soar this year should he defeat light heavyweight champ Daniel Cormier in a July superfight after they serve as opposing coaches on Fox Sports 1's "The Ultimate Fighter."
Miocic isn't about to go Hollywood anytime soon, however.
He had to get time off work from his two jobs as a firefighter and EMT in suburban Cleveland, Ohio, in order to come to Las Vegas for filming over the next several weeks.
"I've got two great chiefs that gave me the time off," he said at the UFC Performance Institute on Friday. "I'm lucky, but when I get home, it's back to work."
The 35-year-old also doesn't plan on cultivating any particular image for the cameras in order to take advantage of the airtime just to further his brand.
"I'm just going to be the same person I am," the jovial prank-loving fighter said. "I'm not going to change anything. (My friends and family) would beat my (expletive) if I did. I'll just be me."
That will have to be enough to captivate a fan-base that has yet to fully embrace Miocic despite a historic run through the heavyweight division that has left him as the first champion in the division's history to successfully defend the belt three times.
"I think everything you do has the potential to help build your brand," he said. "It just takes time."
His most recent opponent, Francis Ngannou, might also need a bit of seasoning.
Miocic ended the meteoric rise of the Las Vegan with a one-sided unanimous-decision victory last month, but believes the challenger will continue to improve.
"He's a big, strong, powerful guy," Miocic said. "He trains hard and he's still young. Once he figures it all out, I think he'll be fine."
Cormier is a different kind of challenge. The Olympic wrestler will be coming up in weight, but was undefeated against some of the best fighters in the heavyweight division before dropping in weight in 2014.
His move back to heavyweight, which he insists is temporary, makes for what figures to be a massive UFC 226 main event on July 7 at T-Mobile Arena
Miocic is ready fo the challenge.
"I think he's an amazing fighter and a great champion," he said. "I think he's great.
"But he hasn't fought anyone like me yet."
UFC 222 search continues
UFC officials are trying to salvage the main event of UFC 222 on March 3 at T-Mobile Arena after featherweight champion Max Holloway was forced out of his defense against Frankie Edgar over the weekend because of a leg injury.
Bantamweight champion T.J. Dillashaw preliminarily turned down a short-notice rematch against former champ Cody Garbrandt, though the bout doesn't appear to be completely off the table.
Edgar hopes to stay on the card in some capacity.
"Here we go again, definitely disappointed but fate wasn't having it," he posted on social media. "I wish Max a speedy recovery but the show must go on. See you all in Vegas March 3rd!"
Nate Diaz told the Los Angeles Times he is "100 percent" interested in stepping in to headline the event, but like Edgar, finding a suitable opponent at this time could prove a difficult task.
Brian Ortega is one possibility for Edgar.
The winner would then fight Holloway, who hopes to return to action soon.
"I asked the docs if we could cut off my leg then ask the commission if I could fight handicapped," he wrote on Twitter. "They told me at the end of the day it is what it is… Had dozens of family from Hawaii coming up for this one… I know it sucks but hang in there. We're going to reschedule asap."
UFC 221 set for Saturday night
Former UFC middleweight champion Luke Rockhold will fight Yoel Romero for the interim belt in the main event of UFC 221 in Perth, Australia.
The event will take place on Sunday morning in Australia to air in the usual 7 p.m. Pacific timeslot on pay-per-view.
Heavyweight Mark Hunt will also be in action against Curtis Blaydes.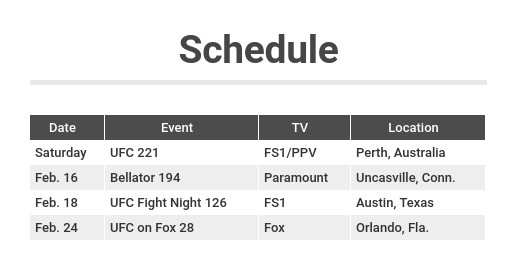 More MMA: Follow all of our MMA and UFC coverage online at CoveringTheCage.com and @CoveringTheCage on Twitter.
Contact Adam Hill at ahill@reviewjournal.com or 702-277-8028. Follow @AdamHillLVRJ on Twitter.