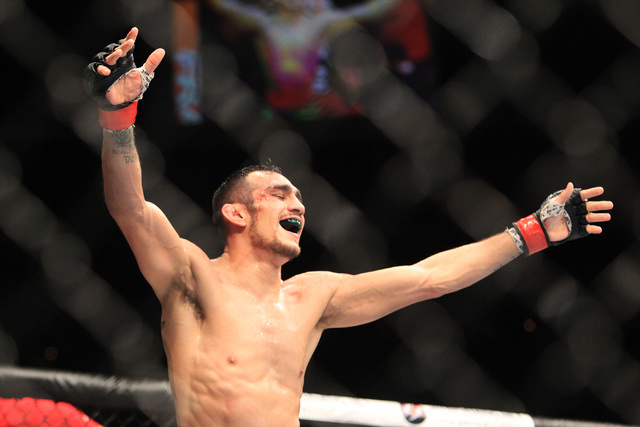 UFC lightweight contender Tony Ferguson is excited to step back in the cage on Wednesday even if he won't be facing one of the bigger names on the division like he had planned.
In fact, his opponent is about as far off the radar as possible.
Ferguson was briefly attached to a bout against Michael Johnson in March only to instead draw a matchup with undefeated contender Khabib Nurmagomedov in April. Ferguson, however, had a lung issue before the fight and had to pull out.
So he was booked against Michael Chiesa in the main event of Wednesday's UFC Fight Night 91 card in Sioux Falls, South Dakota. Chiesa, however, was injured two weeks ago and forced out of the bout.
Ferguson accepted a fight against newcomer Landon Vannata, which will now serve as the co-main event to a headlining bantamweight clash between John Lineker and Michael McDonald.
According to Ferguson, there was never any doubt he was going to remain on the card.
"It's the UFC's first time in Sioux Falls. Why wouldn't I want to be a part of it?" he said at open workouts. "I'm glad to be a part of it. Michael Chiesa fell off and Landon Vannata stepped in, so it's time to go out and show the skills to the fans out there."
Ferguson has shown plenty over the last few years. The former season champion on "The Ultimate Fighter" has seven straight wins since his lone UFC loss in 2012.
Only two fights over that time have gone the distance. He believes another victory could earn him a shot at the lightweight belt Eddie Alvarez captured over the weekend in Las Vegas.
"Every fight should get me a title fight," he said. "Especially every finish I get."
While Ferguson has not competed since a submission win over Edson Barboza in December, he feels he has been steadily improving.
The 32-year-old has been working on his strength and conditioning in a facility several college football prospects used to prepare for the NFL Draft combine in the spring.
It's one of the reasons he was willing to accept a late replacement opponent that wasn't a contender. He wants to put his practice into action.
"I've been working really hard," he said. "I took this camp really seriously and it doesn't even matter who's in front of me. Like Muhammad Ali said, 'The fight is won before we even step in the ring.' I feel like I put in my hours. It's time to go."
He'll have the chance on a main card that begins on Fox Sports 1 at 6 p.m. The preliminary card also airs on the network at 4 with two fights streaming exclusively on Fight Pass at 3 p.m.
Contact reporter Adam Hill at ahill@reviewjournal.com or 702-224-5509. Follow him on Twitter: @adamhilllvrj.