UFC lightweights toss out trash talk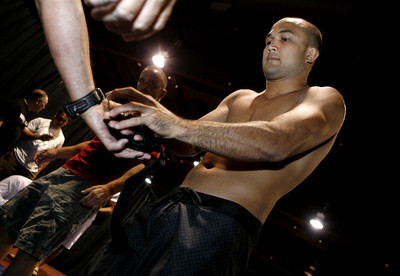 The time for talking is done.
B.J. Penn and Sean Sherk have uttered the cliche phrase enough over the past two days to take it to a new level of triteness during the lead-up to their Ultimate Fighting Championship lightweight title fight tonight at the MGM Grand.
The de facto truce in trash talk comes at the end of a contentious few months since Penn became the lightweight champion by stopping Joe Stevenson in January.
Sherk had been stripped of the belt after testing positive for the anabolic steroid Nandrolone following his successful defense against Hermes Franca in July in California.
Sherk drew a one-year suspension for the failed drug test, but the ban was reduced to six months on appeal.
While Sherk has maintained his innocence, Penn has taken every opportunity to make his feelings on steroids known.
"I look at fighting as the most important thing in the world to me, and when someone else goes and perverts it, I can't take it," Penn said last week. "I can't handle it."
It was just one of many shots Penn has taken at the former champion recently, but Sherk claims to have done his best to avoid all the talk.
"I didn't really go back and forth at all. I didn't read any of the comments he was making," he said. "I had no idea what he was talking about, so I don't get caught up in all that hype and buildup stuff."
Still, Sherk insists Penn is not the true champion unless he wins tonight.
"I didn't lose a fight. The only fight I lost was with the California State Athletic Commission," he said. "I've come to terms with the fact that I don't have the belt anymore, but I still feel like B.J.'s got one more fight before he can really consider himself the champion."
Sherk has no intention of letting that happen. He says having the title once has given him added motivation to get it again.
"I miss (the belt) for sure," he said. "I definitely know now what it feels like to be considered the champ.
"I like being the champ. I want it back."
But for now, the belt belongs to Penn.
The champion claims his comments reflected his true feelings and were not meant as a way of trying to get in his opponent's head.
"It's not just him," Penn said. "I think that steroids are (expletive) in mixed martial arts. I'm serious when I say these things."
The talking is probably almost over for Tito Ortiz and UFC president Dana White, as well. The former light heavyweight champion will fulfill the final fight on his contract tonight against unbeaten Lyoto Machida on the UFC 84 undercard.
Based on all the animosity between White and Ortiz, it appears highly unlikely a new deal can be reached.
In the same weight class, Keith Jardine will look to put himself in title contention against Wanderlei Silva, who will try to end a three-fight losing streak.
The card also will feature the UFC debut of heavyweight Shane Carwin, a hulking physical specimen who will face veteran Christian Wellisch. In another light heavyweight bout, two former Pride Fighting Championships stars try to avoid falling to 0-2 in the UFC when they square off.
Both Rameau Thierry Sokoudjou and Kazuhiro Nakamura lost their Octagon debuts to Machida.
Rising light heavyweight star Thiago Silva will look to remain unbeaten in his career when he faces Antonio Mendes.
The 11-fight card begins at 5:10 p.m., with the pay per view going live at 6:30.
Contact reporter Adam Hill at ahill@ reviewjournal.com or 702-224-5509.
FIGHT NIGHTUFC 84
WHEN: 5:10 p.m. today
WHERE: MGM Grand Garden
TV: Cox 501 (pay per view), 6:30 p.m.