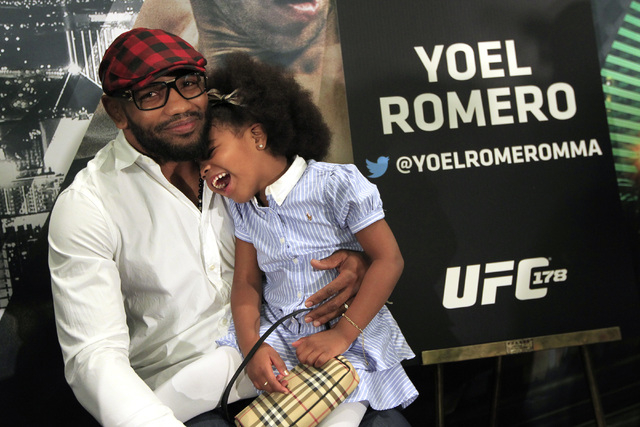 Ultimate Fighting Championship middleweight contender Yoel Romero has accepted a 6-month sanction stemming from a violation of the organization's anti-doping policy.
The penalty was announced Monday by the United States Anti-Doping Agency, the independent administrator of the organization's drug testing program.
Romero last competed in a split decision victory over Ronaldo "Jacare" Souza on Dec. 12 at MGM Grand. He was tested four days later in Miami and the sample came back positive for Ibutamoren, which is classified as a banned growth hormone.
According to USADA's findings, the positive result was due to a contaminated supplement.
"Following notification of his positive test, Romero provided USADA with access to the dietary supplement products he was using at the time of the relevant sample collection," a statement read. "Although Ibutamoren was not listed on any of the supplement labels, preliminary testing conducted on one of the products indicated that it contained the prohibited substance. The presence of an undisclosed prohibited substance in a product is regarded as contamination."
A World Anti-Doping Agency-accredited laboratory in Salt Lake City tested an independently obtained an unopened container of the supplement and tested the product with similar results.
The findings met the standard for mitigating circumstances laid out in the organization's drug policy and Romero accepted a reduced penalty of six months. His suspension began on Jan. 12, the date he was provisionally disciplined.
His test result from fight night was clean, so his victory over Souza will stand.
"This case clearly demonstrates some of the dangers inherent to supplement use," USADA's Special Advisor on Drugs and Supplements Dr. Amy Eichner said in a statement. "When considering whether to incorporate supplements into a training plan, it is vitally important that athletes exercise the utmost care in order to avoid making a decision that could endanger their eligibility, reputation or general health and wellness."
Romero, 38, will be eligible to fight again in July. The former world champion and Olympic silver medal-winning wrestler from Cuba has won seven straight fights since the only loss of his career in 2011.
Contact reporter Adam Hill at ahill@reviewjournal.com or 702-224-5509. Follow him on Twitter: @adamhilllvrj