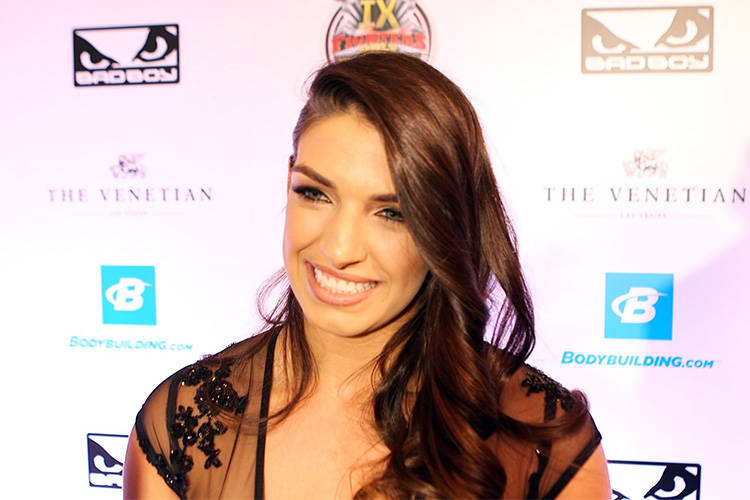 A potential superstar with an impeccable grappling resume and a massive social media presence is set to make her UFC debut Saturday to great fanfare.
The unavoidable comparisons to former women's bantamweight champion Ronda Rousey were sure to come.
Mackenzie Dern hasn't tried to stop them.
"If people see me and are reminded of her or my story reminds them of her story and everything she accomplished, it's a huge compliment," Dern, 24, said Wednesday at the Monte Carlo in advance of her UFC 222 preliminary card bout against strawweight Ashley Yoder at T-Mobile Arena.
"I hope I can do at least what she did, if not more, for women in sports and the martial arts. That's my goal. That would be amazing for me. But in my mind, it's a different era. There are more new divisions. Things are changing constantly. Maybe our stories are similar, but we are different people. I'm going to have my own story. I'm going to make my own legacy."
Dern already had elite jiujitsu skills when she made her professional MMA debut in July 2016 without ever taking an amateur bout.
Her grappling prowess combined with a popular Instagram account led to an inordinate number of eyes on her bout against Kenia Rosas on a Legacy Fighting Championships card in Lake Charles, Louisiana.
Dern won that fight and four more without a loss as she ramped up the level of competition in preparation for an eventual move to the UFC.
"People were criticizing me a lot, and I felt some of the scrutiny," she said. "I had never done any amateur fights or anything, and in my first two fights, I barely threw a strike. My coaches were reminding me, 'Hey, you can punch.' Most people who have their first MMA fight, nobody even knows about it. Even Ronda, I don't think people even knew when she had her first fight.
"Now that I'm in the UFC, I don't feel it too much. I walk the halls at the hotel and I see 'Cyborg' or Frankie Edgar and all these big stars. I don't get the feeling too many people are talking about me anymore."
The attention is still there, though. Dern's fight will serve as the headliner of the Fox Sports 1 portion of the card as a lead-in to the pay-per-view broadcast.
Dern, born in Phoenix to a Brazilian father who was a jiujitsu star, hoped she would make the UFC by the end of 2017. While she missed her goal by a few months, partly because of a knee injury, she believes now is the right time to make the jump.
"I was really feeling ready to be in the UFC even before my last fight," she said. "But I think the biggest thing was to show them I could make 115 pounds. I'm not ready to fight the top five or anything like that just yet, but I was thinking the UFC has the opponents I need to help push me to become the fighter I want to be. If you don't get out of your comfort zone, you'll never develop to the next level."
She continues to master the weight-cutting aspect and is proud of her progress as a striker.
"My standup is evolving so much," she said. "I mean, I'm not like Muhammad Ali or anything, but I feel I'm getting much better at it and it's pretty good for a jiujitsu girl. I at least feel OK standing up if I can't get the takedown right away."
Contact Adam Hill at ahill@reviewjournal.com or 702-277-8028. Follow @AdamHillLVRJ on Twitter.
UFC 222
Main card bouts for UFC 222 on Saturday at T-Mobile Arena:
— Cris "Cyborg" Justino (19-1, 1 No Contest) vs. Yana Kunitskaya (10-3, 1 No Contest), for Justino's women's featherweight title
— Frankie Edgar (21-5-1) vs. Brian Ortega (13-0, 1 No Contest), featherweights
— Sean O'Malley (9-0) vs. Andre Soukhamthath (12-5), bantamweights
— Stefan Struve (32-9) vs. Andrei Arlovski (26-15, 1 No Contest), heavyweights
— Cat Zingano (9-2) vs. Ketlen Vieira (9-0), women's bantamweights