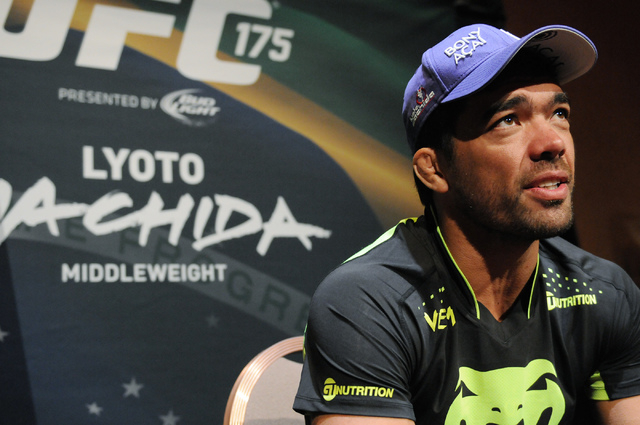 UFC ON FOX 15 MATCHUPS
A breakdown of the fights on the main card of UFC on Fox 15 today at the Prudential Center in Newark, N.J.
Lyoto Machida (22-5) vs. Luke Rockhold (13-2)
■ CLASS: Middleweight
■ LINE: Rockhold minus-160
■ STORYLINE: The next challenger to the middleweight title after champion Chris Weidman defends the belt against Vitor Belfort could very well be determined by this bout. Machida, the former light heavyweight champion, has lost some of the mystery that made him so feared early in his career. He remains a dangerous striker, however, winning three of his last four fights with the only loss coming to Weidman. Rockhold, the former Strikeforce middleweight champ, is one of the most well-rounded fighters in the division. Only two of his 13 wins have gone the distance. Rockhold's athleticism might be too much for Machida in this one. He will be the bigger and faster fighter, and that should be enough to overcome Machida's strategic genius.
■ PICK: Rockhold by decision
Ronaldo "Jacare" Souza (21-3-0, 1 No Contest) vs. Chris Camozzi (19-9)
■ CLASS: Middleweight
■ LINE: Souza minus-1500
■ STORYLINE: Camozzi finds himself in a difficult position. He was released from the Ultimate Fighting Championship in September after four straight losses, but accepted this fight against one of the most dangerous fighters in the middleweight division on just over a week's notice in order to get back in the organization. Not much is expected of him against Souza. Camozzi does have a whole lot of experience, however, so Souza can't completely look past him. Souza has seven straight wins, including four in the UFC. He has 15 submission wins among his 21 career victories and is relentless on the ground. Camozzi will need to find a way to keep the fight standing to have any kind of chance. He won't be able to, and the fight won't last very long once it hits the floor.
■ PICK: Souza by first-round submission
Cub Swanson (21-6) vs. Max Holloway (12-3)
■ CLASS: Featherweight
■ LINE: Swanson minus-155
■ STORYLINE: This could be the early favorite for fight of the night. Neither of these explosive athletes has much interest in taking the action to the mat, so there should be plenty of fireworks. Swanson is a veteran with immense ability, but is coming off a loss to Frankie Edgar that derailed his title push. All of the momentum he had built up over the last two years may have been dissolved in that loss. He'd be well-advised to try to get it back quickly. Holloway gets better as the fight goes on, so Swanson's best shot may be in the first round. Once the 23-year-old Holloway settles into a rhythm, he will make use of his length to stay on the outside and away from Swanson's power. If he can do that, he has a chance to extend a winning streak that stands at five and includes three knockouts.
■ PICK: Holloway by decision
Felice Herrig (10-5) vs. Paige VanZant (4-1)
■ CLASS: Women's Strawweight
■ LINE: VanZant minus-140
■ STORYLINE: There is no doubt that a large segment of MMA fans have framed this bout as simply a matchup of two attractive, blonde girls. To be fair, the organization has done little to dispel that notion with the promotion of the fight. It really is more than that, however. What the fight really seems to be is a test of whether VanZant, the anointed future superstar, is truly ready to compete at the upper levels of the sport against an experienced veteran. Herrig, 30, loves the spotlight and would love to take some of VanZant's spotlight for herself. VanZant, a Reno native who just turned 21 last month, generated more headlines for her looks than her fighting before her UFC debut. She turned that around with a dominant performance in a win over Kailin Curran in November, using her relentless pressure to wear down her opponent and prove her ability inside the cage. She should attempt to do the same against Herrig tonight, looking to win in the clinch and at close range. An impressive win tonight in the first fight of the main card on Fox (Cable 5) would make VanZant a star.
■ PICK: VanZant by decision
ADAM HILL/LAS VEGAS REVIEW-JOURNAL