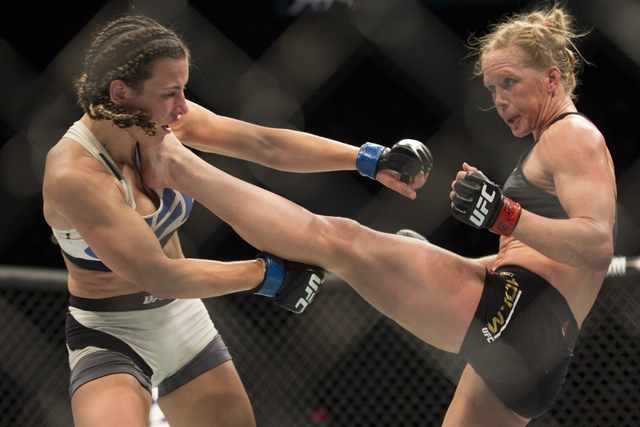 A breakdown of the fights on the main card of UFC on Fox 20 Saturday at United Center in Chicago:
Holly Holm (10-1) vs. Valentina Shevchenko (12-2)
CLASS: Women's bantamweight
LINE: Holm -215
STORYLINE: Both have extensive professional experience in different striking backgrounds, so this should be a fascinating clash of styles. Holm was a world-champion boxer who uses her range incredibly well and can dominate a fight with her jab. Shevchenko is a Muay Thai kickboxer who is relentless when she gets inside. An overlooked part of this matchup may be Shevchenko's ground game. Despite all of her striking experience, she actually has several submission wins on her MMA resume and Holm proved susceptible on the mat in her one career loss to Miesha Tate. More likely, this will be a standup battle. Holm has just a two-inch reach advantage, but it's likely to appear much more pronounced because of how well she controls distance. She also has a power edge. She may be able to pick Shevchenko apart and if she gets frustrated and starts chasing, that plays right into Holm's strengths.
PICK: Holm by decision
Edson Barboza (17-4) vs. Gilbert Melendez (22-5)
CLASS: Lightweight
LINE: Barboza -215
STORYLINE: Melendez, the former Strikeforce champion, has dropped three of four fights since entering the UFC. His trademark toughness just hasn't been enough to get the job done against the world's elite lightweights. Now, after a year off due to a performance-enhancing drug suspension, he has to step in the cage with an ultra-talented striker who is coming off a win over former champion Anthony Pettis. Melendez is well-rounded and very durable. Barboza may have a difficult time finishing him despite his impressive array of striking attacks. He should be able to land enough to keep Melendez on his heels and to win the fight on the cards.
PICK: Barboza by decision
Francis Ngannou (7-1) vs. Bojan Mihajlovic (10-3)
CLASS: Heavyweight
LINE: Ngannou -600
STORYLINE: It's very possible your first impression looking at this matchup on paper is, 'Why is this fight on the main card of a Fox event?' Don't feel bad. It's a legitimate question. But there's also a very simple answer. This is absolutely a showcase bout for Ngannou, a big, athletic heavyweight with star potential in the division. Not a whole lot is known about Mihajlovic beyond his unorthodox resume. He actually lost the first three fights of his career before rebounding to win 10 straight to earn this shot in the UFC. He hasn't fought great competition or been very active, however. The 10 consecutive wins came over a 10-year period. Mihajlovic will almost certainly look to clinch and hunt for takedowns to neutralize what should be a huge striking edge for Ngannou. The French heavyweight has shown to be capable at staying on his feet and he shouldn't see too much resistance en route to his third straight win in the UFC.
PICK: Ngannou by first-round knockout
Felice Herrig (10-6) vs. Kailin Curran (4-2)
CLASS: Women's strawweight
LINE: Curran -115
STORYLINE: Curran's 1-2 record since entering the UFC doesn't quite tell the story. She lost a great battle against Paige VanZant in her debut and was in control against Alex Chambers before being caught in an armbar late in the fight. Curran showed she is still a solid prospect with an impressive win over Emily Kagan in December. Herrig has split a pair of fights since entering the organization, but at 31 is six years older and would seem to need a win far more based on where she is in her career. Herrig, who last fought in April 2015, will need to use her experience and edge in technical striking to find a path to victory. Curran has fought twice since then and continues to improve. She is more athletic and will look to overwhelm Herrig with aggression. Curran should be able to exploit Herrig's mediocre takedown defense and put her on her back where she can inflict damage from the top as long as she doesn't get sloppy and expose herself to Herrig's submission game.
PICK: Curran by decision