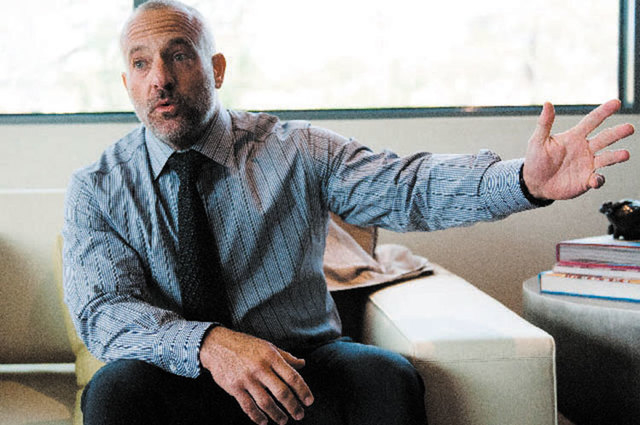 Ultimate Fighting Championship, the Las Vegas-based mixed martial arts fight show, promotion and media organization, has signed a major partnership deal with sports clothing retailer Reebok to exclusively outfit all UFC fighters in Reebok gear in the octagon and at fight-related events.
Under the six-year deal announced Tuesday, Reebok will pay UFC fighters varying amounts of money based on their rankings and also revenue-sharing money for retail sales of Reebok gear that carries the fighters' names, said Lorenzo Fertitta, UFC CEO.
"Champions deserve the most money," UFC President Dana White said.
In return, fighters will give up wearing their previous gear from other sponsors, Fertitta said. The Reebok deal goes into effect in the week of July 6 to coincide with UFC's International Fight Week in Las Vegas.
"Athletes' sponsors will no longer be permitted to have exposure on athlete apparel during UFC fight week official events including fight night, UFC produced content or other official UFC events," UFC's website said.
The deal's value is the largest in UFC history outside of its broadcast rights arrangements, Fertitta said, without disclosing specifics. He did say it took two years to negotiate the deal.
Fertitta said some fighters will earn more money from the Reebok partnership, while some will make less than what they are receiving now in apparel sponsorships.
Fighters can continue wearing their logo gear from their own sponsors outside the octagon and their fight week-related activities, he noted.
It's a uniform policy that affects the 570 UFC fighters and also mirrors the policies of major sports leagues such as the National Football League, which requires athletes to wear the leagues' sponsors' uniforms during games.
The Reebok fight gear will be in all different designs and colors.
"There will be options on product styles, colors and fight night short silhouettes including board shorts, vale tudos and skorts which will be selected in advance of fight week," according to the UFC website.
"The product has been specifically developed, tested and produced for mixed martial arts athletes. UFC athletes have collaborated, and will continue to have a voice, in on-going product development," the website said.
On fight night, a Reebok-sponsored product kit for male fighters will include: shorts, gloves, walk-out jersey, walk-out hoodie, hat, underwear, socks and shoes. For female fighters, it's shorts or skort, sports bra (long length available), gloves, walk-out jersey and/or tank top, walk-out hoodie, hat, underwear, socks and shoes.
White said some fighters have had problems getting paid by their clothing sponsors, so the new deal should help those.
Fertitta and White announced the Reebok partnership in New York City. Matt O'Toole, Reebok president, participated in the announcement.
The new products will be unveiled in the spring.
Contact reporter Alan Snel at asnel@reviewjournal.com or 702-387-5273. Find him on Twitter: @BicycleManSnel.