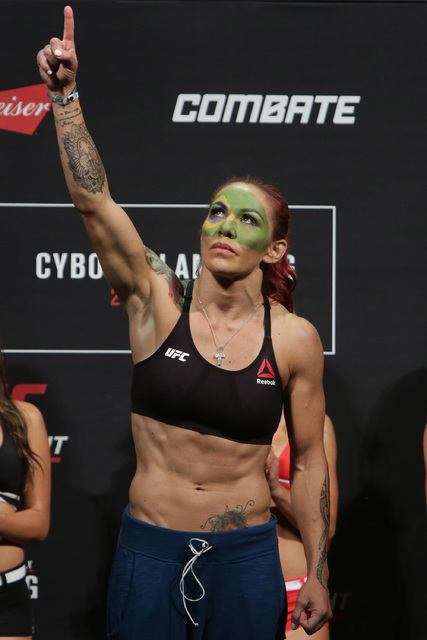 After several years of lobbying, Cris "Cyborg" Justino finally found an appropriate UFC weight division.
Now she might not be able to fight at all.
Justino, 31, has been flagged by the U.S. Anti-Doping Agency for a potential violation of the UFC's anti-doping policy. The violation stems from an out-of-competition urine sample collected Dec. 5.
"USADA, the independent administrator of the UFC Anti-Doping Policy, will handle the results management and appropriate adjudication of this case," a statement issued by the UFC read. "It is important to note that, under the UFC Anti-Doping Policy, there is a full fair legal review process that is afforded to all athletes before any sanctions are imposed."
The Review-Journal has confirmed Justino's claim that the positive test was for the banned substance spironolactone, which appears on the World Anti-Doping Agency's banned list as a diuretic or masking agent. The standard sanction for a positive test is a one-year suspension.
Justino issued a statement on her website Thursday afternoon, saying she was prescribed the substance by a doctor after enduring a difficult weight cut before her last fight Sept. 24.
"The substance is part of a therapeutic treatment being administered to me by doctor that started (Sept. 26) and is supposed to last for a period of no less than 90 days, requiring blood exams at the completion," she said. "I am proud to be a member of USADA, and was the first fighter to complete one year of testing under USADA programs before competing in UFC competition. I have been tested 14 times since entering the program, twice in (the fourth quarter) in 2016, and have never had a flagged sample.
"My doctor is experienced with USADA testing and informed me there were no additional steps needed for approval with the associated treatments given to me following my fight. We are being fully cooperating with USADA at this time and have already started the process of applying for a retroactive therapeutic-use exemption."
Justino was long considered the top female fighter outside the organization, but the former Strikeforce featherweight champion's entrance to the UFC was delayed because there was no weight class above 135 pounds.
She was signed by the UFC in early 2016 and fought in two 140-pound catchweight bouts that were meant to test the viability of her dropping to 135 pounds.
Justino's difficult weight cut leading up to her September bout against Lina Lansberg in Brazil was well documented.
"For my fans who are disappointed in the news, I am sorry," Justino wrote. "You can feel confident that the substance they are inquiring about is not for performance-enhancing use and is needed for my specific treatments. Feel confident that I am a clean athlete.
"It is my hope that my experiences will continue to bring awareness to the dangers of extreme weight cutting. It is because of the measures needed to make the required 140-pound weight limit Sept. 24 that my body is needing the on-going medical treatment."
Her recovery from that experience caused her to recently turn down two offers for bouts at 145 pounds, at which she would have fought for the title in the new UFC women's featherweight division that was essentially created for her. Instead, Holly Holm will fight Germaine de Randamie for the belt in February.
"I am glad the UFC has created the 145-pound division and look forward to fighting for the belt once my body is recovered and ready to compete," Justino wrote. "Additional information or statements will be provided at the appropriate time as the process moves forward."
Justino previously had been suspended for steroid use. She tested positive for the anabolic steroid stanozolol after a first-round knockout victory over Hiroko Yamanaka in December 2011. The California Athletic Commission suspended her for one year and fined her $2,500.
Contact Adam Hill at ahill@reviewjournal.com or 702-277-8028. Follow @adamhilllvrj on Twitter.