UFC strawweight Claudia Gadelha living her dream in Las Vegas
Updated June 4, 2018 - 5:45 pm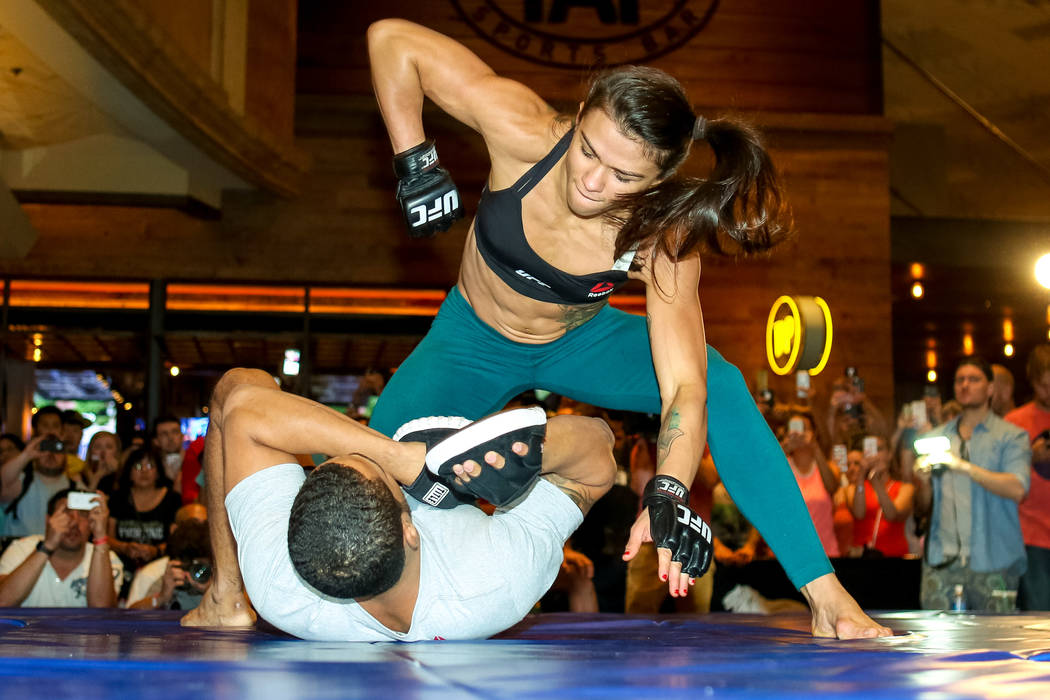 UFC strawweight contender Claudia Gadelha is living her childhood dream.
She's just not too sure what to think of it yet.
Gadelha has relocated to Las Vegas to train full-time at the UFC Performance Institute, the culmination of a journey that has taken her around the world as a fighter.
"I'm very happy living here," she said. "I came from humble beginnings in the northeast of Brazil and didn't have a lot of opportunities growing up. One of my dreams was to come to Las Vegas one day. Now I live here and I have everything I need here. So I'm very happy."
Gadelha has gone through a full camp in preparation for her bout against former champ Carla Esparza on the UFC 225 card Saturday in Chicago.
She said she toured the facility several months ago and immediately returned to Albuquerque, New Mexico, where she had been living and training, to pack up her things and drive to Las Vegas.
The 29-year-old doesn't have much of an opinion on life as a local just yet. She looks forward to getting to know her new community better after the fight.
"I've only been here for like three months, and I'm just training," she said. "I look forward to really being able to get around Las Vegas, but I've been in camp and concentrating on the fight since I got here, so all I do is come to the gym and go home and rest.
"I don't know much about the city yet."
It was a good time for a change. Gadelha is coming off her first loss against someone not named Joanna Jedrzejczyk when she dropped a decision to Jessica Andrade in September. Gadelha believes strength was the biggest factor in the outcome of that fight. While she doesn't think she'd ever be able to erase that deficit, the new and innovative training methods available in Las Vegas may help her take her game to another level.
"We have everything we need here," she said. "All the resources. I came here before and I thought it was perfect. I have great coaches, good bodies to train with, a great facility to train. So why not?
"I was just very, very surprised at Jessica's strength. I've never felt that before. I believe I'm way better than her technically, but she's just too strong. I don't know what she did growing up, but I've never felt that kind of strength in any woman. It's the same strength I feel in the flyweight guys. I don't think I could ever get that strong."
She will get a chance to test her new methods against Esparza on a card headlined by a middleweight title bout between Yoel Romero and Robert Whittaker.
Former WWE star Phil "CM Punk" Brooks also gets his second shot in the UFC in a welterweight bout against Mike Jackson to kick off the pay-per-view card.
Rodriguez returns to UFC
The exile of rising featherweight star Yair Rodriguez proved to be short-lived.
He returns less than a month after the UFC announced it had cut ties with the 25-year-old, who had his eight-fight winning streak snapped by Frankie Edgar in May 2017, for refusing a fight with unbeaten Zabit Magomedsharipov.
That fight will now happen at UFC 228 on Sept. 8.
"(UFC matchmaker Sean Shelby and I) had a friendly conversation during lunch," Rodriguez wrote on social media. "We (came to the) realization that what happened was a big miscommunication and bad timing. After the conversation I'm happy to know that the UFC & I are in the best terms ever and now I'm back on track to chase my dream of become a UFC champion."
Moraes ends Rivera's streak
It took 33 seconds for bantamweight Marlon Moraes to end a winning streak Jimmie Rivera had been working on for nine years.
Moraes landed a head kick to end Rivera's 20-fight winning streak in the main event of UFC Fight Night 131 in Utica, New York, on Friday.
The former World Series of Fighting champ believes he has now done enough in going 3-1 in the UFC to warrant a title shot.
"I really don't want any other fight," Moraes said after the victory. "I want to fight for the belt. I'm definitely waiting. I want to be a champion. That's it."
More MMA: Follow all of our MMA and UFC coverage online at CoveringTheCage.com and @CoveringTheCage on Twitter.
Contact Adam Hill at ahill@reviewjournal.com or 702-277-8028. Follow @AdamHillLVRJ on Twitter.