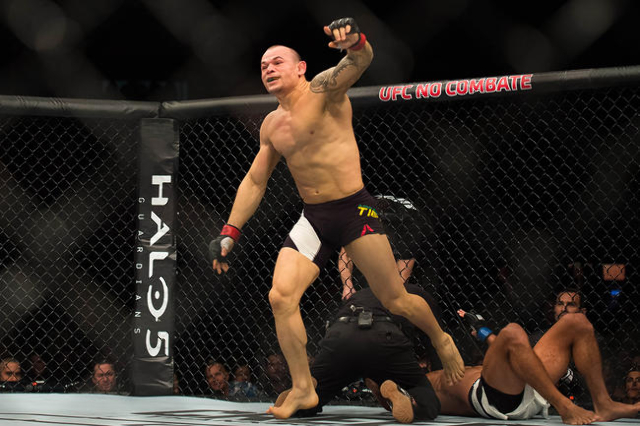 Ultimate Fighting Championship lightweight veteran Gleison Tibau has become the first fighter suspended under the organization's comprehensive new drug testing program for failing an out-of-competition test.
Tibau and UFC officials were notified of a provisional suspension by the United States Anti-Doping Agency, the independent administrator of the program.
No details have been announced as to when the test was failed or for what substance Tibau tested positive.
According to a statement issued by the UFC, USADA "will handle the results management and appropriate adjudication of this case involving Gleison Tibau. Additional information will be provided at the appropriate time in the process."
Tibau, 32, earned a controversial submission win over Abel Trujillo on Nov. 7 in Sao Paulo, Brazil. The referee had stopped the fight, mistakenly believing Trujillo had passed out during a Tibau submission attempt.
Friday's statement made no reference to whether the result of the fight would be in question as a result of the failed test, other than the acknowledgment that it was out of competition.
The first offense for failed performance-enhancing drug tests under the policy, which was enacted in July, is two years unless there are extenuating circumstances that could make the term longer.
The Brazilian has competed in the UFC since 2006.
Heavyweight Mirko "Cro Cop" Filipovic was suspended two years by USADA last month, but he failed an in-competition test leading up to a fight. He chose to retire.
Contact reporter Adam Hill at ahill@reviewjournal.com or 702-224-5509. Follow him on Twitter: @adamhilllvrj