UFC's Conor McGregor, Miesha Tate named to website's most dominant athlete list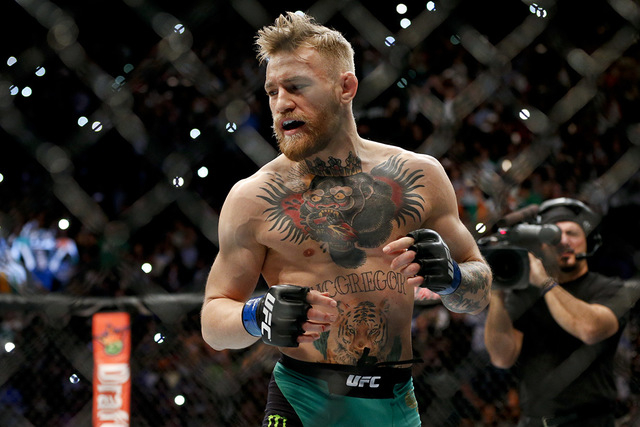 Conor McGregor has been named one of the 50 most dominant athletes alive by Business Insider.
Apparently Scott Davis and Emmett Knowlton, who penned the article along with Cork Gaines, have never heard of Nate Diaz.
McGregor, the Ultimate Fighting Championship featherweight champ, lost to Diaz by submission in the second round of a nontitle catchweight bout in March at the MGM Grand Garden.
That didn't prevent McGregor from checking in at No. 46 on the list, released Thursday on the website.
"McGregor had won 15 fights in a row (before the loss), with the last six ending in TKO," Business Insider wrote. "His hold on the sport is such that he caused the fighting world to freak out when he faked his retirement over a dispute with UFC."
The only other mixed martial artist to appear on the list was UFC women's bantamweight champion Miesha Tate at No. 50.
"Tate has won five fights in a row, dating back to 2014," the article stated. "Her most recent win was over Holly Holm — who beat Ronda Rousey — by submission. A rematch with Rousey, to whom Tate lost to in 2013, would be intriguing."
Of course, Tate also lost a Strikeforce title bout to Rousey in 2012.
Rousey, who hasn't fought since the loss to Holm in November in Australia, is not on the list. Neither is Demetrious Johnson, the flyweight champion with eight consecutive successful title defenses, nor Jon Jones, whose only loss in 23 career fights was because of a controversial disqualification.
The authors said the goal was to choose stars from all over the world whose "superiority over their respective sports has led to unparalleled success.
"Some of the names on here are mainstays — recognizable athletes who have reigned supreme in their sports over long periods of time and aren't going anywhere.
"Others are athletes who are on the rise, up-and-comers quickly proving that they are and will be forces to be reckoned with in years to come."
Tennis star Novak Djokovic topped the list, followed by swimmer Katie Ledecky.
Unanimous NBA Most Valuable Player Steph Curry was third. Connecticut women's basketball star Breanna Stewart and gymnast Simone Biles rounded out the top five.
Contact reporter Adam Hill at ahill@reviewjournal.com or 702-224-5509. Follow him on Twitter: @adamhilllvrj