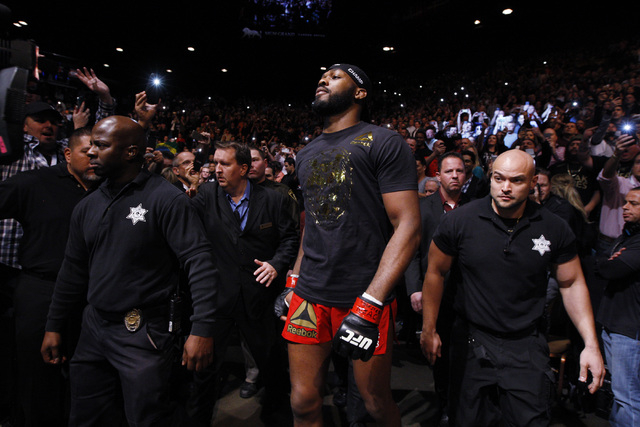 Former Ultimate Fighting Championship light heavyweight champ Jon Jones spent what could have been two valuable days of the training camp for his return fight locked up in an Albuquerque, New Mexico jail last week.
Jones, who has not competed since defending his belt with a unanimous decision victory over arch-rival Daniel Cormier in January 2015, downplayed the significance of the lost days.
"It would've affected me more if I was a weak-minded person," he said by phone on Monday.
As it turned out, he would have spent the time getting ready for the wrong guy anyway.
Cormier, who won the belt after Jones was stripped last April following an arrest for a hit-and-run accident, pulled out of the rematch that had been scheduled for April 23 in the main event of UFC 197 at MGM Grand because of a leg injury. That was announced Friday, the day after Jones was released from jail where he was held on a probation violation for being cited for allegedly drag racing.
Jones will instead fight Ovince Saint Preux, who the former champion said he hadn't seen fight before watching scouting film on Sunday, for the interim belt.
"At first, I was upset that it wasn't going to be Cormier. There's nothing I want more than to be champion again officially. I spent a lot of time focusing on Daniel Cormier and I really felt as if the timing was perfect to go out and dominate Cormier," Jones said. "But at the same time, everything happens for a reason so I'm just going to look at it as a good thing.
"I feel like it will give me a little satisfaction in knowing I have a little bit of the title back and that will have to hold me over until I get the real thing."
Jones was eventually released from custody after appearing in front of a judge in handcuffs and an orange prison-issued jumpsuit to hear the sentence from his hit-and-run case amended.
"I try to deal with the negatives and get as much positive out of it as I can," he said. "While I'm upset that it happened and how it happened, I'm grateful for the opportunity to be humbled. It made realize how easily everything could be gone."
Jones believes he was unfairly targeted and profiled by the officer because of his history. He insists he revved his engine at a car of fans at a stoplight and a camera on the officer revealed a heated debate about the incident.
It's latest in a string of problems outside the cage for one of the greatest fighters in UFC history. Still, when Jones made his first appearance in front of UFC fans in nearly a year during a March news conference at MGM Grand in March, he received a raucous ovation while Cormier, a two-time Olympian was booed.
Jones said his public perception is important. UFC president Dana White recently said that trying too hard to play the good guy drove Jones "crazy."
The 28-year-old didn't disagree.
"I think it's fair," he said. " Nobody (teaches you) how to be famous. For a long time, I definitely tried to be better than I actually was in my personal life. Now I'm at a maturity level where I'm comfortable with just being who I am.
"
Jones had successfully defended the belt eight straight times before it was stripped and he was suspended indefinitely by the UFC.
UFC DEBUTS IN ZAGREB
The UFC returns after a three-week break with its first-ever event in Croatia on Sunday.
Heavyweight contenders Ben Rothwell and Junior dos Santos will square off in the main event of the card in Zagreb, which will air on Fox Sports 1 at 11 a.m.
Dos Santos, the former champion, has dropped two of his last three fights. Rothwell has won four in a row with none going the distance.
The preliminary card will also air on the network at 9.
Contact reporter Adam Hill at ahill@reviewjournal.com or 702-224-5509. Follow on Twitter: @adamhilllvrj