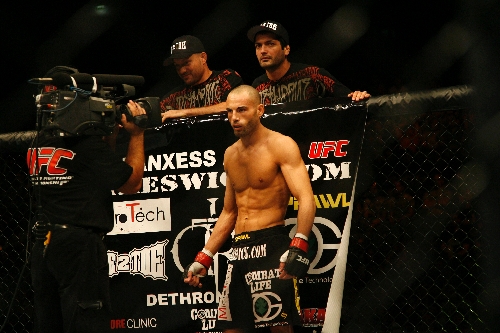 LOS ANGELES – Two years, five months and 30 days.
That's how long it will have been since one-time Ultimate Fighting Championship welterweight title contender Mike Swick last competed in the organization when he finally steps into the cage on the UFC on Fox 4 card at Staples Center on Saturday night.
Things had gotten so bad for the fragile Swick that his nickname around the UFC's offices in Las Vegas was "Mr. Glass."
Like any athlete, Swick has been through his share of pain. Suffer an injury, diagnose it, treat it, heal up and fight again. All part of the job.
This was nothing like that. Swick began feeling intense chest pains that resembled a heart attack and went through several misdiagnoses.
"The doctors told me several different things, and none of them were good," Swick said.
Then they determined he suffered from esophageal spasms. The condition is treatable, but patients are extremely limited in terms of diet. Most spices and seasonings either are limited or eliminated.
Swick's doctors told him that though food would be bland, he could manage his diet and limit his symptoms. Fighting, however, would be difficult because of how hard it would be to take in enough calories to offset what he burns each day.
So the veteran of Season 1 of "The Ultimate Fighter" went to work, studying for a year on what combination of food and supplements he could safely consume and get all the nutrients he needed. Some attempts were trial and error, and Swick would pay the price. When he suffers a spasm, the affects can last for three excruciating and sleepless days. Eventually, it all started to come together.
"I've got it down to a science," he said. "My wife jokes I should have a cooking show, but the food is very bland."
Swick, 33, was excited to make a healthy return to fighting last August when yet another obstacle got in his way – a torn ACL suffered in practice.
"There were definitely dark times," he said. "That's when you've got to pick yourself up and say, 'What do you want to do? Do you want to give up, or do you want to be positive and try to fight this thing out?' I've always been a fighter."
So now, 911 days after he last competed, Swick will fight DaMarques Johnson, and the organization has given him the opportunity to do it on national television.
"I love Mike Swick. He's a hard worker. He's one of the greatest guys you could ever meet," UFC president Dana White said. "He battled this – I don't know if it's a disease or whatever it is that he has; I'd never even heard of it before. He battled it, overcame it. It's really good to have him back."
Swick said the moment the cage door shuts behind him Saturday will feel like a victory.
The fight might be the most relaxing stretch of time Swick has spent the past few months.
"This whole camp has been a stress case for me because I'm so motivated to come back that I'm training so hard, and the harder you train, the more susceptible you are to injury," he said. "Every day I was scared. I'm so happy to be here. I'm not doing anything else until the fight."
Johnson, 30, said he was a fan of Swick before he became a fighter himself and has a great deal of respect for him – but won't be feeling sorry for him once the bell rings.
"I don't even show my training partners any compassion in practice, and I train with them every day," he said. "So a guy who's a stranger for the most part, no."
Swick doesn't believe there is any added risk in fighting with his condition, though he conceded that, theoretically, a well-placed punch could cause a spasm.
"I hope he doesn't plan on punching me in the esophagus," Swick said with a laugh. "Kick to the knee, punch to the esophagus. If that's his game plan, that would be jacked."
Contact reporter Adam Hill at ahill@reviewjournal.com or 702-224-5509. Follow him on Twitter: @adamhilllvrj.