UFC's Rousey accepts life of star
November 13, 2015 - 12:37 am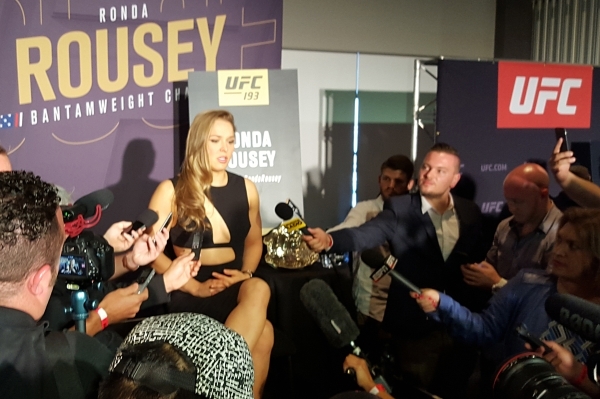 MELBOURNE, Australia — Ronda Rousey knows every time she says a word, it could end up in headlines around the globe and across the Internet.
The Ultimate Fighting Championship star is used to that at this point.
While she admits it has bothered her at times, Rousey acknowledges it's better than the alternative.
"I'd rather be getting more attention than I would prefer than none at all and still struggling to pay the bills," she said Friday in her final media appearance before defending the women's bantamweight title against Holly Holm in the main event of UFC 193 on Saturday (PST) at Etihad Stadium.
Rousey's dominance in the cage made her the biggest star mixed martial arts has created. But it's her appeal outside of it that made her a global phenomenon.
With that comes the negatives, as well.
She took some criticism for apparently hanging up on a conference call promoting this event after she was asked about her boyfriend. On Wednesday, she snapped, "Next question," at a reporter who asked about the incident.
She had a new response Thursday.
"My phone died," she said with a smile.
Regardless the reason, Rousey knows she is in a position in which all kinds of questions are going to be asked. She also acknowledged being so forthcoming about other areas of her life have in some way opened the door for questions about her personal life, but she has a line.
"My private life is private. I share a lot, and I give a lot. It's like I'm playing the give-a-mouse-a-cookie game where I'm trying to share and trying to be open, but there's a few things I like keeping to myself," she said. "I'm here to promote a fight. I wouldn't feel comfortable asking (media) about their private life. That's a stranger. I would feel uncomfortable asking you, why are you asking me?"
Her rule about personal questions is not hard and fast.
Rousey laughed about a story that blew up on the Internet last week after she was asked for sex advice by Maxim magazine.
Her answer, which she thought was fairly mundane, drew backlash from all corners of media and was debated ad nauseam on message boards and even talk shows.
"There's nothing you can do except joke about it. I was just sitting in my room joking with my friends about 'lube-gate.' I say one thing when I'm asked a question about sex and it's world news. 'Lube-gate.' 'Oh no, she's guilty of lube-shaming.' It just becomes a joke after a while," she said. "I mean, really? Is someone going to write an article that I tend to sneeze to the left instead of the right? But I can't really complain too much. I mean, sometimes you just have to roll with it and laugh about it.
"You just have to accept the fact that sometimes people aren't going to like what you have to say and sometimes you're going to be misunderstood."
What has become clear is that Rousey is far and away the most dominant athlete in the UFC. She has been taken out of the first round only once in 12 career professional fights heading into her matchup with Holm, a former world boxing champion.
She has also brought an entirely new fan base to the sport, particularly young women.
Rousey is aware of the impact she has on young women and is proud of it. She has spoke often of female empowerment and not accepting a background role to men, particularly in sports.
She also sold a ton of T-shirts based around another of those phrases she randomly uttered during the buildup to her last fight when she told of how her mother taught her not to be a "do-nothing bitch," a reference to women who just try to find men to take care of them.
Rousey, however, leaves the question of whether she believes she is a role model for others to decide.
"I'm not going to sit here and declare myself some role model or someone you should try to look up to or follow," she said. "But if you want me to be that for you, I'll do my very best.
"But I'm not going to tell anyone to be like me."
Not that they could. Rousey is unique in the sport and has yet to truly be tested. Holm believes she's the one that can do it.
She is the most accomplished boxer certainly among the women in the UFC and probably in the entire organization.
But Rousey is on another level. Holm knows what she's up against.
"I know it's really hard, but it's not undoable," she said.
That's not the kind of bluster that's going to steal Rousey's headlines.
Contact reporter Adam Hill at ahill@reviewjournal.com or 702-224-5509. Follow him on Twitter: @adamhilllvrj
RJ's new MMA site: CoveringTheCage.com
Las Vegas Review-Journal MMA reporter Adam Hill will bring online readers the following, with fresh content daily:
* Fighter profiles.
* Rankings of all UFC classes.
* Previews and coverage of bouts.
* Videos of fighters on and off the mat.