USADA looking into Nate Diaz's post-fight use of vape pen
August 23, 2016 - 8:47 am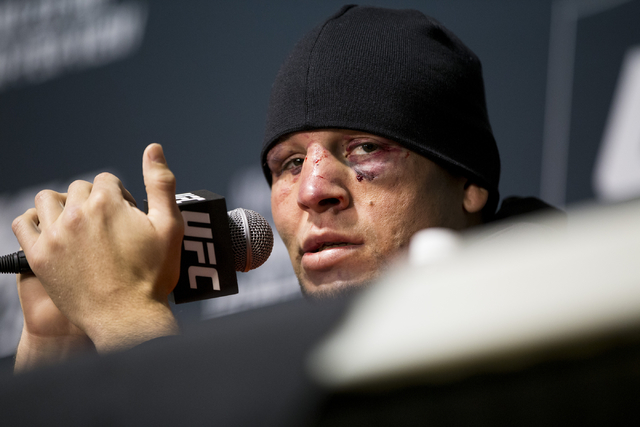 Once again, one of the UFC'S Diaz brothers may be in trouble for partaking in cannabis ingestion in the state of Nevada.
A spokesman for the United States Anti-Doping Agency (USADA), which independently administers the UFC's drug policy, confirmed to the Review-Journal late Monday the agency is looking into Nate Diaz's admission he was smoking cannabidiol (CBD) oil during the post-fight news conference for his UFC 202 loss to Conor McGregor on Saturday at T-Mobile Arena.
Diaz was asked what he was smoking in his vape pen while he was on the dais a little more than an hour after his fight.
"CBD oil," Diaz replied. "It helps with the healing process and inflammation, stuff like that. You want to get these before and after a fight, training. It'll make your life a better place."
Several reporters in the media tent noted a smell consistent with marijuana smoke in the outside facility, though the source was unclear.
Diaz had already submitted to a post-fight drug screening and the Nevada Athletic Commission generally considers that to be the end of the competition window. The UFC's policy from USADA, however, stipulates the competition ends six hours after a fight.
Marijuana is only banned "in-competition."
"I can confirm that USADA is aware of the situation and is currently gathering information in order to determine the appropriate next steps," USADA spokesman Ryan Madden told the Review-Journal.
Diaz is not believed to have been issued a second drug test after the news conference.
He could still be sanctioned based on his admission, though it could be a difficult process to prove the levels in his body exceeded the allowable threshold.
Diaz, 31, could also say he was joking.
While he has never failed a drug test, his brother Nick was not allowed to corner Nate in Saturday's fight because he has not met the conditions for reinstatement for his marijuana suspension.
It was the third such sanction for Nick Diaz.
Representatives for Nate Diaz were not available and have not commented publicly. He could face a potential suspension of one year.
Contact reporter Adam Hill at ahill@reviewjournal.com or 702-224-5509. Follow on Twitter: @adamhilllvrj