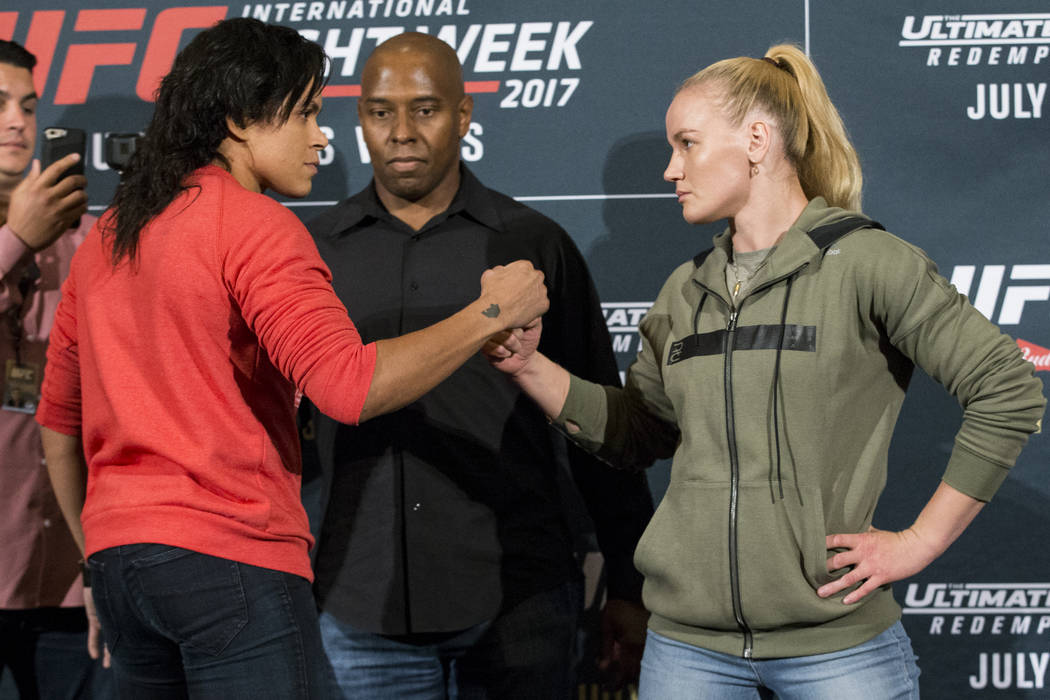 As cliche as it may sound, Valentina Shevchenko doesn't feel she lost to Amanda Nunes in their first fight as much as she just ran out of time.
The clock will restart on Saturday night when she challenges Nunes for the women's bantamweight title in the main event of UFC 213 at T-Mobile Arena. As a title fight, it will be scheduled for 25 minutes instead of 15.
Shevchenko believes that will be more than enough time.
"I just needed one more minute," she said of the first fight in March 2016. "It would have been a different result."
Shevchenko seized control of the fight in the final round only to lose a unanimous decision after dropping the first two rounds of the top contender bout. Nunes went on to win the belt with a win over Miesha Tate, and then defended it with a first-round knockout of Ronda Rousey in December.
Now their paths cross again with even bigger stakes.
"It would mean a lot to me to win the belt," the 29-year-old said in Los Angeles last week. "My goal since I signed with the UFC has always been to be champion and I'm just a few days from accomplishing that."
Shevchenko, who was born in Russia and relocated to Peru after college, has watched the first fight against Nunes many times and is ready to finally seize on what she still believes was a missed opportunity.
Her repeated viewings have been strictly business, however.
"I don't waste any emotions on that fight," she insists. "I take it very cold and just see what I could do differently in every situation and I will make it better. It will be a totally different story. I know exactly what I want to do and I won't waste any time. I will fight from the first minute to the last minute."
The bout headlines a main card which airs on pay-per-view at 7 p.m.
Cerrone-Lawler moved to UFC 214
The UFC's strongest card of the year on paper got even better on Sunday when Dana White announced a welterweight contender bout between Robbie Lawler and Donald "Cowboy" Cerrone would take place at UFC 214 in Anaheim, California.
The UFC president revealed the news to the Los Angeles Times on Sunday.
Cerrone and Lawler had been scheduled to fight at UFC 213 on Saturday, but Cerrone was forced out of the contest due to a blood infection.
When White announced the postponement, he said it was unlikely Cerrone would be healthy in time to make the fight happen at Honda Center on July 29.
Cerrone has healed quicker than expected.
The bout will be added to a card that already includes three title fights, including a main event light heavyweight championship bout between champion Daniel Cormier and former champ Jon Jones.
Rousey books TV interview
Former UFC women's bantamweight champion Ronda Rousey will not appear on the "Women of the UFC" panel discussion, which is free and open to the public at Park Theater on Wednesday at 3:30 p.m. as part of the International Fight Week festivities.
The reclusive superstar will instead give a rare interview that day as she is scheduled to be a guest on the syndicated "Live with Kelly and Ryan."
Rousey will be promoting her role as a team captain on the reboot of "Battle of the Network Stars," but will almost certainly be asked about her fighting career.
She has not addressed her future in the cage since suffering a first-round knockout loss to Nunes in December.
White said last week he doesn't believe she will fight again.
"People ask me, 'Do you think Ronda is coming back?' he told MMAJunkie.com. "No. I think Ronda's going to retire. Ronda hasn't retired, but my opinion is, I think she will."
Rousey has lost two straight fights after beginning her career 12-0. She became engaged to UFC heavyweight Travis Browne, who is scheduled to fight at UFC 213 on Saturday, in April.
Schedule
Friday: "The Ultimate Fighter" Season 25 Finale (FS1), T-Mobile Arena
Saturday: UFC 213 (FS1/PPV), T-Mobile Arena
July 11: Dana White's Tuesday Night Contender Series (Fight Pass), TUF Gym
July 14: Bellator 181 (Spike TV), Thackerville, Oklahoma
July 15: Invicta 24 (Fight Pass), Kansas City, Missouri
July 16: UFC Fight Night 113 (FS1), Glasgow, Scotland
More MMA: Follow all of our MMA and UFC coverage online at CoveringTheCage.com and @CoveringTheCage on Twitter.
Contact Adam Hill at ahill@reviewjournal.com or 702-277-8028. Follow @adamhilllvrj on Twitter.