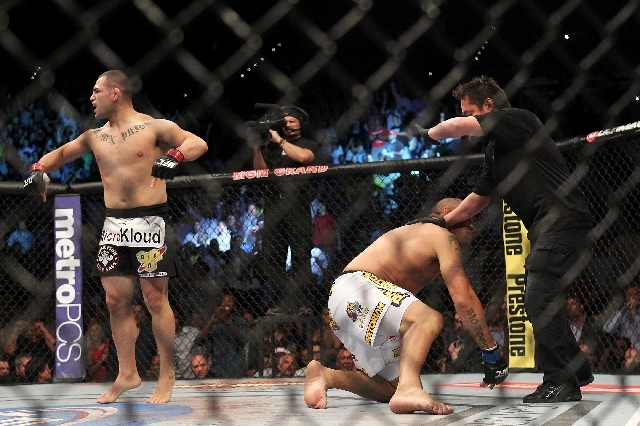 Ultimate Fighting Championship heavyweight champion Cain Velasquez insisted all last week that his dominance of Antonio "Bigfoot" Silva in their first meeting meant nothing this time around.
Then he went out and made it look even easier in the rematch.
Velasquez once again knocked out Silva in the first round, retaining the belt by dispatching the challenger in 1:21 in the main event of UFC 160 at the MGM Grand Garden on Saturday night.
"I was just using the game plan," Velasquez said. "We just wanted to keep moving, not stand in front of him, because he does have a lot of power.
"I just wanted to throw one or two punches and move. It was a good combination that I hit him with."
Velasquez landed a big right hand that dropped Silva and then pounced with a barrage of punches that stopped the fight. It was similar to the beating Velasquez administered to Silva in the Memorial Day weekend event at the same venue last year, though that night featured more of a ground-and-pound attack.
Velasquez appeared to be looking for a repeat performance early on. He shot immediately for a takedown but came up empty, managing only to grab on to Silva's leg. Velasquez separated and had to rely more on his boxing.
It was no problem.
"Keeping the belt, defending it, is what pleased me," Velasquez said. "That's my main goal right now, so that's what I was most happy with."
The result likely sets up a third fight with former champion Junior dos Santos, who also was victorious on Saturday.
Dos Santos traded haymakers with Mark Hunt for most of three rounds before flooring Hunt with a spinning heel kick and following with a well-placed right hand to end the bout.
"I had never had the confidence to try a spinning kick like that before in a fight. When I did it and it worked, it was amazing," dos Santos said. "He has a very dangerous standup game, but I trust my hands, so I used them. His first punch he landed drew blood above my eye, and I was like, 'Wow, he hits hard."
Dos Santos took down Hunt, a powerful striker with little ground game, late in the second round. The sound strategic move drew the ire of the crowd, which immediately expressed displeasure at the lull in the standup action.
"When the fans were booing, I was thinking, 'Take it easy.' That's my strategy," dos Santos said. "I have to confuse him.
"I've trained so hard for this; I can't wait to get back to the top."
T.J. Grant moved into the top contender spot in the lightweight division with a first-round knockout of two-time title challenger Gray Maynard.
Grant landed a straight right hand that dropped Maynard and then followed with a series of knees and punches to a stunned Maynard until the fight was stopped.
"This is like a dream come true, but the dream isn't over yet. There is still work to do," Grant said. "Gray is not a guy I wanted to go to the ground with, and I saw he didn't move his feet too well, so I knew there were openings.
"I wasn't necessarily looking for the knockout; I was just looking to connect to the face. I felt good things would come from that."
Maynard, a former Las Vegas resident, is 1-2-1 in his past four fights after starting 10-0.
Also on the main card, light heavyweight contender Glover Teixeira extended his winning streak to 19 matches, including four in a row since joining the UFC, with a first-round submission over James Te Huna.
Donald Cerrone spoiled the UFC debut of K.J. Noons by winning a unanimous decision in a lightweight bout that opened the main card.
On the preliminary card, Las Vegan Mike Pyle won his fourth straight match and improved to 7-1 over his past eight fights with a split decision over Rick Story.
Pyle was in all kinds of trouble in the first round after a punch sent him straight to the mat with his head against the cage. The 37-year-old welterweight recovered and did enough in the second round to earn the favor of two judges, and then he took control against a worn-out Story in the final five minutes.
"I'm not happy with my performance," Pyle said. "I got hit too much in the first round, but I feel I did get more technically sound as the fight went on."
Also, former bantamweight champion Brian Bowles looked strong early in his first fight in 18 months, nearly finishing George Roop in the first round. Roop rebounded to knock out Bowles early in the second round, however, landing a series of punches on the ground that forced Bowles to turtle up.
"It messed with my confidence a bit coming back after such a long layoff. I had him hurt in the beginning but just couldn't finish it," Bowles said. "I don't know what else to say."
Contact reporter Adam Hill at ahill@reviewjournal.com or 702-224-5509. Follow him on Twitter: @adamhilllvrj.
Griffin, original 'Ultimate Fighter,' retires from UFC
Former light heavyweight champion Forrest Griffin has announced his retirement from the Ultimate Fighting Championship.
The 33-year-old Griffin made his announcement Saturday after UFC 160 at the MGM Grand Garden.
Griffin has fought three times since November 2009 while struggling with multiple injuries. He beat Tito Ortiz in what turned out to be both veterans' final fight at UFC 148 last July.
UFC president Dana White sais Griffin will work for the promotion.
Griffin gained fame on the first season of "The Ultimate Fighter," the UFC's reality show. He finished with a spectacular win over Stephan Bonnar in April 2005 in a fight widely considered the most important in UFC history.
THE ASSOCIATED PRESS