Weidman, Rousey retain in very different fashions at UFC 175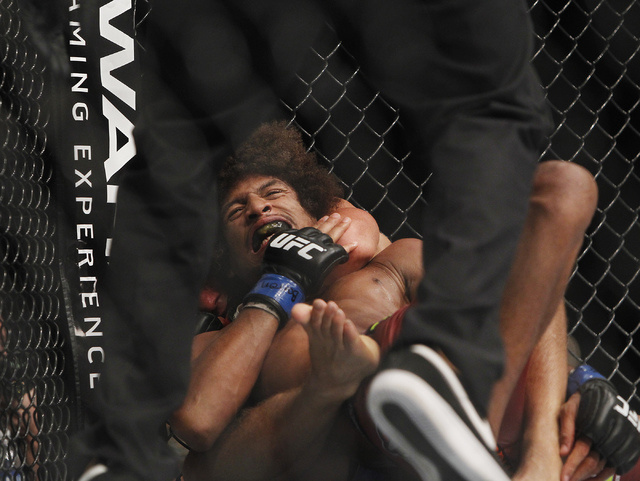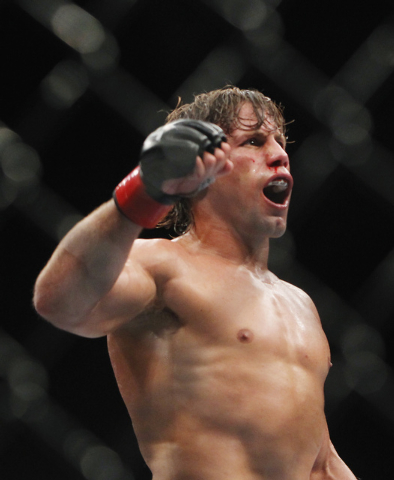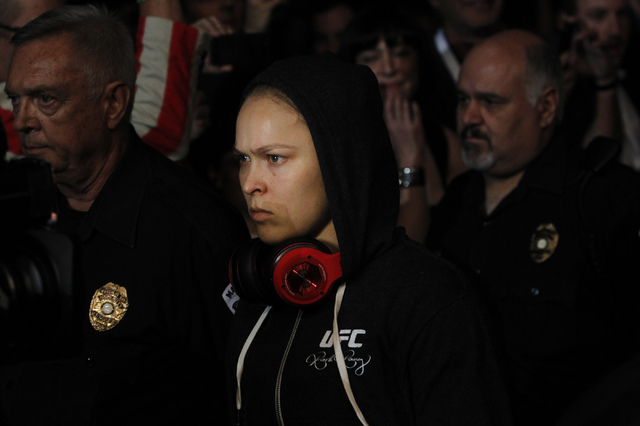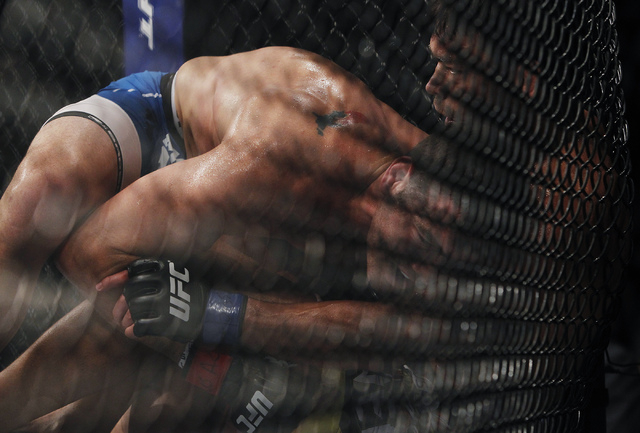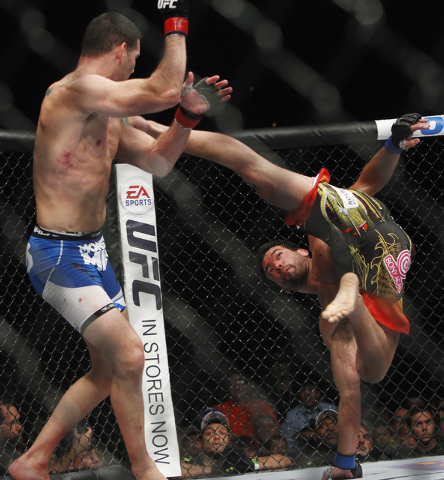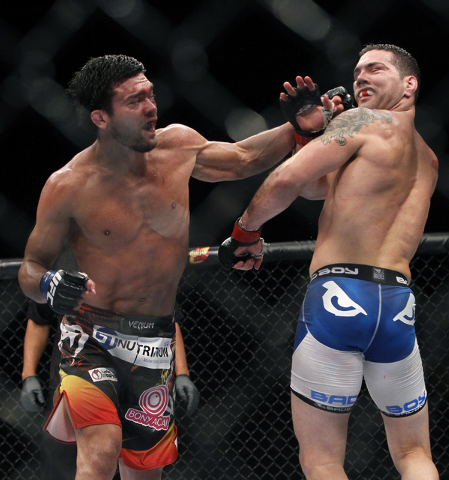 Both Ultimate Fighting Championship titleholders in action Saturday night at UFC 175 retained their belts with brilliant performances at Mandalay Bay.
They just got there in different ways.
Middleweight champ Chris Weidman survived a valiant challenge by Lyoto Machida in earning a unanimous decision over five tough rounds. Ronda Rousey needed 16 seconds to dispatch of Alexis Davis and keep the women's bantamweight belt.
Also, heavyweight Stefan Struve was pulled from the card after a medical scare while warming up in the locker room.
Weidman and Rousey remained the only unbeaten champions in the UFC with tremendous performances.
In the main event, Weidman (12-0) controlled much of the action in the first three rounds before Machida found success late.
Weidman used a diverse kicking attack early in the fight in an attempt to slow Machida, but his first few takedown attempts were unsuccessful. He finally took Machida down late in the second round, then did so several times in the third.
Machida came alive in the fourth, landing several hard left hands and rocking the champion on several occasions, only to find himself in a firefight in the fifth and final round as the two traded big shots.
Machida landed a barrage in the final 10 seconds, but it was too late.
Weidman said he would have to watch the fight again before he could provide any analysis.
"I was just kind of in the moment," he said.
He also couldn't remember if he was hurt during the fight. "Probably," he said.
The night went far smoother for Rousey, who recorded the second-fastest title fight knockout in UFC history.
Rousey (10-0) landed a jab right away and followed with a knee to Davis' head. She then judo-tossed the challenger and wound up on top of Davis with her arm trapped.
That allowed Rousey to just pound away with a series of right hands until the fight was mercifully stopped.
"As soon as I opened her up with the jab, she was definitely rocked and probably out, so I thought to myself it's time to throw her and finish," Rousey said of her ninth first-round finish. "I followed up with the short shots on the ground, but it was over well before that."
The night did not go as planned for Struve, who hoped to make his return to the organization after a heart ailment was discovered and threatened his career.
His condition was treated with medication, and he was cleared by doctors to compete, but Struve's heart rate was elevated as he warmed up to fight heavyweight Matt Mitrione and doctors decided he shouldn't fight.
"Stefan Struve suffered a non-life-threatening, near-fainting spell backstage," a statement from the UFC read. "Afterward, the medical team did not feel he was fit to compete. With his health and safety in mind, he's been removed from the card and is currently under the care of the medical staff."
Mitrione was disappointed about not being able to fight but was understanding of the situation.
"I found out what happened and went to talk to Stefan. He was still in his chair and was very apologetic," Mitrione said. "He's such a competitor. Obviously, health and safety come first."
Middleweight Uriah Hall won his second straight bout with a unanimous decision over Thiago Santos.
Hall broke his toe in the first round, but the ringside doctor allowed the fight to continue. He threw several kicks despite the bone clearly being displaced.
"Every movement, I would feel my bone shift in and out of my skin," he said.
The main card opened with bantamweight Russell Doane winning a split decision over Marcus Brimage.
Urijah Faber headlined the preliminary card with a third-round submission victory over bantamweight Alex Caceres.
Faber controlled the first round from top position on the mat, but allowed to Caceres to find a bit of a rhythm standing in the second.
In the end, the former World Extreme Cagefighting featherweight champion was too skilled and too experienced. He locked in a rear naked choke and finished the fight just more than a minute into the final round.
"I would've liked to make that a lot easier, but this is the real world and it's the fight game," Faber said. "People have to understand that things will happen out there, and it won't always be an easy fight. He's a guy that has a lot of range, and he's creative in the scrambles, so I wanted to make it a dirty, ugly fight. I think I may have broken my rib in the first round at some point. Not sure how that happened, but it might've slowed me down a bit."
Faber is 7-0 in nontitle fights in the UFC and 0-3 with a belt on the line.
Middleweight Kevin Casey took just 1:01 to knock out Bubba Bush in a middleweight bout, and bantamweight Rob Font knocked out veteran George Roop at 2:19 of the first round.
Also on the preliminary card, Luke Zachrich, Kenny Robertson and Bruno Santos won decisions.
Contact reporter Adam Hill at ahill@reviewjournal.com or 702-224-5509. Follow him on Twitter: @adamhilllvrj.