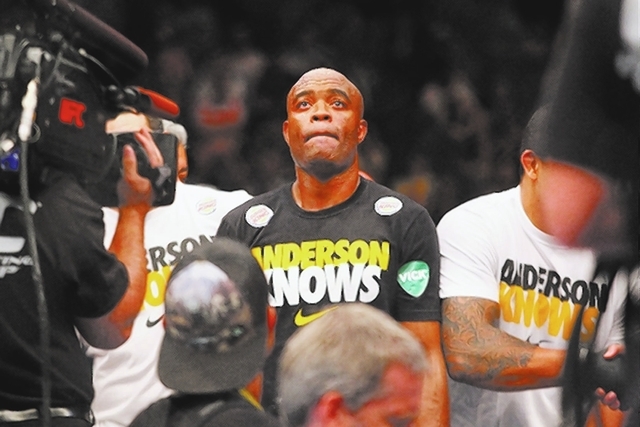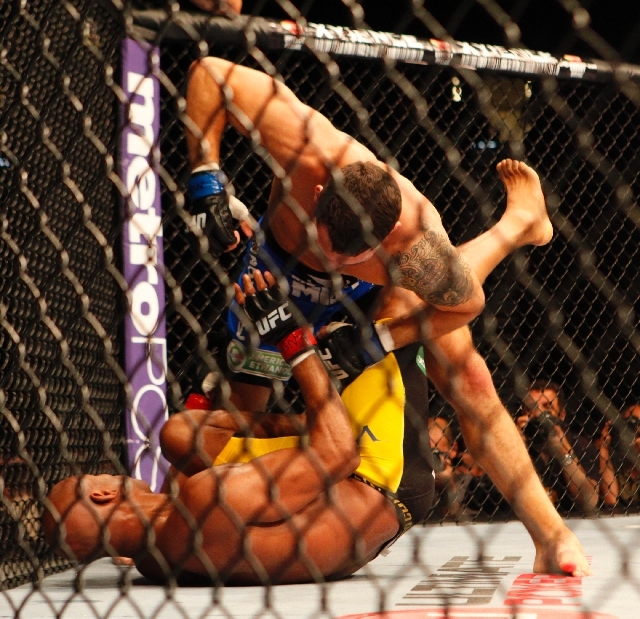 One punch created a new sensation in the Ultimate Fighting Championship and changed the fortunes of three of the organization's biggest superstars.
That's just the beginning of the significance of Chris Weidman's knockout of longtime middleweight champion Anderson Silva in the main event of UFC 162 at the MGM Grand Garden on Saturday night.
Weidman immediately becomes one of the bigger names in the sport by handing the man once thought to be nearly invincible the first knockout loss of his career and first loss of any kind since a disqualification in 2006, before he entered the UFC.
Silva's defeat also spoils all of the grand plans for superfights over the next year. Silva was the longtime champion at 185 pounds. Georges St. Pierre is in control of the 170-pound class, and Jon Jones reigns supreme at 205 pounds.
UFC president Dana White was on the verge of finally matching Silva against one of the other dominant champions, or both.
For now, that dream is gone.
"That fight cost (Georges St. Pierre), Jon Jones and Anderson Silva a lot of money," White said. "In those superfights, (Silva) was the link to both of them."
St. Pierre and Jones were in the building on Saturday. White described Jones as "bummed."
Jones tweeted a simple two-word response after the knockout: "This sucks."
With those fights all but dead, the focus turns to a potential rematch between Silva and Weidman that no doubt would be a major draw.
Silva said immediately after the loss that his nearly seven-year title reign had left him tired of worrying about the belt and he's not interested in fighting for it anymore.
White's response was that Silva just hasn't had time to come to terms with the defeat.
"Nobody wants to lose, and he doesn't know how to lose," White said. "He doesn't remember how to lose. It's been too long since he lost. This one's going to sink in after a few days."
At that point, White thinks it will be an easy decision.
"I guarantee you there's nothing he wants more than that rematch with Chris Weidman," said White, who "thinking off the top of" his head, indicated the UFC's planned Super Bowl weekend card in February in Newark, N.J., would be an interesting landing spot for the fight.
Weidman was on board. Silva softened his stance from a few hours earlier in the cage and said he wanted to take "three or four months" off to think about the direction he wants to take in his career.
It remains to be seen if that will include a conscious effort to cut down on his showboating. Silva was widely criticized for the way he fought Weidman, dropping his hands, talking, laughing, taunting and even pretending to be dazed just moments before the punch that actually did knock him out.
It's a similar strategy to the one Silva employed in several of his 16 straight UFC victories. It didn't work this time.
"I always say that I do my best, and tonight I feel I did my best. I tried to induce Chris into playing my game. It didn't work. He threw some shots that landed and I got caught," Silva said through a translator. "Obviously my game plan didn't work tonight. I can't make any excuses.
"People are going to say a lot of things now. They are going to say Chris got lucky or I underestimated him. But we need to respect what he did and we need to respect he went in there and beat me. That's pretty much it."
The bizarre antics were, as they often are in Silva fights, all part of the plan to frustrate Weidman into overextending himself on the feet and abandon the takedowns that appeared to be Weidman's biggest advantage.
There were a few moments it appeared to be working late in the first round, but Weidman adjusted early in the second.
"We expected him to do things like that," Weidman said. "He's done it plenty of times in a lot of fights. I don't see him as being cocky. He's trying to mentally defeat you in there. It got to the point when he was doing it and finally I was just like, 'You know what? Screw this. I'm hitting him.'
"I don't feel he's disrespected his opponents out there. I think he was trying to get the mental edge and wait for you to get angry."
When pressed whether White was willing to let his new star sit on the sidelines and wait for Silva, instead of trying to capitalize on the victory by putting in against another contender in the interim, White's response was simple:
"Rematch."
Contact reporter Adam Hill at ahill@reviewjournal.com or 702-224-5509. Follow him on Twitter: @adamhilllvrj.