Well-rounded Miller narrows focus in UFC return
December 2, 2011 - 2:09 am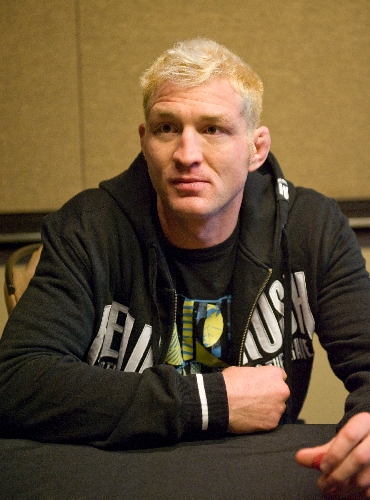 While the Ultimate Fighting Championship has soared in popularity and become synonymous with the sport of mixed martial arts, Jason "Mayhem" Miller has been one of very few fighters to make a name for himself outside the organization.
Miller lost his one shot in the UFC to Georges St. Pierre back in 2005 and didn't get a second chance. He went on to compete in practically every other MMA promotion in existence around the world, but became an even bigger hit as the host of MTV's "Bully Beatdown."
The author of several entertaining magazine articles is also a regular on "The Jason Ellis Show," a popular satellite radio program, and has the potential to build his own career in that medium, as well.
Despite his obvious ability to earn a living in a less strenuous way, the 30-year-old insists fighting is of the utmost importance to him right now.
"It's paramount. That's what kicked off all this other stuff," he said. "I wouldn't have a radio career or a television career without fighting. The past year, I really put in the effort into doing the things in the gym that are going to help my fight career."
Miller said the time was just right to get back into the UFC and chase the one belt he has dreamed about since he began watching MMA.
Perhaps because of his ability to make good TV, he was offered a spot opposing middleweight contender Michael Bisping as coaches on Season 14 of "The Ultimate Fighter" reality show. The season concludes with the coaches fighting in the main event, along with season champions in two weight classes being determined, on a card Saturday at the Palms.
Miller said he turned down past UFC offers because he was working on other projects or was locked into contracts elsewhere, but everything aligned this time around. Now, he wants to prove he belonged all along.
"It's all about a title shot. That's what you're after," he said. "When I was younger, I didn't have that view. My idea was to put on awesome, entertaining fights, and that was it. My view has changed. Now, I'm fighting in the UFC, so I can actually compete for the belt I really want that I dreamed of winning when I was a kid. That's what I'm going to work toward, and I think it's a very realistic goal."
Bisping disagrees.
"While I've been in the UFC fighting the best fighters in the world, he's been flying around the world fighting a bunch of washed-up journeymen and not doing a very good job of it," Bisping said. "The only reason he's here now and the only reason he got "The Ultimate Fighter" spot is because he's a loudmouth TV personality.
"That said, he is a decent fighter."
Miller is aware many UFC-centric fans still see him either as that guy from the TV show or that guy who was involved in starting a brawl after a Strikeforce card televised on CBS in 2010. He thinks his performance against Bisping will end that.
"It doesn't matter if I want to change the perception or not. It's going to change on Saturday night," he said. "I'll have beaten up one of the top contenders, at least according to everyone's ranking system. Once I beat him, it will just add a whole different level of legitimacy to what I do."
What he does now is fight, and Miller scoffs at the notion that his many other interests distract him from what he hopes to accomplish in the cage.
"I feel like just because I'm good at doing a lot of different things doesn't mean I can't be excellent at certain things. I think people make excuses like, 'Oh, I can't do that because I have to do this.' No, you can do it. You just have to put the energy into it," he said. "That's the hardest thing to do, to keep your focus on things, and that's what I do. I focus on whatever I'm doing right then 100 percent.
"Whether it be acting or comedy or basket weaving, I'm going to try to do it as best I can."
He expects his second UFC run to last longer than his first.
"Things are going to change around here," he said. "I definitely have some big plans in the future, and it all starts with beating Michael Bisping on Saturday."
Contact reporter Adam Hill at ahill@reviewjournal.com or 702-224-5509. Follow him on Twitter: @adamhillLVRJ.