Werdum submits Velasquez for UFC heavyweight belt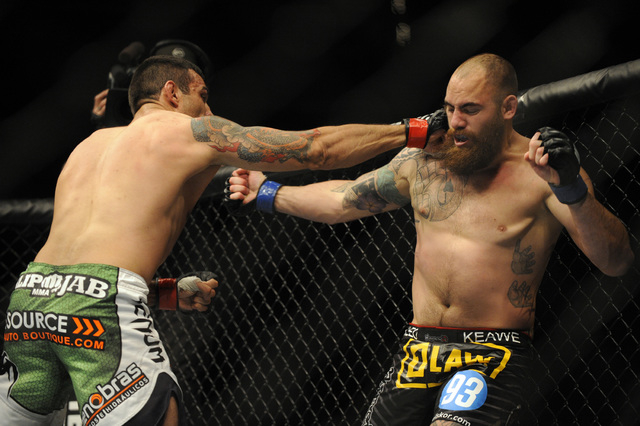 Fabricio Werdum's Ultimate Fighting Championship heavyweight belt has an interim tag no more.
Werdum, who earned the interim title during the 20-month absence of champion Cain Velasquez, submitted Velasquez in the third round of the main event of UFC 188 in Mexico City to claim the undisputed belt Saturday night.
"I had a dream, and I got it today," Werdum said.
Werdum, known mostly for his ground skills, performed well in the standup. He battered Velasquez with punches and did damage with knees in the clinch.
A bloody and exhausted Velasquez dived for a takedown and Werdum locked in a guillotine choke to end the fight.
"I didn't do it tonight, so I guess it's just more motivation to keep getting better," Velasquez said.
Cardio was one of the strengths for Velasquez during a title run that lasted since 2012. He appeared exhausted in the first round, which might have been a result of the altitude in Mexico City.
Velasquez refused to solely blame the elevation, more than 7,000 feet above sea level, but acknowledge it may have played a role. "I was out here for two weeks," he said. "I guess it wasn't enough."
Werdum, who also won the interim belt in Mexico City, said he prepared himself for the thin air.
"I was out here for 30 or 40 days to get ready," he said.
Lightweight Eddie Alvarez rallied from a difficult first-round to gain a split-decision victory over Gilbert Melendez.
Alvarez was swollen and bloody after the first round when he tried to blow his nose, which dramatically and immediately increased the swelling. He kept fighting, however, and did enough to win each of the final two rounds on two of the scorecards to earn the victory.
"I ended up blowing my nose and that's what made my eye swell. Once that happened in the first, that changed everything. I knew I had to adjust my game plan. I'm the kind of fighter who likes to stand and strike but that would have been dumb to do with the eye," Alvarez said. "I decided to really grind him and try to work him against the cage and the ground. He started wilting."
It was the first UFC win for Alvarez, the longtime Bellator champion who finally signed with the UFC last year after a court battle with his former employers.
Kelvin Gastelum made an impressive debut at middleweight with a stoppage of Nate Marquardt.
Gastelum, however, said he hopes his time at 185 pounds is short-lived.
UFC officials asked the 23-year-old emerging star to go up in weight after he had trouble making the 170-pound limit.
After battering Marquardt for two rounds to the point he couldn't answer the bell for the third, Gastelum said he hoped his performance built enough goodwill with his bosses to allow him to go back to welterweight.
Also on the main card, Yair Rodriguez and Tecia Torres won by decisions.
Flyweight Henry Cejudo solidified his status as a flyweight contender with a decision victory over Chico Camus.
Cejudo, a 2008 Olympic wrestling gold medalist, remained unbeaten in his mixed martial arts career and is 3-0 in the UFC.
It was not the impressive performance he had hoped would ensure a title shot against Demetrious Johnson, but Cejudo blamed a bout with food poisoning.
"I did my best for my fans and the Mexican people, but I have to do better next time," Cejudo said.
Efrain Escudero and Patrick Williams each recorded first-round submission victories.
Contact reporter Adam Hill at ahill@reviewjournal.com or 702-224-5509. Follow him on Twitter: @adamhilllvrj.