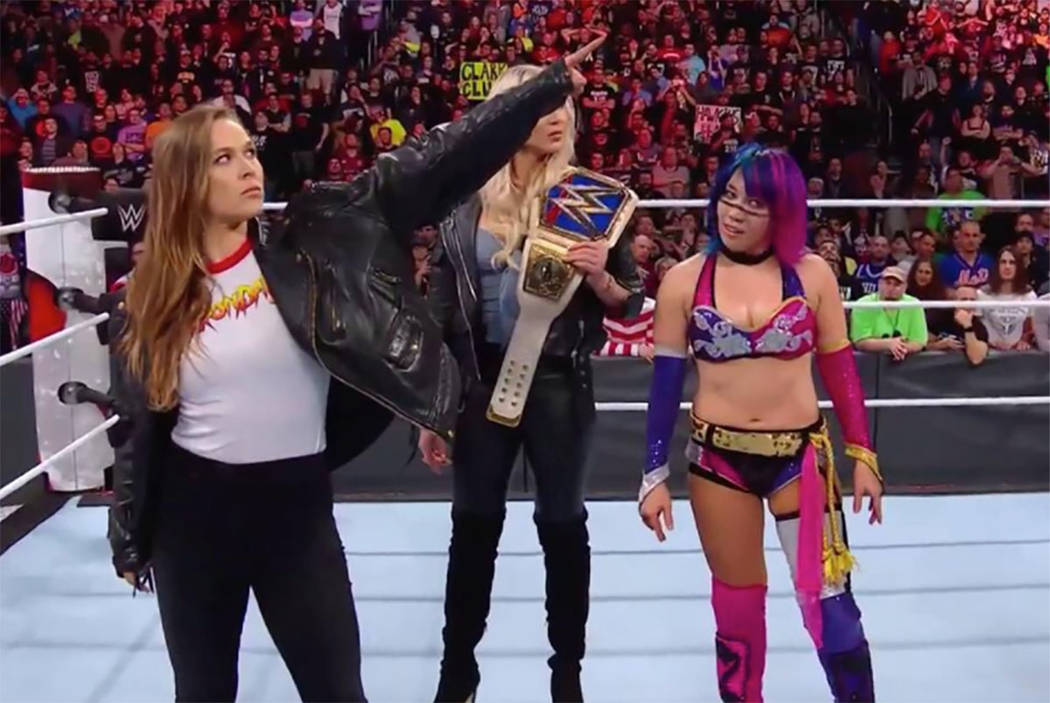 Former UFC women's bantamweight champ Ronda Rousey made a big splash at the end of Royal Rumble to formally announce her transition to professional wrestling.
That doesn't necessarily mean she has completely abandoned mixed martial arts.
Rousey, who has dropped her last two fights and has not competed in the UFC since a first-round knockout loss to Amanda Nunes in December 2016, will not rule out a fight in the future.
She certainly doesn't want to use the word "retired" in regard to her UFC future.
"That's what everybody else seems to say," Rousey told ESPN.com immediately after her signing was announced. "I never retired from judo. If that's what you guys want to think. All I know is that I really want to devote 100 percent of my time to wrestling right now, and whatever people want to call that, they can call it."
For now, she insists her focus is solely on professional wrestling.
The 30-year-old isn't the first athlete to blur the lines between real and scripted unarmed combat.
Rousey will join former UFC champion Brock Lesnar on the WWE roster. Former WWE champ CM Punk is currently on the UFC roster. There have been others throughout the years.
She still isn't ready to talk about the two losses that eventually prompted her hiatus from fighting.
"I think I'd rather just not talk about that right now," she told ESPN.
Rousey, a longtime pro wrestling fan who has made several promotional appearances and even participated in a Wrestlemania match, is expected to make her official debut at the organization's premier event in New Orleans in April.
'Jacare' solidifies contender status
Ronaldo "Jacare" Souza made a major statement in the middleweight division with a highlight-reel headkick knockout of Derek Brunson in the main event of UFC on Fox 27 on Saturday night in Charlotte, North Carolina.
He hopes the second victory over Brunson will leave the UFC with no other option than to give him a title shot.
"The way is to the belt," he told reporters after the win. "I'm coming from a big victory against a good opponent and if there's nothing else in my way, then get to the belt."
Souza cited a strong training camp for the victory over Brunson, who he also defeated six years ago on a Strikeforce card.
"My training partner was saying my kicks were really working," Souza said. "He was telling me, 'You have to kick, you have to kick.' I had a great camp and everything worked out the way it was supposed to."
The title picture may be starting to get a bit more clear, as well. Champion Robert Whittaker was forced to pull out of his title defense due to illness and Yoel Romero will fight Luke Rockhold for the interim title next month.
Whittaker may not be out for as long as had been feared when UFC president Dana White said earlier this month he was in "serious condition."
Whittaker posted on social media he was nearing a return to the gym.
"Pumped to get back to work," the Australian wrote. "#willbebackstrongerthanever."
UFC returns to Arizona
UFC on Fox 29 will take place at Gila River Arena in Glendale, Arizona, UFC officials confirmed Friday.
A lightweight contender bout between Justin Gaethje and Dustin Poirier will headline the event, which will also feature a welterweight bout between Matt Brown and former interim champion Carlos Condit.
This will mark the first card the UFC has held in Glendale, the site of the final event in World Extreme Cagefighting history.
The organization has held two events in Phoenix with the last one coming in January 2017.
Oleksiejczuk flagged by USADA
UFC light heavyweight prospect Michal Oleksiejczuk has been flagged for a potential violation of the organization's anti-doping policy by the United States Anti-Doping Agency.
A sample collected from Oleksiejczuk after his UFC 219 win over Las Vegan Khalil Roundtree at T-Mobile Arena on Dec. 30 prompted the action.
"Because the Nevada Athletic Commission was the regulatory body overseeing the fight in Las Vegas and has licensing jurisdiction over Oleksiejczuk, USADA will work to ensure that the NAC has the necessary information to determine its proper judgment of Oleksiejczuk's potential anti-doping violation," USADA wrote in a statement. "Additional information will be provided at the appropriate time as the process moves forward."
The reason for the failed test was not revealed.
Schedule
— Saturday: UFC Fight Night 125 (FS1), Belem, Brazil
— Feb. 10: UFC 221 (FS1/PPV), Perth, Australia
— Feb. 16: Bellator 194 (Paramount), Uncasville, Conn.
— Feb. 18: UFC Fight Night 126 (FS1), Austin, Texas
— Feb. 24: UFC on Fox 28 (Fox), Orlando, Fla.
Contact Adam Hill at ahill@reviewjournal.com or 702-277-8028. Follow @AdamHillLVRJ on Twitter.