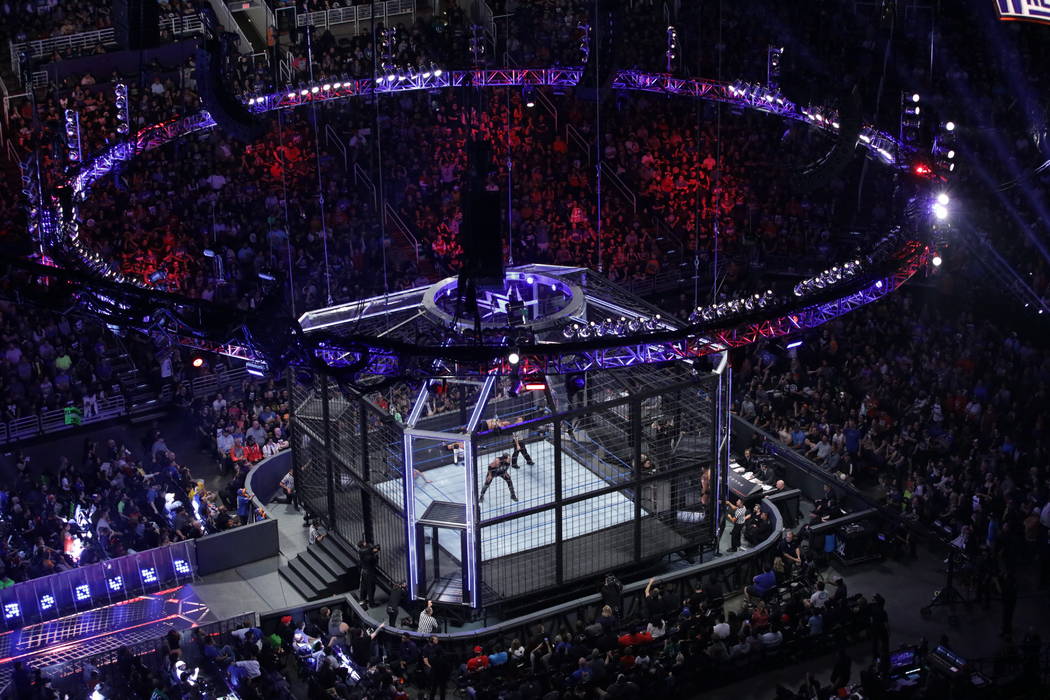 Ronda Rousey shocked the WWE universe when she made an appearance at the Royal Rumble last month.
Rousey, who left the UFC to join the pro wrestling company, stood in the center of the ring and pointed at the giant Wrestlemania 34 sign as Alexa Bliss, Charlotte and Asuka looked on.
But the biggest surprise of the night might not have been Rousey's debut.
How do fans feel about Ronda sporting Roddy Piper's graphics? Is it cool bc he gave her permission to use the name "Rowdy" years ago? Or would you rather see her come up with her own thing? pic.twitter.com/bfesuvXixz

— Heidi Fang (@HeidiFang) January 29, 2018
The WWE's creative team probably didn't foresee that Bliss would be one of the four women in the ring during the memorable moment when they decided to move her up to the main roster two years ago.
Bliss was the last pick of the ninth round in the 2016 WWE draft, 43 picks after Charlotte, the third overall selection and the first female wrestler to come off the board.
"When I was brought up to SmackDown, I was one of the underwhelming draft picks," Bliss said. "I had to make the most out of every opportunity because a lot of times on WWE, if you don't deliver, those opportunities don't come back."
The 5-foot-1 Bliss did more than deliver. She made history as the first wrestler to win the Raw and SmackDown women's championship belts.
Bliss will defend her Raw women's title Sunday at T-Mobile Arena during the Elimination Chamber, a popular WWE pay-per-view event. Bliss will compete in the first-ever women's Elimination Chamber match, with Bayley, Sasha Banks, Mickie James, Mandy Rose and Sonya Deville gunning for Bliss' belt and the right to enter Wrestlemania as the champion.
Rousey is scheduled to make her first appearance since Royal Rumble to sign her WWE contract and join the Raw brand as a full-time competitor.
"Nobody knew what was going on or that she was there," Bliss said of Rousey's Royal Rumble entrance. "She came out, and it was definitely a surprise, but I think it's exciting that she comes to WWE because it brings a new fan base and a different dimension to WWE.
"It just shows it takes top athletes to do what we do, and the fact that one of UFC's top athletes wants to be in WWE, that's great."
The #RoyalRumble was an amazing night not only for @WWE but for women in sports. A big win for @WWEAsuka and a debut for @RondaRousey. Either way, I'll be waiting in the middle of the ring @WrestleMania as your #Raw Women's Champion! #GoddessAboveAll

— Alexa Bliss (@AlexaBliss_WWE) January 29, 2018
In the past 20 months, Bliss and Charlotte have been the two most successful wrestlers in the WWE. Bliss earned her spot in the ring for Rousey's grand arrival, but she did it the hard way.
Bliss didn't enter the WWE with a large fan base such as Rousey, the former UFC women's bantamweight champion who shot up to superstardom and Hollywood movie roles.
"Little Miss Bliss" didn't come from a decorated wrestling family like SmackDown women's champion Charlotte, the daughter of iconic wrestler Ric Flair. Bliss wasn't promoted as the next best thing during her time on NXT like Asuka, the Japanese wrestler who held the NXT women's belt for 510 days.
"I wasn't given the opportunity that the Four Horsewomen (Charlotte, Sasha Banks, Becky Lynch, Bayley) or Asuka were given," Bliss said. "I was kind of just there."
Bliss, 26, knew that she could compete with any wrestler in the ring, but that wasn't enough to be noticed.
She had to deliver on the mic as well.
Harley Quinn arrives
Bliss, whose real name is Alexis Kaufman, wore attire inspired by "Iron Man" and "Freddy Krueger" to the ring, but she didn't find her perfect character until she revealed her "Harley Quinn" look last year.
Bliss flourished in the supervillain role during promos and became the "Five Feet of Fury" wrestler who was dominating the women's division.
Watching #RAW right now…is SHEER BLISS!@AlexaBliss_WWE has arrived! pic.twitter.com/vMEVmAOQgB

— WWE (@WWE) February 20, 2018
"Harley Quinn is the one the fans gravitated to the most," Bliss said. "I love portraying characters and being dramatic. My mom would say I've been dramatic my whole life.
"It's just so fun for me to see what I can really get away with with this character, and how far I can go with it when it comes to being mean."
Bliss grew up in Columbus, Ohio, and was in Las Vegas often for cheerleading and bodybuilding competitions. She battled with anorexia as a teenager, and bodybuilding helped her overcome that.
"I wanted to compete and gain weight the healthy way," Bliss said. "My goal was to be one of the youngest pros in bodybuilding, so once I got my pro card I competed at a few shows, and I was like, 'OK, my goal is completed. I'm over it.' And that's when I got into wrestling."
Contact Gilbert Manzano at gmanzano@reviewjournal.com. Follow @GManzano24 on Twitter.
WWE Elimination Chamber
When: 4:30 p.m. Sunday
Where: T-Mobile Arena
Tickets: Axs.com
TV: WWE Network
What to expect: Ronda Rousey signing Raw contract.