Zingano focused on beating Rousey
February 26, 2015 - 7:07 pm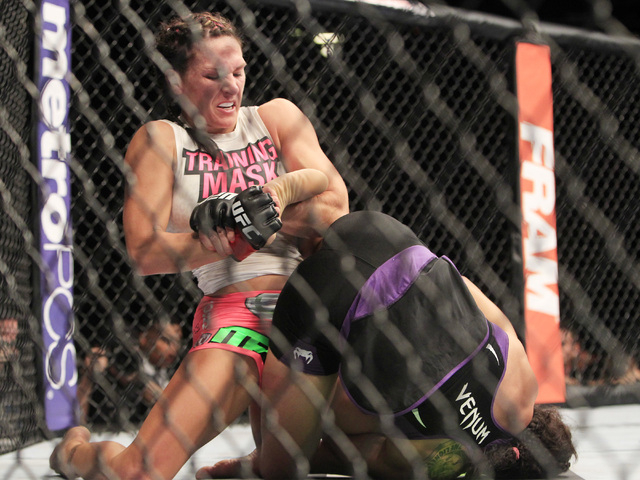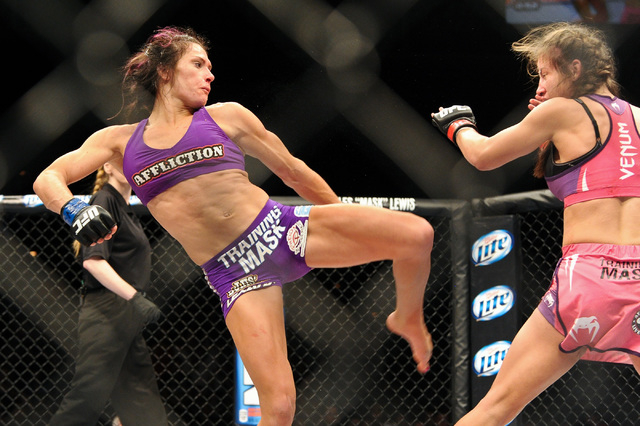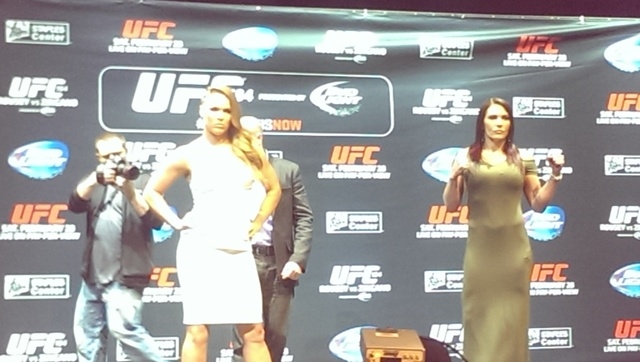 LOS ANGELES — One of the biggest challenges facing Ronda Rousey's opponents has been trying to find a weakness in the UFC women's bantamweight champion's game.
Top contender Cat Zingano smiled as soon as she was asked Thursday whether Rousey had any vulnerabilities.
"Yes," Zingano said. "Me."
The undefeated 32-year-old has been loose and relaxed in all of her many interviews this week leading up to her biggest fight — against Rousey in the main event of UFC 184 at Staples Center on Saturday night.
The prospect of defending an armbar doesn't seem daunting when one has endured what Zingano has since she earned a title shot with a victory over Miesha Tate in April 2013.
First, Zingano lost the opportunity to star as a rival coach opposite Rousey on "The Ultimate Fighter" that summer when she suffered a torn ACL and was removed from the show.
Then, real tragedy struck. Zingano's husband and longtime trainer, Mauricio, killed himself on Jan. 13, 2014. The couple had been estranged because of issues Zingano attributes, at least in part, to the injury.
When she was finally ready to return to the cage last summer, Zingano was passed over for the title shot and told she would have to work her way back into the picture.
Zingano did just that with a third-round knockout of Amanda Nunes in September to regain her spot at the top of the list of contenders to Rousey's belt.
She believes she will succeed where others have failed because she has avoided concentrating so much on just how good Rousey can be in the cage.
"People put way too much energy into focusing on what she's going to do and that energy becomes real," Zingano said. "It's like that thing where people fixate on something so much that it happens. I just put all my energy into me and focusing on what I'm going to do, and I'll go in there and do that right through the end of the fight until I get the job done."
That persistence has been one of the biggest assets, inside the cage and out, during her career, particularly during her time in the UFC.
Zingano has been in trouble early in both of her fights in the organization only to rally for third-round finishes each time.
"I think that Cat's resilience is one of the things that has really impressed me about her the most. And I think that's what's really gotten her most of her fans. It's not just the way that she fights but the way that she endures," Rousey said. "And it's extremely impressive and one of those things that I will definitely keep in mind for the fight. She's not one of those people that can be intimidated, so I won't even bother."
Zingano knows it will take more than confidence and perseverance to upset Rousey. She also believes in her skills. After a successful collegiate wrestling career, Zingano quickly took to jiujitsu and won several grappling titles.
"I just know I have everything it takes to go out there and become champion on Saturday," she said.
That would throw a wrench into a division that has been owned by Rousey since it was established in late 2012.
Zingano wants to change that, though she is not sure everyone would be thrilled should she win.
"(Ronda's) a great champion. She's done a lot for this sport, and she's brought a ton of attention to it," Zingano said. "So I think her continuing to be champion is good for (business). But I think I have a lot to offer as champion as well."
It would certainly increase the spotlight on her. Zingano, the mother of an 8-year-old son, Brayden, has been understandably reluctant to talk about the turbulent times she has endured but has opened up about it a bit lately.
"It's been hard. It has been," she said. "But every time I do it and I get a little bit further, I feel a little bit more weight off me that I kind of get to tell my story and maybe it's going to help people. Maybe it's got some leverage that can some way, somehow impact people at the same time helping me get through some things.
"It's not something I feel like going into a ton, but whatever it can do to make things better."
While she may be anxious discussing her past, Zingano appears ready for what lies ahead of her on Saturday.
She said she's secure in the feeling that this is where she belongs.
"This is interestingly enough the most calm I've ever been before a fight. I'm finally where I've been trying to get my whole life, and I'm at the top of the mountain," she said. "It feels great."
She hopes she can say the same after stepping in the cage with Rousey on Saturday night.
Contact reporter Adam Hill at ahill@reviewjournal.com or 702-224-5509. Follow him on Twitter: @adamhilllvrj.