Moapa Valley erases 22-point deficit to win Division I-A title in OT
November 22, 2014 - 11:56 pm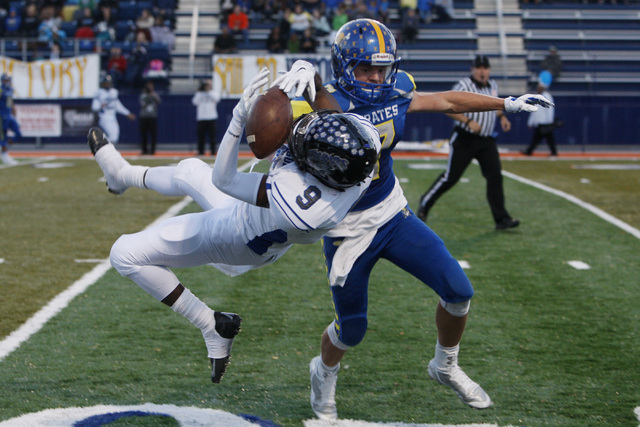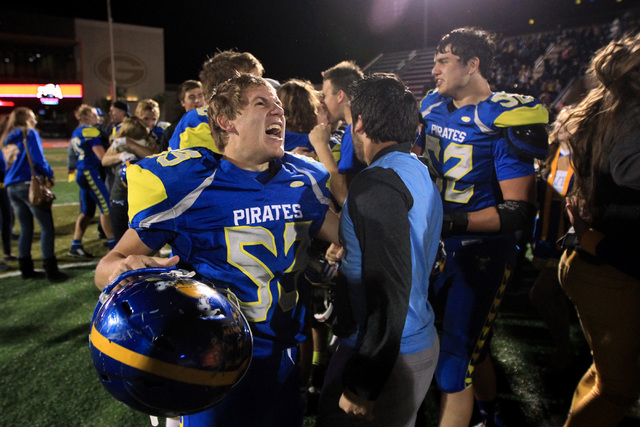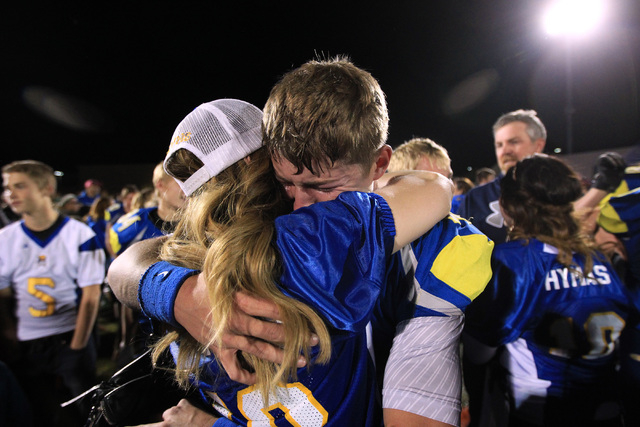 Moapa Valley advanced to the state football championship game four straight years from 2009 to 2012 and didn't come away with a title.
And for more than three quarters Saturday, it looked as if the Pirates were about to lose for the fifth straight time in a championship game.
But Moapa Valley scored 28 unanswered points in the fourth quarter and overtime to beat Desert Pines 42-36 at Bishop Gorman High School for the Division I-A state title. It was the school's 16th state football title and the first since 2008.
"We've been right here. We've been right here too many times to come away disappointed, and it seemed like we were going to do it again," Moapa Valley coach Brent Lewis said. "To get over this hump and get this monkey off my back, I tell you what, I'm on cloud nine."
The Pirates (13-0) got the ball first in overtime, and quarterback Zach Hymas rolled to his left and tossed a 10-yard pass to R.J. Hubert in the back corner of the end zone. Hubert leaped over Desert Pines' Gianni Breland to make the catch to give Moapa Valley a 42-36 lead.
On the first play of Desert Pines' possession, Dillard Davis couldn't handle the handoff from Marckell Grayson, and Bo Redd pounced on the fumble to end the game.
"It was just pure joy, and I was just so excited," Hymas said of his reaction to Redd's fumble recovery. "You know what, we're state champions. It's the greatest win in Moapa Valley history."
Desert Pines (11-2) dominated the first half and led 36-14 to start the fourth quarter. But somehow Moapa Valley managed to score 22 points in less than eight minutes, tying the game on a do-or-die play on fourth down.
The Pirates trailed 36-28 and faced third-and-17 from the Desert Pines 49. Hymas dropped back and found running back Kaleb Bodily open near the 15, and he scored with 3:09 to play to cut the lead to 36-34.
"That's a play I kind of created this week where we just release the back out of the backfield," Lewis said. "I didn't think they would have anyone assigned to him. We ran everybody off, and he ran up the seam replacing them and nobody covered him."
Hymas, who passed for 303 of his 378 yards in the second half and overtime, said he doesn't remember what happened on the game's biggest play.
"I honestly don't know what I saw," Hymas said. "I just felt it. And I kind of blacked out, honestly. I don't remember it happening. I was just in the zone. We were in the zone the whole second half."
On the 2-point try, Hymas rolled to his left and tossed a pass to Cole Mulcock in the front corner of the end zone to tie the game. Each team came up empty on a final possession, sending the game into overtime.
Desert Pines led 20-0 at the half and responded to two Moapa Valley TDs in the third quarter with two more quick scores to push the lead to 36-14. Isaiah Morris had TD runs of 65 and 21 yards in the third quarter for the Jaguars.
Hymas started the comeback with a 3-yard TD run with 11:02 to play. Bodily had a 4-yard TD run, and Hymas added the 2-point conversion run to make the score 36-28 with 7:20 to go.
The Pirates converted on fourth down on each of their fourth-quarter scoring drives.
"They just made so many plays on fourth down," Desert Pines coach Tico Rodriguez said. "Our kids were in good position; it's just them. They never quit. Our guys played hard, too, in the second half. They just made play after play. It was a great game."
Morris finished with 177 yards rushing, including a 54-yard TD run in the first half. He added a 7-yard TD reception to lead the Jaguars, who were making their first appearance in a state title game since 2002.
Bodily rushed for 71 yards and two scores and added five catches for 128 yards. Hubert had six catches for 148 yards. Mulcock caught six passes for 78 yards.
"It's unreal," Mulcock said. "I can't even think right now. It's so crazy how we won this game, how we came back in the second half and gave it all we had.
"This game is what I've dreamed about my whole life. It's amazing winning this game."
Contact reporter Damon Seiters at dseiters@reviewjournal.com or 702-380-4587. Follow him on Twitter: @DamonSeiters.