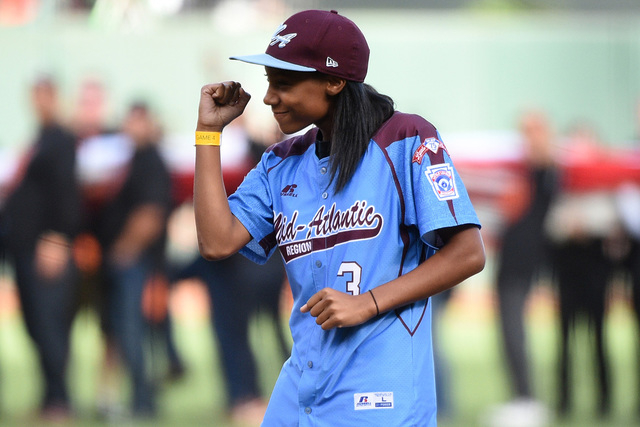 Little League World Series star Mo'ne Davis appeared on SportsCenter on Monday and says she thinks the college baseball player who was kicked off his team after posting an offensive tweet about her should be given a second chance.
The baseball player, Joey Casselberry, was dismissed from the Bloomsburg University baseball team over the weekend after tweeting about Disney Channel developing a movie about Davis.
"Disney is making a movie about Mo'ne Davis? WHAT A JOKE. That sl— got rocked by Nevada," Casselberry tweeted.
And the 13-year-old Little League World Series star, and basektball player, says he deserves to be given a second chance.
"Everyone makes mistakes," Davis told SportsCenter. "Everyone deserves a second chance. I mean, I know he didn't mean it in that type of way and I know a lot of people get tired of seeing me on TV, but sometimes you've just got to think about what you're doing before you actually do it.
"I know right now he's really hurt, and I know how hard he worked just to get to where he is right now. I mean, it was pretty hurt on my part, but I know he's hurt even more."
Davis also reached out to Bloomsburg University via email and asked the school to reinstate him.
"If it was me, I know I would want to take that back and I know anything thing he would do just to take that one tweet back, and I know how hard he's worked, so why not give him a second chance," Davis said.
Casselberry's Twitter account, previously @BigCass24, has since been deleted, according to Sports Illustrated.
Contact Kira Terry at kterry@reviewjournal.com. Find her on Twitter: @kiraterry