Moore in groove for Boilermakers
February 21, 2011 - 2:01 am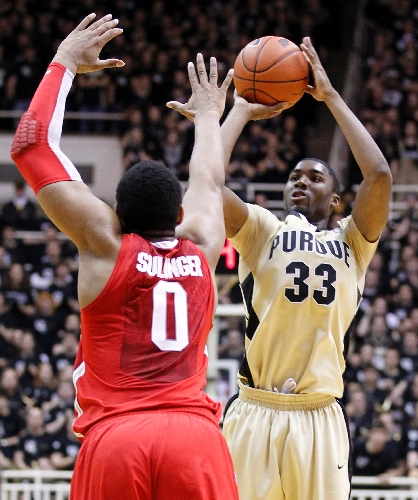 WEST LAFAYETTE, Ind. — E'Twaun Moore seemingly toyed with Ohio State.
Whether sinking one of his seven 3-pointers, making an acrobatic layup or hitting a jumper in the closing seconds of the first half, the senior guard seemed at ease. He scored a career-high 38 points to help No. 11 Purdue beat No. 2 Ohio State 76-63 on Sunday.
Moore's teammates saw it coming.
"I know once he gets that rhythm going and steps back and hits a 3 and once he smiles, you know he has it going," guard Lewis Jackson said. "E'Twaun, he may put his fingers up and tell you he hit a 3-pointer, but he rarely smiles. Once he smiles, he's in a zone, and you probably won't stop him that night."
Purdue (22-5, 11-3 Big Ten) had much to smile about in the past week. The Boilermakers beat No. 10 Wisconsin on Wednesday, and their two wins over top-10 teams brought them within a game of the Buckeyes (25-2, 12-2) for the conference lead with four games to play.
Purdue's win capped a week in which the top four teams in the Top 25 lost. After losses by No. 1 Kansas, No. 3 Texas and No. 4 Pittsburgh, the Buckeyes entered with a chance to reclaim the No. 1 ranking they dropped after losing at Wisconsin on Feb. 12.
Ohio State coach Thad Matta knew his team was playing in a rough stretch, and he expected challenges.
"We've got to continue to keep our focus," he said. "Our guys know we have to play better basketball, and we have to get them ready to do that."
Ohio State center Jared Sullinger, who scored 25 points, said this game was nothing like Ohio State's 87-64 victory over Purdue on Jan. 25.
"In that game, we had toughness to not get screened, toughness to make shots, toughness to make plays on the defensive end, and we didn't do that today," he said.
Jon Diebler scored 11 points and David Lighty and Aaron Craft each had 10 for the Buckeyes, who've lost two of three games after starting 24-0.
Moore surpassed 2,000 career points during a flurry of 13 in the final 3:49 of the first half, becoming the fifth player in school history to reach the milestone.
"Right now, it's just numbers to me," Moore said. "I still have a career and games to play. Later I may look back on it and really say that was a lot of points, a lot of rebounds and enjoy it with my friends and family. But right now I still have a lot of basketball."
Moore made 13 of 18 shots and had five assists and two steals. Coach Matt Painter said Moore's performance was special because it came against Lighty, whom Painter considers the best defensive guard in the league.
"(Moore) gets into those rhythms and gets going, he can score points in bunches," Painter said. "I've always thought he was one of the best guards in the country when he lets things come to him. He didn't force a lot. That's really, whether he takes 10 shots or 20 shots, the deal with him. If he can do that, he really helps our team."
JaJuan Johnson added 13 points and six rebounds for Purdue.
Diebler entered the game one 3-pointer short of the Big Ten career record of 331 set by Penn State's Pete Lisicky from 1994 to 1998. Diebler tied the record on a fadeaway as the shot clock expired that gave Ohio State an 11-5 lead and broke it on a shot from the right corner a minute into the second half.
AROUND THE NATION
DUKE EYES RETURN TO NO. 1 — At Durham, N.C., Nolan Smith scored 28 points and No. 5 Duke (25-2, 12-1 ACC) stated its case to return to the top of the national rankings, gaining a 79-57 victory over Georgia Tech (11-15, 3-9). The Blue Devils, ranked No. 1 in the preseason, could return to the top spot today. All four teams ahead of Duke — Kansas, Ohio State, Texas and Pitt — lost last week.
BADGERS GET 20TH WIN – At Madison, Wis., Keaton Nankivil made five 3-pointers and scored 22 points, leading No. 10 Wisconsin (20-6, 10-4 Big Ten) to a 76-66 victory over Penn State (14-12, 7-8). The Badgers reached 20 wins for the eighth time in nine seasons.
GATORS SHARE SEC LEAD — At Baton Rouge, La., Erving Walker and Kenny Boynton scored 17 points apiece and No. 14 Florida (21-5, 10-2) regained a tie for the Southeastern Conference lead with a 68-61 victory over Louisiana State (10-17, 2-10).
ALLEN PROPELS TEMPLE – At Philadelphia, senior Lavoy Allen grabbed 12 rebounds to become Temple's career leader with 1,045 and scored 14 points to help the No. 23 Owls (21-5, 11-2 Atlantic 10) breeze to a 66-52 victory over Saint Joseph's (7-19, 2-10).