Morefield keys Spartan rally
August 29, 2014 - 11:47 pm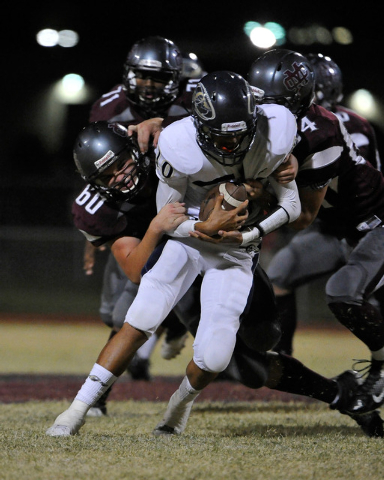 Cimarron-Memorial High School football coach John Parcells has watched his players mature over the past several weeks, so he was careful not to panic when his squad fell behind by two touchdowns in the first quarter Friday.
Parcells' faith was rewarded, as his team methodically stormed back to stun visiting Cheyenne 21-14.
Derek Morefield completed 13 of 24 passes for 189 yards and two touchdowns to lead the Spartans, and he gave his team the lead for good with a 4-yard TD pass to Rasaan Mills late in the third quarter.
"The guys pulled themselves out of that hole," Parcells said. "I don't think they realized how good they can be. If you deal with adversity well, the sky's the limit."
That adversity came as the result of 8-yard TD runs by Jordan Johnson and Zavieh Harrell in the first quarter that gave the Desert Shields a 14-0 lead and all the momentum.
"Cheyenne has a lot of speed," Parcells explained. "When you face that double-wing offense with that speed, there is always going to be an adjustment period, so we were not worried."
Cimarron started its first drive of the second quarter with good field position, and a 23-yard pass from Morefield to Joe Tito set up a 14-yard scoring run by Morefield to cut the deficit to 14-6 with 9:44 left in the first half.
The Spartans scored again on their next position when Morefield threw a screen to Mills, who sprinted down the right sideline for a TD. A two-point conversion made it 14-14 at halftime.
Cimarron's defense allowed the Desert Shields just 36 offensive yards in the second half, and the Spartans completed their rally with Morefield's second TD pass to Mills with 3:48 left in the third.
"The thing I liked about that play is that it wasn't there right away," Parcells said. "Our receivers made some route adjustments, and our quarterback bought some time. We've been working on plays like that."
Cheyenne managed to get into Cimarron-Memorial territory late in the fourth quarter, but the Spartans squelched the drive at their 24-yard line.
Maurice Bennett rushed 21 times for 99 yards for Cimarron-Memorial. Mills caught four passes for 73 yards, and Tito had five receptions for 72 yards.
David Walker carried 17 times for 65 yards to lead Cheyenne.
■ Liberty 42, Basic 12 — At Basic, Calvin Tubbs and Dhamany Whittle returned interceptions for touchdowns for the Patriots, who forced four turnovers and held the Wolves to 121 yards of offense.
Tubbs grabbed his interception and raced 39 yards for the score with eight seconds left in the first quarter to put Liberty in command 21-0. Whittle's pick-six went for 22 yards and extended Liberty's lead to 35-6 in the third quarter.
Jake DeDeaux also snared an interception for Liberty, which also two sacks.
Receiver Ethan Deadeaux hauled in five receptions for 131 yards, including a 54-yard TD reception in the first quarter for the Patriots.
Ethan Tuilagi scored on a 44-yard run up the middle in the second quarter. He finished with 82 yards on eight carries.
Bryan Roland had a 59-yard punt return for a score for Liberty.
Dallon Ellett had a 56-yard fumble return and an interception for Basic.
— Tim Guesman
■ Desert Pines 48, Desert Oasis 0 — At Desert Oasis, sophomore quarterback Marckell Grayson threw for 344 yards and four touchdowns as the Jaguars (1-0) routed the Diamondbacks (0-1).
After the Jaguars' first drive ended with an interception, Desert Pines' defense forced a three-and-out. Seven plays later, the Jaguars got on the scoreboard when sophomore running back Isaiah Morris scored on a 27-yard run. Morris finished with 54 yards and two touchdowns on five carries. He also caught two passes for 75 yards and a score.
Grayson hit senior receiver Jon McCoy for a 34-yard score one play after a fumble recovery to make it 14-0. After the Diamondbacks put together a 15-play drive that stalled on the Jaguars' 24-yard line, Desert Pines drove 76 yards on 11 plays, increasing its lead to 21-0 on a 3-yard run by Morris.
The Diamondbacks fumbled the ensuing kickoff, and the Jaguars put away the game when Grayson hit Morris on a 50-yard touchdown pass.
— Robert Horne
■ Desert Hills (Utah) 41, Foothill 0 — At Foothill, Desert Hills turned three second-quarter Foothill turnovers into 20 points and never looked back.
Already leading, 7-0, the Thunder (2-0) recovered a Justice Jackson fumble at the Desert Hills 40. Four plays later, quarterback Nick Warmsley found Mason Palmer for an 18-yard score and a 13-0 Desert Hills lead.
In the opening 12 minutes, Desert Hills held Foothill to only three first downs and 48 total yards.
Foothill (0-1) finished with 104 yards of offense, 37 on the ground. Nick Gardner came on in the second half and completed 6 of 15 passes for 56 yards.
— Sam Leeper
■ Del Sol 14, Valley 12 — At Valley, the Dragons rushed for 271 yards and denied a two-point conversion with fewer than 10 seconds to play to hold on.
Daniel Tyus opened the scoring with a 2-yard run, and Jay Peete added a 1-yard TD plunge as Del Sol took a 14-0 lead into the fourth quarter.
The Vikings' Iyen Medlock found Kyler Jackson in the end zone for a 5-yard touchdown to cut the lead to eight. Valley then forced a fumble while the Dragons were trying to run out the clock with less than two minutes to play.
Medlock scored on a 17-yard run with just eight seconds remaining, but his two-point conversion pass fell incomplete.
— Adam Berchin
■ Virgin Valley 41, Western 13 — Senior tailback Junior Paongo rushed for 106 yards and three touchdowns to lead the Bulldogs.
Paongo scored on runs of 16, 19 and 4 yards as Virgin Valley shut out Western 19-0 in the second half to pull away.
Kenric Davis raced down the right sideline for a 71-yard score on the first play from scrimmage for the Warriors. Paongo's 16-yard score tied it at 7-7, and that was followed by a recovery of a high snap on a punt attempt in the end zone by Virgin Valley's Chase Henderson.
The Warriors responded with a 92-yard TD reception by Miles Snyder from quarterback Wyatt Rozea to cut the deficit to 15-13.
Virgin Valley quarterback Jarron Linge plunged in from 2 yards out to push the lead to 22-13 at half.
After Paongo scored twice for the Bulldogs in the second half, Josh Bishop added an 8-yard TD run around the right end to cap the scoring.
Virgin Valley's defense tallied four fumble recoveries, 10 sacks and an interception.
Davis finished with 132 yards on 18 carries and two fumble recoveries on defense for Western, while Rozea threw for 162 yards and supplied an interception on defense.
— Brennan Karle
■ Pine View (Utah) 42, Agassi Prep 7 — At Rancho, senior quarterback Kody Wilstead threw for 166 yards and three touchdowns to lead the Panthers.
The Panthers (1-0) took control early, scoring on their second possession when Wilstead connected with junior receiver Steve Bangerter for a 6-0 lead.
The Panthers also ran the ball effectively led by running back Pano Tiatia, who rushed for 56 yards in the first half including a 14-yard touchdown run that gave the Panthers a 14-0 lead at halftime. Tiatia finished with 106 rushing yards.
The Panthers padded their lead in the third quarter, scoring on Wilstead touchdown passes of 43 and 13 yards to wide receiver Blake Ence and Tiatia's second touchdown run, a 23-yarder. Both scoring passes followed interceptions, and the Panthers led 35-0 after three quarters.
Reserve quarterback Riley Livingston completed a 3-yard touchdown pass to running back Jaden Peterson to give the Panthers a 42-0 lead in the middle of the fourth quarter.
The Stars avoided the shutout on an 11-yard touchdown run by Stephan Laushaul, who finished with 58 yards rushing. Kobe Williams led Agassi Prep (0-1) with 98 yards rushing, most during the fourth quarter.
— Ron Harris
■ Pahrump Valley 40, Bonanza 7 — At Pahrump, Jeremiah England caught a touchdown pass and rushed for two more as Pahrump Valley cruise.
■ Moapa Valley 19, Spring Valley 6 — At Overton, Zach Hymas completed 18 of 29 passes for 270 yards and two TDs to lead the Pirates over the Grizzlies.
■ Clark 26, Boulder City 22 — At Boulder City, Nick Kinnard's 8-yard touchdown pass to Andre Turner midway through the fourth quarter lifted the Chargers.
■ Viewpoint School (Calif.) 48, The Meadows 28 — Senior Bryson Navallo had 21 carries for 117 yards and two touchdowns and threw a 30-yard TD pass, but The Meadows fell to host Viewpoint School.
■ Mountain View 36, Mohave Accelerated (Ariz.) 6 — In Arizona, Ian Locke was 6-for-13 passing for 127 yards and three touchdowns and rushed 14 times for 182 yards to lead the Saints.
Senior running back Bernard Williams broke a 75-yard run and finished with six carries for 103 yards.
■ Kingman Academy (Ariz.) 35, Laughlin 6 — At Kingman, Ariz., Robert Osuna's TD run accounted for Laughlin's scoring.