Mother, son to run in Rock 'n' Roll half marathon in Las Vegas
November 9, 2018 - 11:09 am
Updated November 10, 2018 - 12:45 pm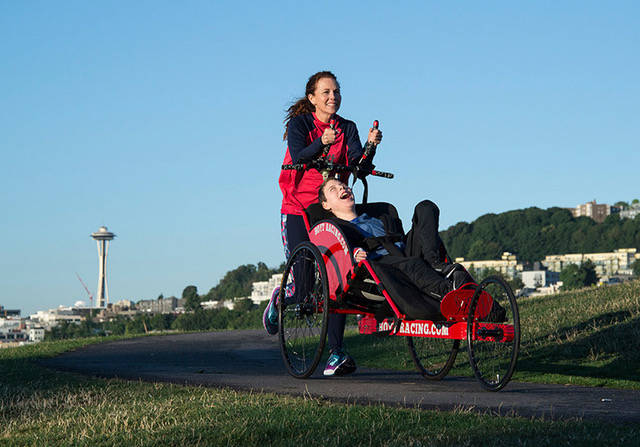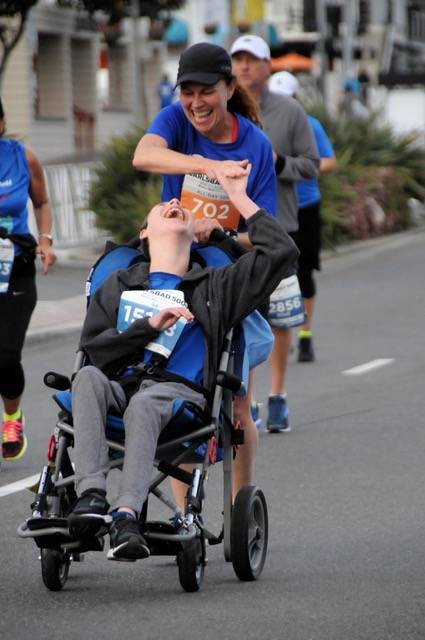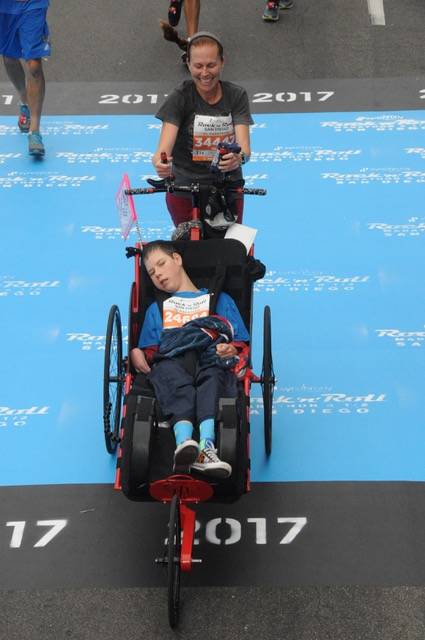 When Cormac Evans is happy, his cross-country coach, Andrew Myette, notices certain tells.
He'll rock from side to side, doing his "Cormac dancing."
He'll have a big smile plastered on his face.
He'll stick his hand up for a high five.
Evans, a 15-year-old from San Diego with hemimegalencephaly, a neurological condition that required surgery and left him paralyzed on his right side and nonverbal, is often at his happiest when he's running.
Evans and his mother, Cindy Spiva, are visiting Las Vegas this weekend to participate in the Toyota Rock 'n' Roll half marathon, with Evans out in front and Spiva running behind and pushing him in a rig.
"Running is something that he can do, he can participate (in) 100 percent. Even though it's not his legs that we're using — it's my legs — he is still fully out there toeing the line at 5:30 in the morning and gets to experience all of the same emotions and temperatures and pre-race nerves with the whole process," Spiva said. "He gets to experience it as if he was running on his own two feet."
Spiva discovered her son's love for running in 2016, when they participated in the walk portion of the Carlsbad 5000.
After she saw her son's reaction, they soon signed up for the San Diego Rock 'n' Roll 5K. From there, they started running more frequently.
Spiva and Evans met a couple from Las Vegas at the San Diego race who talked to them about Team Hoyt and Ainsley's Angels of America, which Spiva said are "inclusive groups that helped to include primarily children but basically anyone with mobility challenges in running."
Spiva, never a runner herself, downloaded a Couch 2 5K app and gradually increased her mileage, running a half marathon for her 50th birthday in February 2017 in Temecula, California, and pushing her son in the San Diego half marathon three weeks later.
Later in the year, Evans joined his cross-country team at Patrick Henry High School in San Diego, though not without some initial trepidation from the school district, which was worried about liability.
Myette was all for it, working with the family to make Evans' inclusion a reality.
As a sophomore this year, Evans has run in two invitationals and all but one of the team's league races, Myette said.
"The kids will come in, they'll kind of high-five them. Cormac will engage them as much as he (can), not verbally because he's nonverbal but the kids will talk to him," Myette said. "You can see he gets a smile on his face."
Evans often runs with family friend Larraine DeLoach, who sometimes fills in for Spiva, who is battling a knee injury and sometimes deals with fatigue stemming from multiple sclerosis.
DeLoach will come with the family to Las Vegas to run in the race, but it'll be Evans pushing her son around the Strip on Sunday.
Along with running, Spiva said, Christmas lights and Disneyland are among Evans' favorite things, so running along the Strip at night is a sensory experience she believes her son will love.
And she loves being able to watch him participate — and participating with him.
"Typically, kids like Cormac are just ignored or overlooked," Spiva said. "People don't acknowledge them at all or, if they are acknowledged, it's sometimes in a very patronizing manner, people assuming that he must be 'less than' because he doesn't function the same way we do, but when he's out there running and participating, he's treated like an equal and that's really important to me as his mom."
Contact Betsy Helfand at bhelfand@reviewjournal.com. Follow @BetsyHelfand on Twitter.
Toyota Rock 'n' Roll Marathon and Half Marathon
Who: More than 50,000 participants in four events
What: Road races on the Strip.
When: Saturday-Sunday.
Where: Las Vegas Boulevard.
Events: Saturday — 5k (6 p.m.); Sunday — 10K (4 p.m.), half marathon and marathon (4:30 p.m.).
Registration: Closes Sunday at www.runrocknroll.com
Related
Las Vegas police will be out in force at Rock 'n' Roll Marathon
5 things to know for Rock 'n' Roll Las Vegas Marathon weekend
Here's the map for 2018 Rock 'n' Roll Marathon in Las Vegas